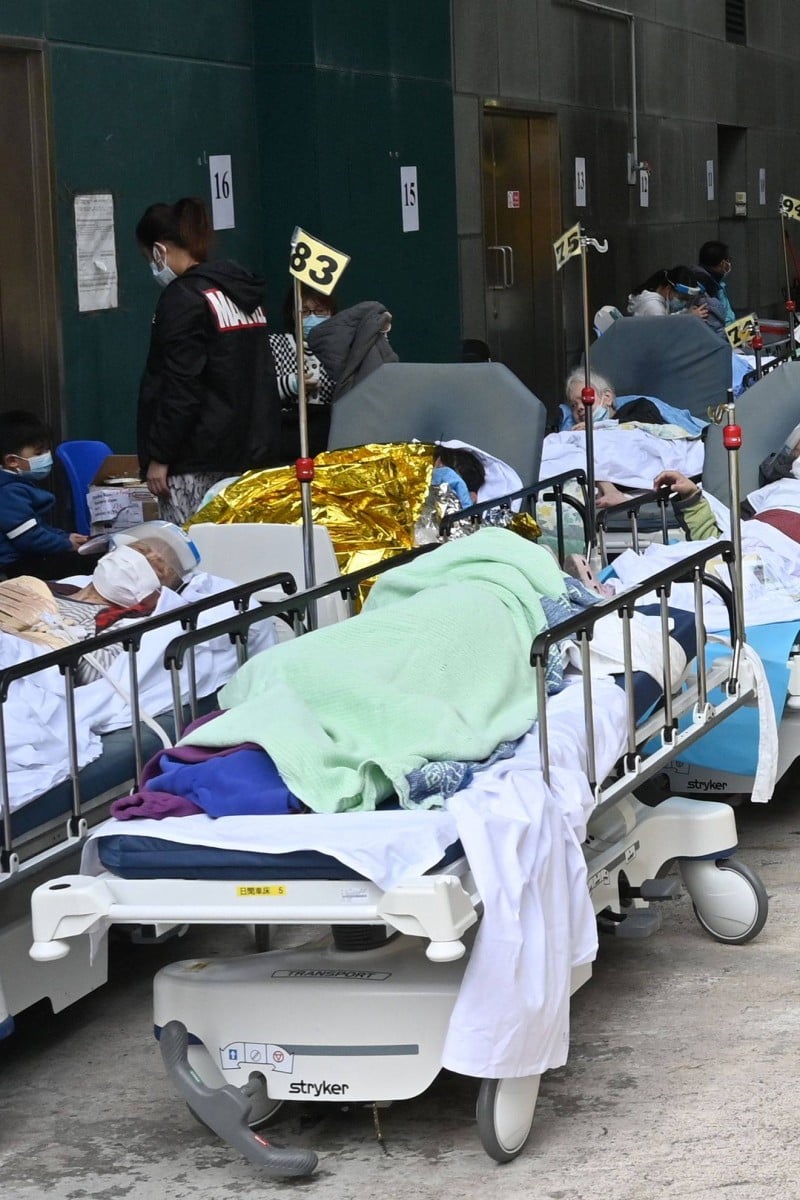 In the past week, Hong Kong has seen an unprecedented surge in Covid-19 cases, swamping hospitals and emergency services

As a result, coronavirus patients lie in beds outside hospitals and thousands more wait days to enter isolation facilities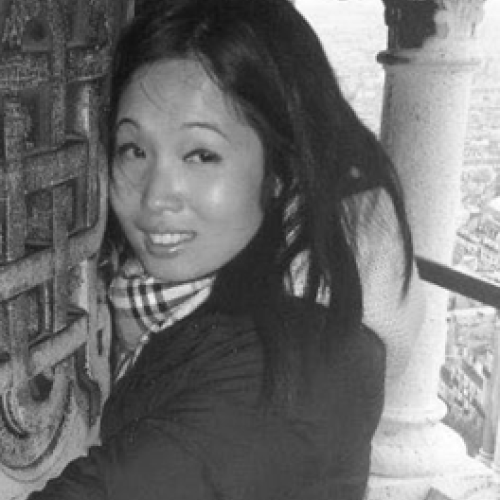 Doris worked in educational publishing, including the BBC and Cengage prior to joining the Post in 2018. She specialises in creating graphics and digital learning content, and has a particular interest in issues related to mental health and wellness.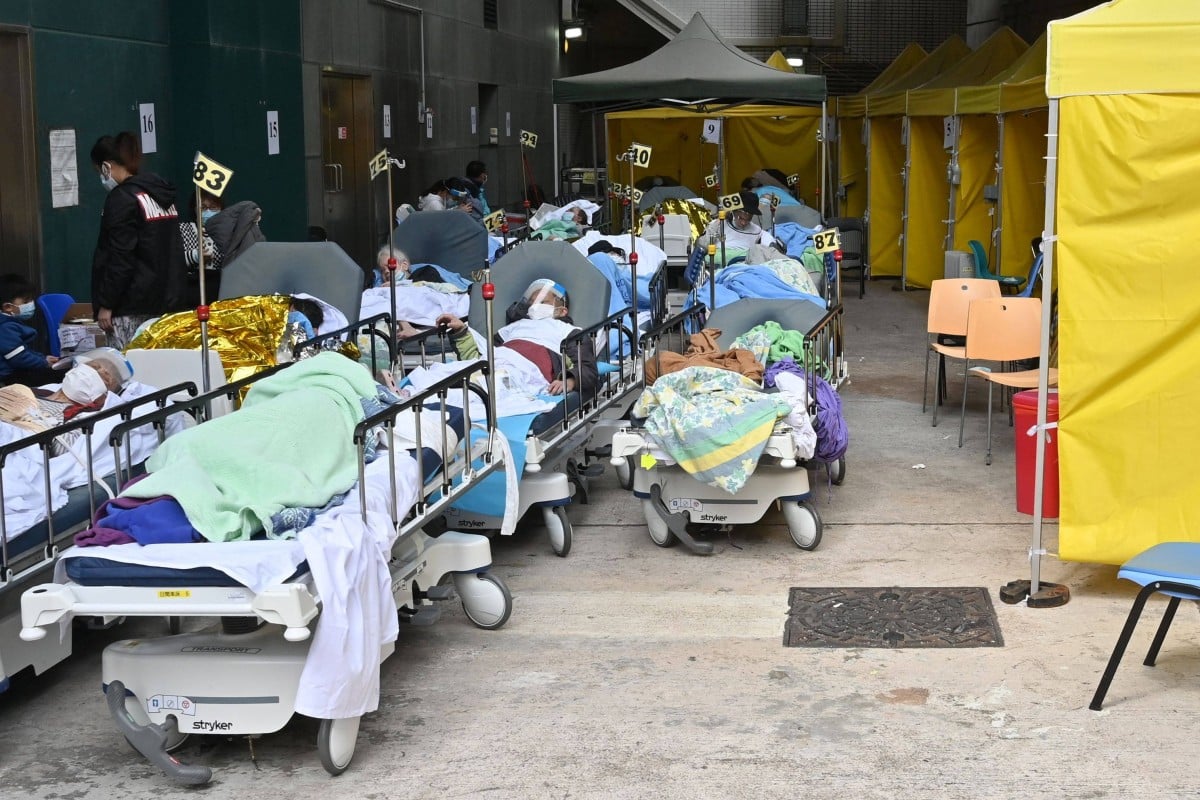 Because the city's hospitals are overwhelmed by the fifth wave, some Covid-19 patients are having to wait outdoors before being admitted. Photo: AFP
Hot Topics takes an issue that's being discussed in the news and allows you to compare and analyse different news articles and viewpoints on the subject. Our questions encourage you to examine the topic in-depth and can be used on your own, or with a friend.
Context: Hong Kong public health care system overwhelmed by fifth wave
Hong Kong's medical staff have been overwhelmed by the city's surging number of Covid-19 infections, with public hospitals so swamped that one health care worker must tend to nearly 20 patients on average during night shifts.
David Chan Kwok-shing, chairman of the labour union Hospital Authority Employees Alliance, said an ideal staff-to-patient ratio would be closer to one to four.
Chan said the rising cases and the shortage of hospital beds and manpower had also forced some patients to wait outdoors before securing a place. This left them vulnerable to cold weather and rain that could cause their conditions to deteriorate and lead to hypothermia, he added.
Explainer: How Omicron brought down Hong Kong
Hospitals are so overloaded that asymptomatic Covid-19 patients and those with mild symptoms have been asked to isolate at home while waiting to be admitted. About 24,700 people who tested positive were still waiting for admission to isolation at public facilities as of Saturday.
To ease the strain on the hospital system, the government has identified new public housing blocks that would supply 3,000 flats to isolate coronavirus patients, as well as about 10,000 hotel rooms.
Seven public clinics have been designated for those who have tested positive for Covid-19 but are waiting for isolation arrangements or admission to hospitals.
Robert Black General Out-Patient Clinic in Kowloon is one of seven designated clinics for Covid-19 patients with mild symptoms. Photo: May Tse
Mainland authorities have also promised to help build another makeshift hospital in Hong Kong to ease the pressure. Sources said it would be "a scalable plan" that would allow for capacity to be increased if the outbreak were to spiral further out of control.
The hospital would be modelled on the type that first appeared in the mainland Chinese city of Wuhan at the start of the pandemic, they said. It provided thousands of additional beds within just a few weeks.
Since the start of the fifth wave in late December, the city has recorded more cases than it had during the entire pandemic up to that point. Local researchers have warned that new daily cases could exceed 28,000 a day by March.
Staff writers, Agence France-Presse
Question prompts:
If Hong Kong's health care system is overloaded, how does this affect the city?

To what extent will the government's initiatives mentioned in Context help improve the situation facing the city's health care system? Explain using Context and your own knowledge.
Hot Topics: Hong Kong doctors can work five more years until age 65
Question prompts:
Why might the patient depicted in this cartoon have developed hypothermia? Use Context to explain your answer.

What might this cartoon suggest about how the Hong Kong public health care system is handling the current Covid-19 wave?
Hong Kong leader says city 'overwhelmed' by Omicron wave
News: Some Hong Kong residents waiting days to receive medical treatment after testing positive for Covid-19
Hongkongers have been forced to wait days for help as the city's public health care system struggles to cope with the exponential growth of Covid-19 cases.
Earlier this month, Lam, who wished to be identified by her surname, called an ambulance for her one-year-old son. She feared he had been infected with Covid-19 after he developed a high fever and had trouble breathing.
But after the infant was tested for Covid-19, the pair were forced to return home and wait for further notice because no hospital beds were available.
Queen Elizabeth Hospital is one of many public hospitals in Hong Kong struggling to cope with the fifth wave. Photo: Dickson Lee
Later, Lam received a notification that her son had tested positive for the virus. Two days later, the mother also tested positive after using a rapid antigen test.
At the time of the interview, the mother said she had received no communication from the authorities, despite two cases having been reported among her family.
"I am so disappointed with the government," Lam said. "I called the ... hotline multiple times, but it's always busy."
Omicron: Carrie Lam rules out mainland-style lockdown
The family were among the many residents who tested positive and were waiting for admission to hospitals or other facilities.
Isolation beds specially designed for children have filled up, but health authorities have said that youngsters would be prioritised for hospital treatment, with some adult beds to be made available for them.
Professor Lau Yu-lung, a paediatrician, earlier said young children were more prone to serious complications after contracting respiratory viruses.
What you need to know about Covid-19 jabs for Hong Kong children aged 5 to 11
Patients' Rights Association spokesman Tim Pang Hung-cheong said that more guidelines should be provided to people caring for those in home isolation.
"Hospitals and departments should tell parents how to take care of sick children," he said.
Pang said all patients should be given a kit bag, which would include essential medications and a pulse oximeter for checking oxygen levels in a person's blood. This could help home isolators determine if their situation had worsened and required emergency help.
Last Tuesday, the government announced a hotline, 1836115, for infected residents to call for medical advice or questions about isolation arrangements.
Staff writers
Question prompts:
Why might it be important for young children to be prioritised for hospital treatment?

How could providing more support for people caring for those in home isolation reduce pressure on the city's health care system?

When all Covid-19 patients regardless of their symptoms must isolate in hospitals or other facilities, how does it affect those with serious symptoms? Explain using News and Context.
Face Off: Is it time for Hong Kong to learn to live with Covid?
Issue: Hong Kong paramedics 'stretched to the limit', unions urge asymptomatic patients not to call emergency services
Paramedics' manpower and workload are stretched to an "unprecedented" level, unions have warned, urging patients with no symptoms or those who test positive with rapid kits not to call the emergency services.
Tong Sze-ho, chairman of the Fire Services Department Ambulance Officers Association, said the 3,000-strong paramedic workforce was overloaded because of a rising number of calls from Covid-19 patients on top of routine emergency requests.
He estimated that more than 80 per cent of calls related to Covid-19 were from asymptomatic patients or those who had just tested positive using rapid test kits. But as a rule, paramedics still had to transport them to hospital upon request, though A&E might not admit these patients.
Hong Kong's paramedic workforce has been overwhelmed with Covid-19-related calls. Photo: Dickson Lee
Tong said it took up to three hours to complete a call involving an infected patient as staff needed an extra 40 minutes to sanitise the ambulance after offloading them.
"On average, we handle close to 2,000 daily emergency calls, such as heart attacks and traffic accidents. The number of such calls does not decrease because of the pandemic," Tong said.
Hong Kong Fire Services Department Ambulancemen's Union chairman Ng Wai-keung said paramedic staff used to work 12 hours per shift, but the increased workload meant they were doing nearly 15 hours a day.
"Though we are equipped with protective gear, we still fear we might be infected," Ng said.
Chinese University of Hong Kong moves classes online, tells students to leave dorms
Last Thursday, Ng Hau-ming, assistant director for ambulances at the Fire Services Department, told a radio programme that more than 40 paramedics had contracted the coronavirus since the fifth wave of infections began.
To cope with demand and the manpower shortage, the department reduced the number of personnel in each ambulance from three to two, he said. The department had also deployed firefighters who were qualified as first responders, and rented and modified tour buses and minibuses to transport less urgent patients.
The department had also recruited ambulance service teachers and students to bolster staffing, while many employees were working overtime voluntarily.
Staff writers
Question prompts:
Identify THREE measures the Fire Services Department has taken to deal with the rising number of Covid-19-related calls.

Using Context, News and Issue, explain ONE reason asymptomatic patients might be calling paramedics.

An "anti-epidemic" taxi service was set up last week to take Covid-19 patients to and from clinics designated to treat those with mild symptoms. How might this affect paramedics?
An "anti-epidemic" taxi service for coronavirus patients will begin on Friday and specific labels will be affixed on the taxi bodies for identification. Photo: Handout
Asymptomatic: having or showing no signs of a condition or disease. An asymptomatic Covid-19 patient can still carry and spread the virus to others. Until recently, health authorities had insisted on admitting all asymptomatic cases to hospital.

Fifth wave: refers to the current Covid-19 situation in Hong Kong. The fifth wave of infections started to emerge at the end of December 2021 with the coronavirus spreading from two aircrew members who were exempted from hotel quarantine. Local infections started to soar from mid-January, triggered by a returning traveller infected with the highly transmissive Omicron variant during her hotel quarantine. In early February, the number of daily infections in the city grew exponentially, breaking daily records set in previous waves.

Paramedic: someone trained to give first aid or other types of medical care in the absence of a doctor, often as part of a rescue or firefighting squad. They usually respond to calls for emergency medical assistance, performing medical services and transporting patients to medical facilities.

Rapid test kit: a self-test kit that screens for the SARS-CoV-2 virus which causes Covid-19. Users typically need to swab both their nostrils using the swab provided and wait for 15 to 20 minutes for the results. As these kits are less accurate than polymerase chain reaction (PCR) tests administered by health care professionals, individuals with positive test results usually still need to undergo a PCR confirmatory test.
Sign up for the YP Teachers Newsletter
Get updates for teachers sent directly to your inbox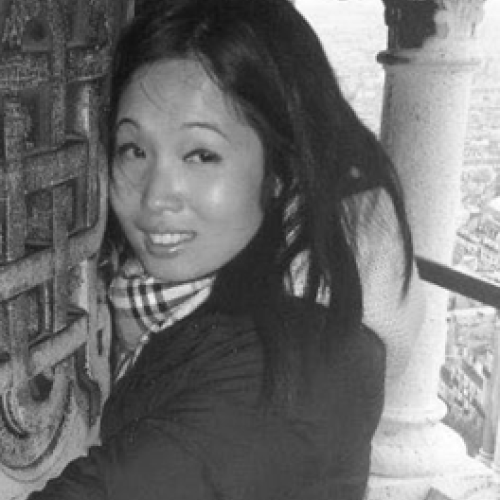 Doris worked in educational publishing, including the BBC and Cengage prior to joining the Post in 2018. She specialises in creating graphics and digital learning content, and has a particular interest in issues related to mental health and wellness.
Sign up for YP Weekly
Get updates sent directly to your inbox