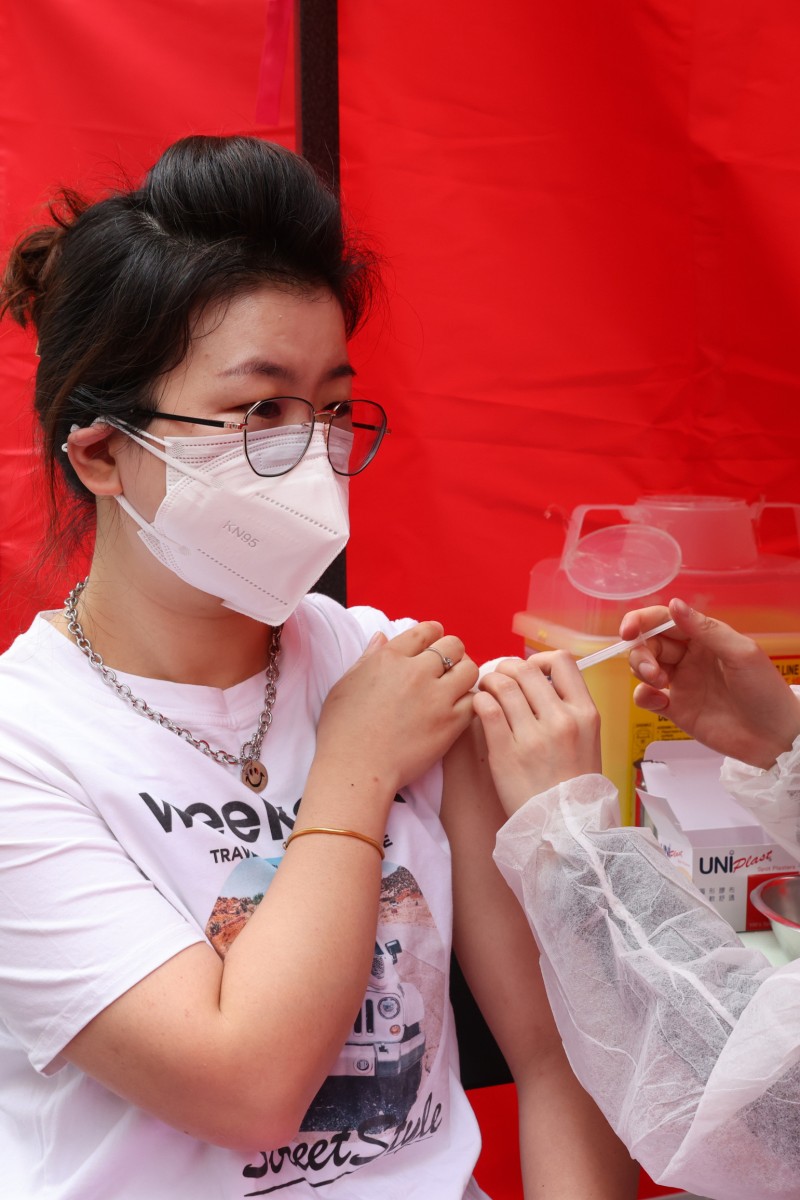 Several public health experts have called for authorities to gradually lift social-distancing rules as part of efforts to develop hybrid immunity among residents

With serious cases and hospital admissions on the rise, government has expressed concerns about growing pressure on the healthcare system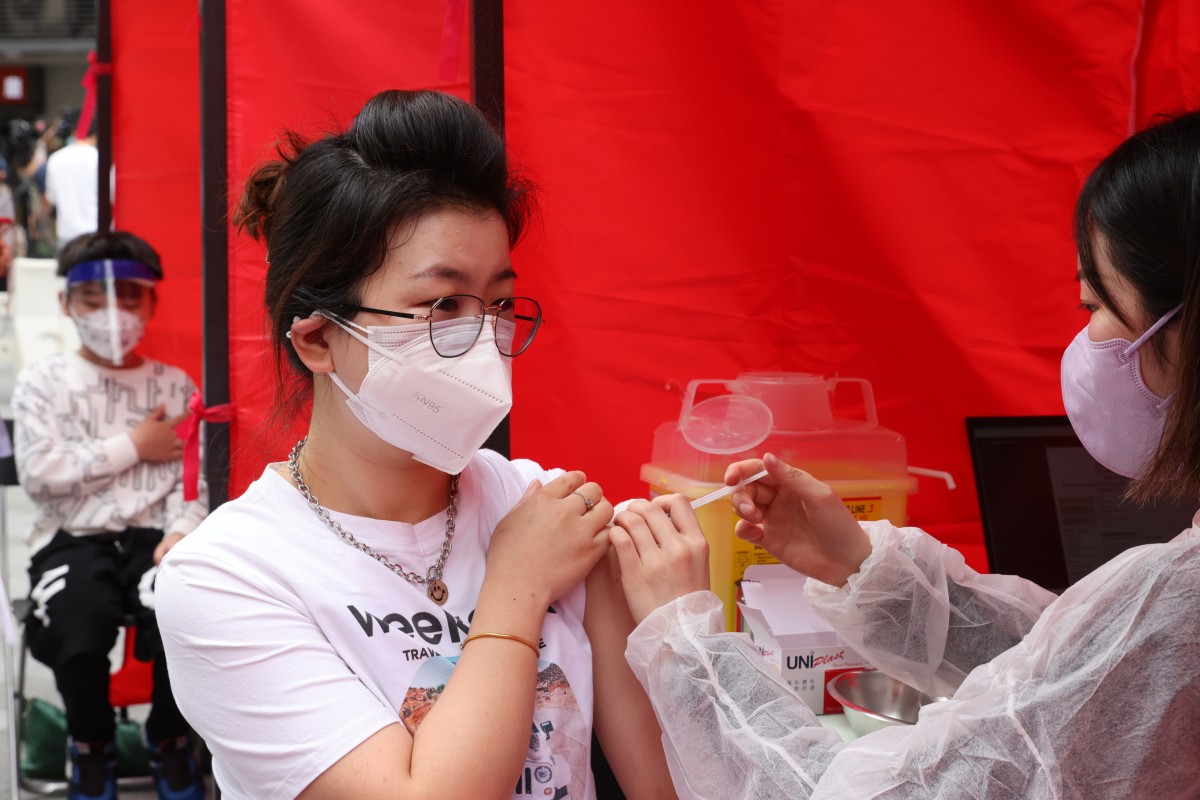 Hybrid immunity is achieved when a person receives at least one dose of a Covid-19 vaccine and has been infected with the virus. Photo: Nora Tam
As Hong Kong reports an increase in coronavirus infections and hospitalisation rates, some health experts have suggested "hybrid immunity" could be a way of preventing a repeat of the city's fifth wave of cases.
With case numbers rising, Chief Executive John Lee Ka-chiu on Monday said a quarter of healthcare resources would be allocated to caring for Covid-19 patients by the end of this month.
Several public health experts, including two government advisers, however, have called for authorities to gradually lift social-distancing measures as part of efforts to develop hybrid immunity among residents.
Here's what you need to know about hybrid immunity.
Hong Kong stepping up Covid fight by issuing electronic wristbands, quarantining outbound travellers
1. What is hybrid immunity?
According to the World Health Organization, hybrid immunity is achieved when a person receives at least one dose of a Covid-19 vaccine and has been infected with the virus before or after receiving their jab.
Most of the research on it shows that it offers protection against both coronavirus infection and mild symptoms that is comparable or slightly better than either infection- or vaccine-based immunity, according to the agency.
A study published in the medical journal Eurosurveillance found that hybrid immunity granted protection that was 67 per cent effective against symptomatic infections involving the Omicron variant.
Compared to infection-induced immunity, hybrid immunity offers better immune protection against symptomatic infection from the Omicron variant. Photo: Shutterstock
Those who were unvaccinated but previously infected had an immune response that was 51 per cent, while the figure was 43 per cent for people in the first month after receiving a second jab and who had not contracted the virus.
Research featured in the British scientific journal Nature showed that hybrid immunity obtained as a result of three or more instances of viral exposure by infections and vaccines could offer "superior protection" against variants of concern, such as Omicron.
Some studies, however, have found that even after acquiring hybrid immunity due to prior infection and two vaccine doses, the protection diminishes within 10 to 19 weeks after the second jab and requires a booster shot to be restored.
Hong Kong could have own Covid-19 policies without copying mainland, quarantine-free travel by November, new health minister says
2. How many people are protected by hybrid immunity?
According to authorities, about 80 per cent of the 1.29 million coronavirus cases reported since the fifth wave began in late December had received at least one vaccine dose as of Monday, meaning 13.9 per cent of the city's 7.4 million residents had hybrid immunity.
The University of Hong Kong (HKU) recently estimated that 4 million to 5 million residents were infected during the fifth wave, or about 60 per cent of the population.
Based on HKU's estimate and the city's first-dose vaccination rate of more than 90 per cent, respiratory medicine expert Dr Leung Chi-chiu said he believed 54 per cent of the population had acquired hybrid immunity.
3. Why has hybrid immunity come into focus?
Hong Kong's daily coronavirus tally has been rising again since early June, after social-distancing rules were eased, with figures last week exceeding 3,000 cases per day.
With the number of serious cases and related hospital admissions both increasing, the government has expressed concerns about the growing pressure on the healthcare system, which was overwhelmed during the peak of the fifth wave.
Four HKU pandemic experts, including two government advisers, last week called for authorities to achieve hybrid immunity before the winter to prevent another "catastrophic collapse" of the healthcare system.
Their suggestions contrast with Hong Kong's "dynamic-zero" strategy, which aims to reduce the number of Covid-19 cases by containing outbreaks as fast as possible.
About 60 per cent of Hong Kong's population was infected in the fifth wave, experts calculate. Photo: Yik Yeung-man
4. How can a higher level of hybrid immunity be attained and will it help?
To achieve a higher level of hybrid immunity before winter, the four HKU experts have called for a further easing of social-distancing measures to boost the number of natural infections and increase immunity levels, while the city waits for vaccine manufacturers to produce an Omicron-targeted booster shot.
The proposal needs to be carried out during the summer when the virus has a lower degree of environmental survival, will be less transmittable by air and infection has a smaller chance of causing inflammatory damage.
Authorities should also reinforce their efforts to inoculate the elderly by tightening vaccine pass requirements, as well as cancel compulsory testing notices to allow a low level of virus circulation to boost people's "airway mucosal immunity".
Hong Kong shifting from pandemic to endemic, says government health adviser
Using Singapore for reference, if Hong Kong eased all its social-distancing measures and allowed home quarantine for incoming arrivals, daily case numbers would vary between 3,000 and 21,000, the experts said.
The number of hospitalised patients requiring oxygen would peak at around 100, they said, while deaths would mostly be among those who had not completed vaccination or were suffering from severe underlying diseases.
If full vaccination rate reached over 95 per cent, hybrid immunity would be more than 70 per cent, they added. As a result, after this winter, even if new variants capable of immune escape emerge, symptoms will be mild, freeing up hospital beds.
But, responding to their suggestions, Secretary for Health Lo Chung-mau argued that "policymaking does not depend on a certain theory".
"We cannot solely rely on an immunisation barrier or the concept of hybrid immunity and say we need not do anything. The government, as an organisation, has the paramount responsibility to look after the life and health of the entirety of the Hong Kong population," he told a radio show.
He warned that the surge in infections would strain medical resources and affect patients with other serious diseases, while the vaccination rate for the elderly and children under three remained relatively low.
BioNTech can provide Covid-19 vaccine targeting Omicron to Hong Kong as early as autumn if approved
Leung also disagreed with the experts' proposal, saying hybrid immunity was already being created with the recent rises in caseloads without any further easing of social-distancing rules.
He said relaxing social-distancing rules would put pressure on the healthcare system and risk the health of those unvaccinated and unexposed to the virus.
There was no difference between summer and winter as the virus could easily be transmitted in both seasons, he added, while the immunity level would not decrease in winter as the current daily infections were able to supplement the naturally waning immunity.
Sign up for the YP Teachers Newsletter
Get updates for teachers sent directly to your inbox
Sign up for YP Weekly
Get updates sent directly to your inbox