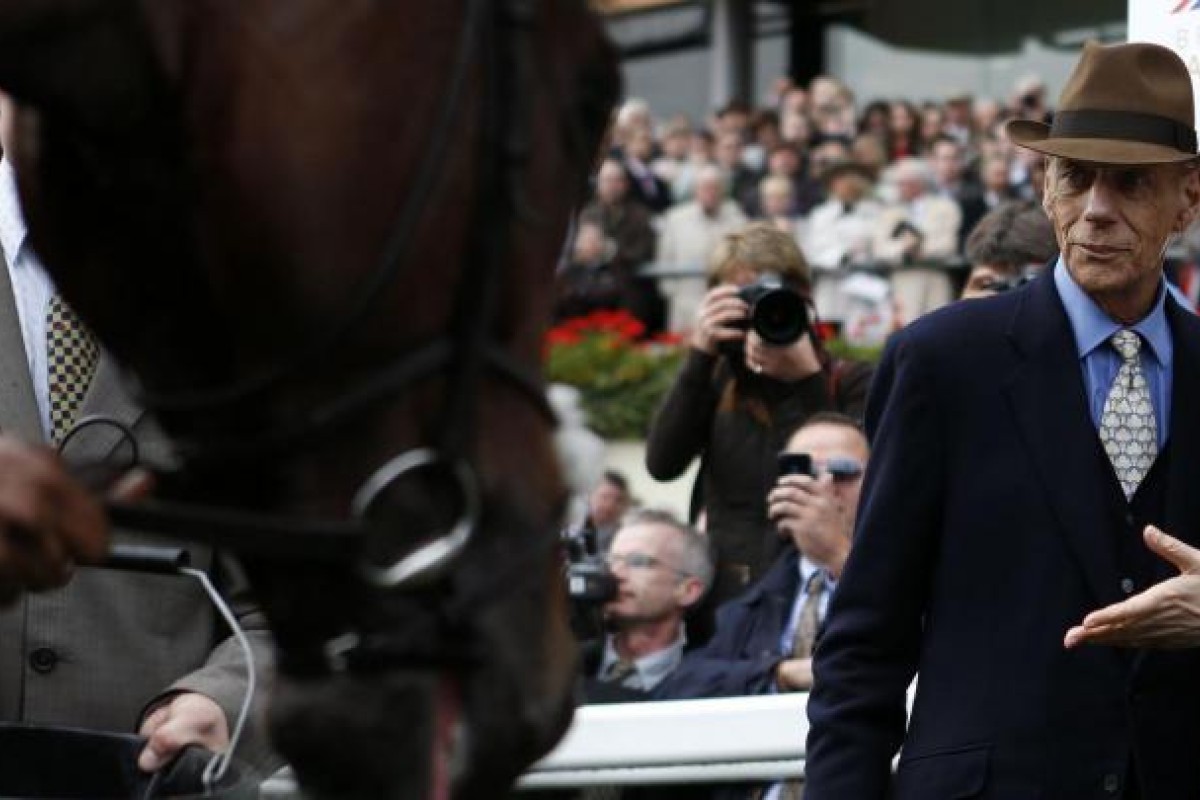 Frankel will slowly prepare for life as a stallion at Banstead Manor Stud near Newmarket after bowing out with a perfect record of 14 wins from 14 starts in the Champion Stakes at Ascot and took his prize money to nearly £3 million (HK$37.2 million)
Owner Prince Khalid Abdullah, who remained a loyal supporter of Henry Cecil through the trainer's lean times, confirmed his charge would now head to his breeding operation.
"He'll let down first back at Warren Place Stables and come to Banstead Manor when he's ready," Teddy Grimthorpe, racing manager to Abdullah, said. "He's been on high octane fuel so it's a gradual letting-down process and when everyone is happy he will come to the stud.
"Interest in him as a stallion has been worldwide and I mean from every part of the world."
Frankel is set to command a fee of £100,000 a time at stud, leading to a £100 million valuation
As ever Cecil, who was given three cheers by the crowd of 32,000 after he returned to the paddock to greet Frankel, was sparing with his words but they were significant.
"I have probably got him too relaxed ... it used to be the other way," said Cecil. "I cannot believe in the history of racing that there has ever been a better racehorse. I have enjoyed every moment of training him, although it has been slightly stressful at times. He's the best that I have ever had and the best that I have ever seen."
For Frankel's quietly-spoken jockey Tom Queally, it was an extra-special moment for his riding of the great horse had come under the microscope.
But Cecil had stuck by him just as Abdullah had by the trainer when his fortunes nose-dived at the turn of the century.
Queally, who had one nervous moment when he stumbled on leaving the stalls, punched the air several times as he made his way back to the winner's enclosure in a most uncharacteristic gesture by the 28-year-old Irishman.
"I always had belief in him, he is a one-in-a-million horse and it has been an honour to be associated with him. He is the biggest chapter in my life," Queally, who will start his first riding stint in Hong Kong in December, said.
"Sir Henry [Cecil] has had some great jockeys and for me to be there at that time when the horse of a lifetime comes along is just amazing. Did I feel the pressure? On the grand scale of things there is pressure in all walks of like so mine was no different to many other people's.
"Put it this way, I didn't have to take a sleeping pill last night. I am not much of a showman, but the reception he got was so touching it got me inspired to let myself go for a moment."