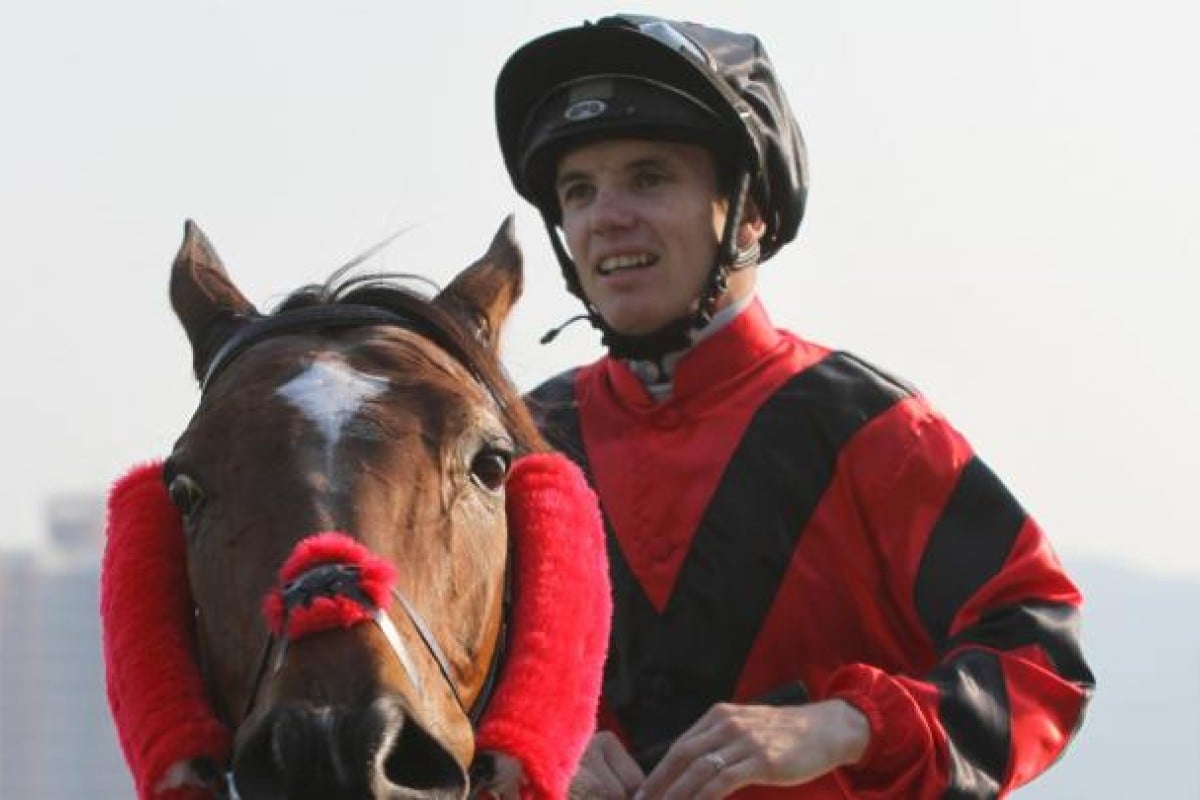 Brett Prebble snatched the Jockey Challenge from Tim Clark but both rocketed up the jockeys' table in concert as Clark enjoyed his first local three-timer, then felt like he had won four after escaping misfortune.
Clark was into long odds-on to win the Challenge after wins on Flying Keeper for Caspar Fownes, Hei Hei Posh for Danny Shum Chap-shing and Eagle Spirit for Andreas Schutz in the first six races, and even Prebble's late surge for the day's riding honours failed to diminish Clark's satisfaction with his afternoon's work.
"It's the first time I've won three here so I'm pretty happy about that and things are going well," said Clark.
Eagle Spirit landed the only trophy race, the Class Three Po Leung Kuk Centenary Cup (1,800m), enjoying better luck than in his two prior runs this season and Clark said the luck wasn't that much better this time.
"It wasn't my best ride. He lacks tactical speed, and although the plan was to be closer to the front, he couldn't get there," Clark said. "I had to come back and he was stuck three deep but the horse in front of me towed us into the race really well. When we flattened out for home and I saw that the leaders hadn't got away, I was always pretty confident he could get them."
There was little glamour about Clark's treble, with Class Five galloper Flying Keeper and Class Four stayer Hei Hei Posh grinding away to victories that were unimpressive but counted all the same.
"Caspar had done a bit of work with Flying Keeper to get him to begin better and be more positive instead of back in the ruck like he has been," Clark said. "He jumped better, I was able to get outside the leader and he was stopping late in the race but he was probably entitled to - he did a bit of work early getting over.
"Hei Hei Posh has been going well, I didn't think the race panned out for him last time, and he didn't surprise me. They went pretty quick and we got further back than I expected but he was solid to the line and might have won by a little further if he hadn't wanted to run out in the straight."
Like Prebble, Clark goes to 11 wins for the term but the day wasn't all beer and skittles.
Just after the start of race eight, Clark's mount, Ride On the Fire, was heavily bumped and the jockey's foot bounced out of his left stirrup iron.
When Clark transferred his weight to his right leg for 400m while he tried to regain the stirrup, that caused the saddle to slide to one side of the horse and he had little control for most of the race.
"That could have been a bit ordinary but all's well that ends well," Clark said.