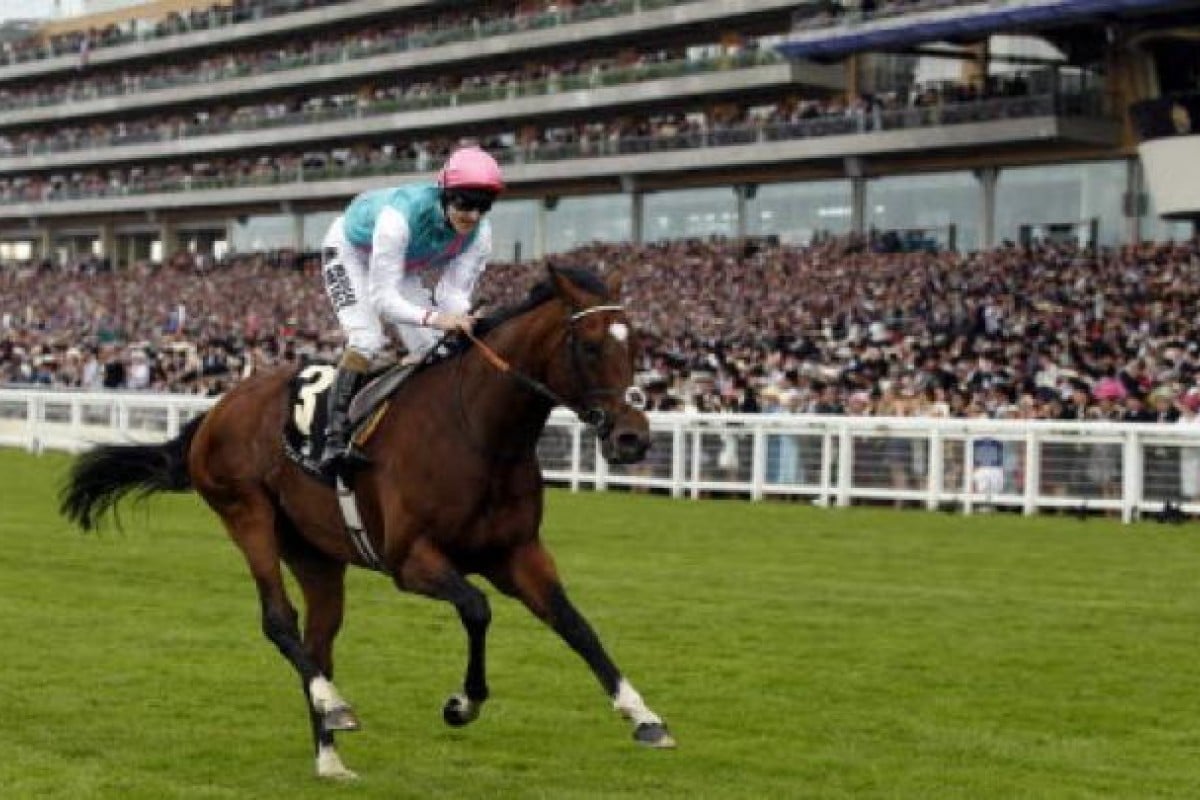 "Frankel's jockey" Tom Queally starts his Hong Kong riding career on Sunday, and in what must be some sort of cruel initiation ritual by the club, he has been drafted to ride a horse which has never been placed in eight starts and wouldn't be able to keep up with Frankel if the champion was walking backwards around the parade ring.
We've described getting off Frankel and on to a Class Five slug as climbing out of a Ferrari and into Fred Flintstone's stone-wheeled foot mobile, but that might be overstating Diamond Agate's ability. Tom, welcome to Hong Kong, and welcome Class Five, on the all-weather track no less – try and stay out of the kick-back.
There's that point at the school athletics carnival when a teacher announces: "All of the kids who haven't won a ribbon today please come forward" – and the less athletically inclined students step up for a what is hoped will be a morale boosting, "everyone gets a prize" contest.
Well, the Hong Kong Jockey Club have their own versions of these egg-and-spoon races – they're called Class Five handicaps, where the roughest and most dishonest collection of nags this side of Macau do battle in a race to decide the best of the worst.
Hong Kong racing is structured in such a way that every one of the 1,400 or so horses eligible to race at any given time are given a fair chance to win a race through handicapping. Every horse has a rating indicating their ability expressed as a number – re-assessed after each run. Ambitious Dragon is currently rated the best on 134. Horses are then bracketed into divisions, or classes – Class One (with Group One, Two and Three above that), right down to our hapless friends in Class Five.
At the bottom end of the scale, rated from zero to 40 points, you have this motley crew of thoroughbred failures. Whether they are unco-ordinated, unsound or just plain hopeless horses, they are the bane of a punter's existence.
At the moment three horses share the dubious distinction of being stuck with the label "worst horse in Hong Kong" – with a rating of 13: Barcelona Too, Crimson and Beautiful Scenery. Too slow to keep up in sprints, but too weak to race over any further – this is the lot of many riding the slippery slope down the ratings.
But the worst type of Class Five animal isn't necessarily the slow one - who at least tries his best - but it's the pretender who is less reliable as a copy watch from Chun King Mansions when put under any sort of pressure.
Watch this effort from Class Five scoundrel and punters' nemesis Saddlers Lodge last season – where he bursts to the front like he belongs in a Group One, but "lays down" and leaves Douglas Whyte stranded at sea and paddling like crazy.
It's all very well to label a jockey "Group One-standard" – but is there a greater test of a rider's skill and tenacity than getting a Class Five slowcoach over the line in a close finish?
Umberto Rispoli earned plaudits from Tony Millard at Happy Valley last night when he did everything bar get off and carry Medic Champion – a horse that is so fat he needs a medic with an oxygen mask after every gallop.
One of the best jockeys to watch in a Class Five is the energetic and ultra-competitive Brett Prebble. He sometimes gets marked hard on aesthetics by posh purists from the northern hemisphere, but at least his effort levels are obvious when he throws himself into his work. And saving every inch of ground takes on critical importance when you're on a horse whose fuel meter is always stuck on empty.
For those part-time punters who like to take a shortcut with the form and simply illiminate the horses who "can't win" – Class Five is a nightmare. Putting a big red line through those who apparently haven't got recent positive performances will leave you with very little ink left, and worst still, no selection.
Some liken "cellar grade" to a maximum security prison containing only the shiftiest customers – you don't turn your back on them, because you can't trust any of them with your hard-earned.
Saddlers Lodge races on Sunday – where he faces another Class Five "lifer" Gorgeous Ruler. It's hard to separate these two for lack of willingness to compete. The tale of the tape of this epic head-to-head match-up of mediocrity is revealing. Saddlers Lodge had already racked up two seconds in maidens in England before he came to Sean Woods – admittedly one of them was behind a subsequent multiple Group One winner in Society Rock – but, in hindsight, the failures were telling. Getting beaten has quickly become Saddlers Lodge's specialty – he has finished runner-up six times in 27 starts – but still never won. Likewise, winless Gorgeous Ruler has finished second six times in 32 trips to the track.
We can see it now, Gorgeous Ruler and Saddlers Lodge emerge from the pack at the 300m, locked in a neck-and-neck struggle … to see who can best find a way to lose.
All eyes will be on Queally though, and what happens when he asked Diamond Agate for effort in the straight. He might like good on Frankel when he pushes the "go button" – but will his Fred Flintsone feet move fast enough to carry this one over the line?
Twitter - @KemblaCoxy Email: [email protected]