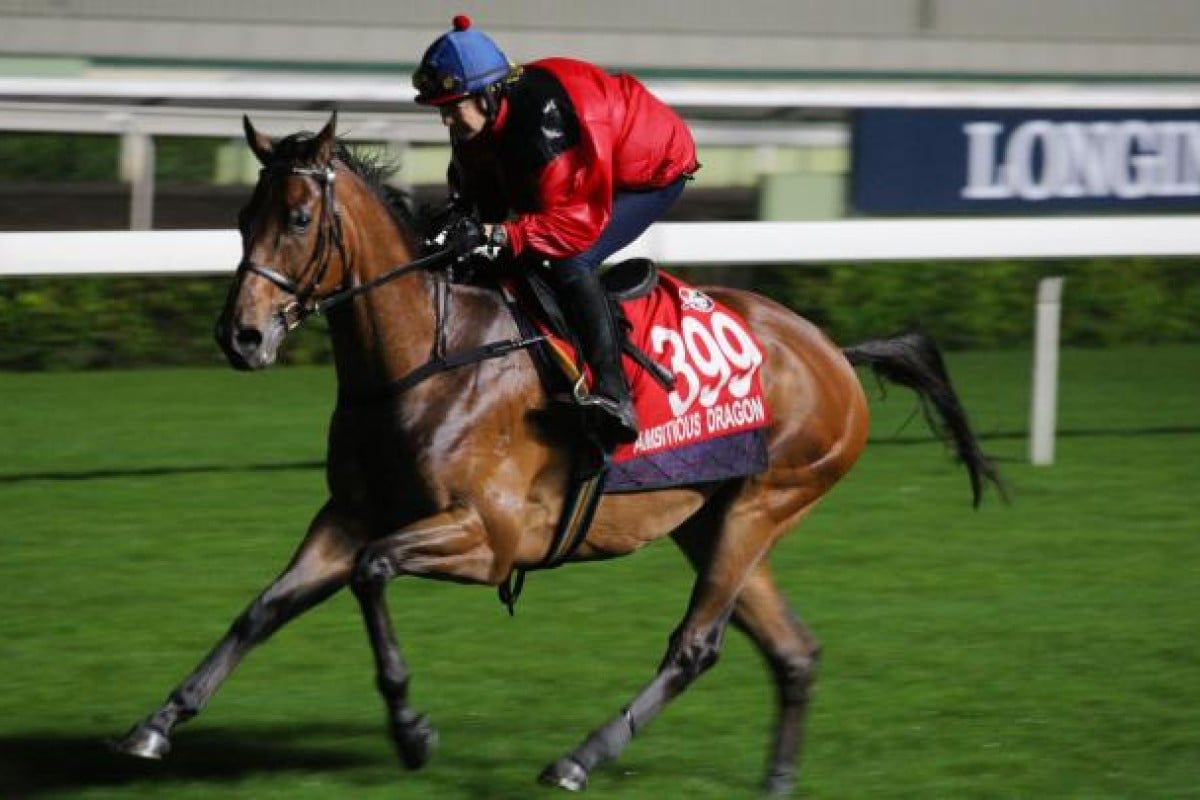 There will be no sizzling trackwork from Ambitious Dragon this week, according to his handler Tony Millard, who says the trainer's cue is in the rack and his reigning two-time Horse of the Year is ready for a date with destiny in Sunday's Longines Hong Kong Mile.
Ambitious Dragon was once known for his stunning morning workouts, but Millard seems to have favoured a fresh approach this preparation - literally - and yesterday morning's relatively easy gallop on the course proper was typical of a more relaxed regime.
"I don't think he will do anymore serious work this week, basically since that last race we've been freshening him up," said Millard, after his wife Beverley partnered the horse, setting off slowly from the mile and finishing with a 26.5 final 400m. "We train him day-to-day, if he needs some work, we'll give it to him. He doesn't need much though, he is very fit. If you haven't got your horse fit now, you're not going to get him fit in the next week."
Ambitious Dragon's two best efforts in the last two seasons have arguably been his first-up runs. But he seemed to suffer a fractional dip in form second-up when beaten by the blinkered Glorious Days in the Jockey Club Mile last start, and Millard has strived to keep his horse feeling good since.
"He pulled up nicely, I was happy with the way he bounced back," he said. "It was a bit of a flat run, and below his best - but John Size's horse [Glorious Days] improved, no doubt about that."
The relentless and unseasonal wet weather in the last few weeks has played havoc with the plans of local trainers, although all of the horses entered have the luxury of working on the course proper this week. It is not so much the volume of rain - more rain actually fell last November - but it is the amount of rain days that has made it difficult for track curators. The grass on the turf track has thinned because of lack of sunlight, and the dirt track has become like "pea and ham soup", as one jockey described it.
Rain fell on 16 days in November, including 13 of the last 14 days. "It hasn't been easy, you've got to deal with what is put in front of you," Millard said.
The Hong Kong Observatory predicts the rain will begin to clear today, with only patchy showers on Thursday and mostly sunny conditions otherwise.
David Ferraris also sent his big-race entrants around on the turf, Liberator (Vase) and Sweet Orange (Cup) working separately, and likely to complete "non strenuous" workouts before raceday - when both horses will be ridden by Weichong Marwing.
"Liberator worked with a companion, he is spot on fitness-wise - 100 per cent," Ferraris said. "The blinkers have made a huge difference for him, he is showing a lot of speed now. Sweet Orange did more of a half-pace gallop, and pulled up well."
Read Michael Cox's blog - Rispoli empowered by the masses. Go to: http://www.scmp.com/author/michael-cox-0