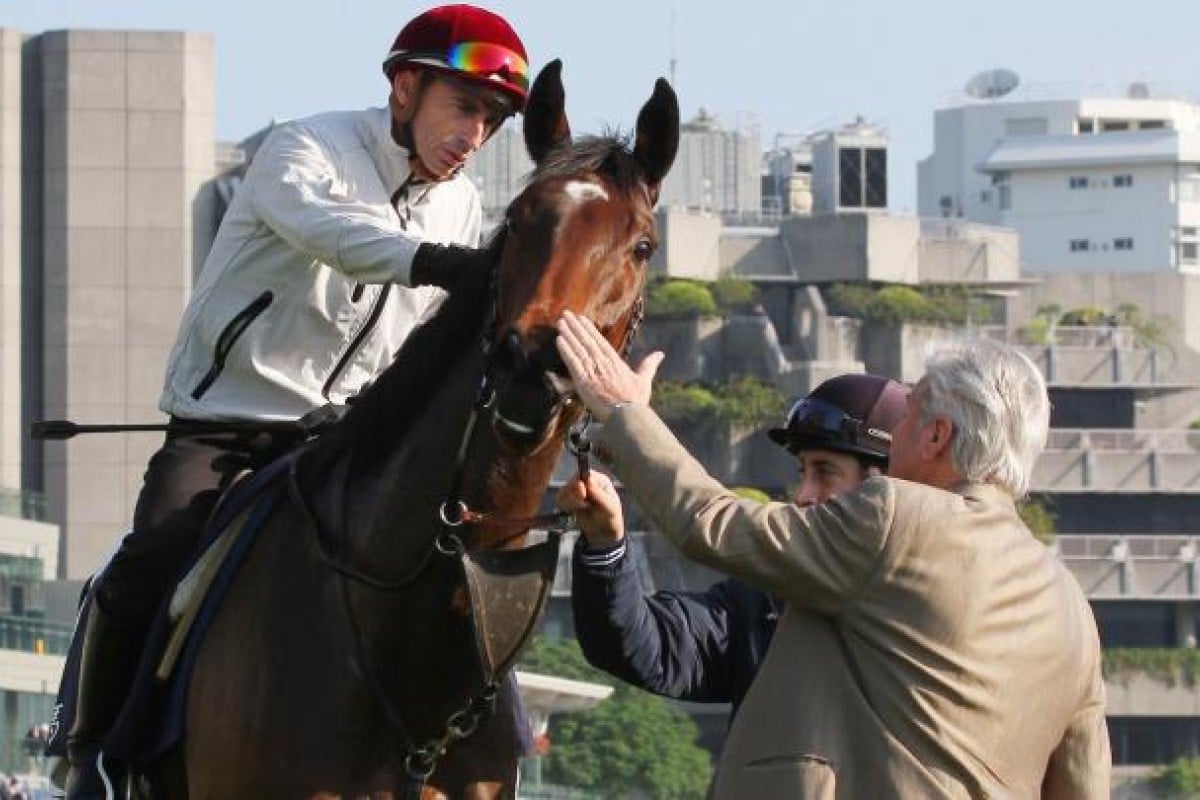 Gerald Mosse has raised more than the occasional eyebrow this week as he repeatedly made a case for French filly Siyouma measuring up to the Hong Kong milers, and any lingering doubts about his filly's ability vanished without trace in the wake of a sparkling workout yesterday.
If winning international Group Ones is the benchmark criteria this weekend, then Siyouma is right there already, having won at racing's ultimate level at her last two starts at Newmarket (UK) and Woodbine (Canada).
On a bright, clear morning, Mosse took Siyouma out onto the course proper ahead of all the visitors and it quickly became apparent she is no ordinary filly. For starters, she has the physique to match most of her male rivals. And secondly, she covers the ground effortlessly with a smooth, easy action.
Trainer Francois Doumen wanted his filly to go 1,200m to put the final touches on her Mile preparation and she did the first half steadily, before pouring on the gas to clock 34.75 seconds for the latter half.
Her splits showed this girl has gears. The final 400 took just 22.4 seconds, while the final 200 was put behind her in 10.68.
Twenty-four hours earlier, the Japanese Group One horses ran quick final furlongs under pressure, but Siyouma did this on a long rein, with Mosse's hands motionless on her wither. At this stage, it was the gallop of the week.
While Siyouma's gallop was one of incremental speed, her compatriot and Cup favourite, Cirrus des Aigles, did his final piece upside down.
The 2011 Champion Stakes hero roared off the mark and went 12.25 seconds for his first 200m split. After that, each 200m section was progressively slower, culminating in a "walking pace" from the 200m to the finishing post (14.25 seconds). The gelding clocked 1:06.4 for the full 1,000m trip.
Alain de Royer Dupre cranked up the work for his Vase candidate, Bayrir, who recorded 1:20.5 for 1,200m, charging home the final 200 in 22.2.
Last-start French Group One winner Gordon Lord Byron did another pleasing piece of work, complementing what he had already shown earlier in the week. This time, on firmer ground, he ran 1,200 in 1:23.7, the last 400 in 22.75 and the ultimate 200 in 11.1.
Although Gordon Lord Byron won the Prix de la Foret on heavy ground at Longchamp on Arc weekend, his trainer thinks a firmer surface will suit him even better and he certainly looked more than a mere wet-tracker in yesterday's exhibition.
The other significant piece of work yesterday came from Prix du Jockey Club winner Saunois, who has not raced since failing on bad ground in the Arc on October 7. Saunois pleased with 1,200 in 1:18.3, the last 600 in 36, the last 400 in 23.2 and the ultimate split in 11.17.
Michael Stoute has two of the heavy hitters of this meeting - Carlton House (Cup) and Sea Moon (Vase). They remain effectively under wraps. Carlton House did a lap of pace work, while Sea Moon barely broke even time for his last 800 (59.95), the final 400 firmly on the bridle in a mere 28.7.