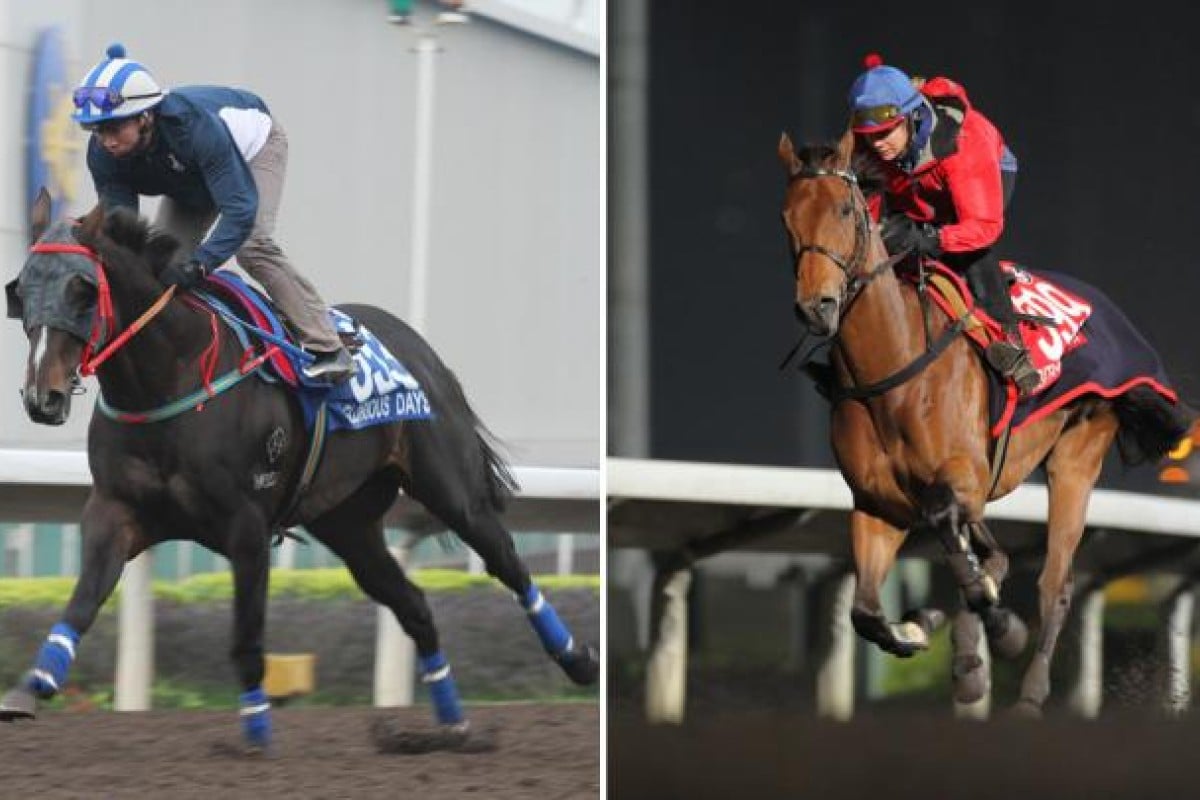 If you listen to the trainers of Ambitious Dragon and Glorious Days - the leading chances for tomorrow's Longines Hong Kong Mile - the mutual admiration flows so freely you could easily get the impression they would switch horses for one race if they could.
A day after Glorious Days' handler, John Size, declared Ambitious Dragon "unbeatable" if the two-time defending Horse of the Year brings his 'A' game, his trainer Tony Millard returned serve, saying his up-and-coming rival "has the race at his mercy".
"Frankly speaking, the way that horse is going, Glorious Days will be very, very difficult to beat," Millard said.
"He has got everything going his way. He has improved, he is young and he has drawn perfectly in gate three. As much as I am happy with my horse - you've got to have respect for him."
They have fought two thrilling domestic duels already this term, finishing one-two both times. Ambitious Dragon dominated first-up, before a move to blinkers by Size coaxed a career-best performance from Glorious Days in the Jockey Club Mile.
"He just improved so much last start. I wish I had a set of blinkers like that," Millard joked, before adding that the fancied pair's disparate draws - Ambitious Dragon jumps from gate 11 - further swung things in Glorious Days' favour.
"Douglas Whyte will dictate the race from that draw," Millard said. "In saying that, I'm pretty comfortable with our draw, too. We've run our best races from out there.
"Whenever we've been on the outside, he's been under pressure. It's tough on the inside, because you can get blocked or race too close."
As Ambitious Dragon failed in his three biggest races last season - all international Group Ones, including the Hong Kong Cup as 2.1 favourite - international day 2012 has steadily shaped as a date with destiny.
Millard didn't buy into the suggestion his horse's performance would define his legacy, and avoid him being labelled a "backyard bully".
"He is just phenomenal. It's every trainer's dream to have a horse like this, one that is so versatile," he said. "He has done enough in my eyes and is as good as I can have him. He worked nice this morning and is going super. I couldn't be more happy with him going into this race, but you've just got to respect Mr Size's horse."
Size himself is looking to get a monkey off his back. The seven-time champion trainer has finished runner-up in the Mile three times; with Armada in 2006 and Electronic Unicorn in 2001 and 2002. "I'd like to put it right," he said. Even though Glorious Days' rating peaked in the Jockey Club Mile - and there is the chance of a dip in his performance this time out - Size said his horse had maintained a healthy appearance.
"He seems OK and he has done well since the Jockey Club Mile," he said. "It looked a tough run for him, and a good performance, but he seems the same at home."
As much as Size is a fan of Millard's horse, he feels a performance from Glorious Days equal to that of last start should be enough to break his drought in the feature race.
"If he can repeat it, that should be enough to win the race. I don't have too many concerns, it's an ideal draw on paper," he said.