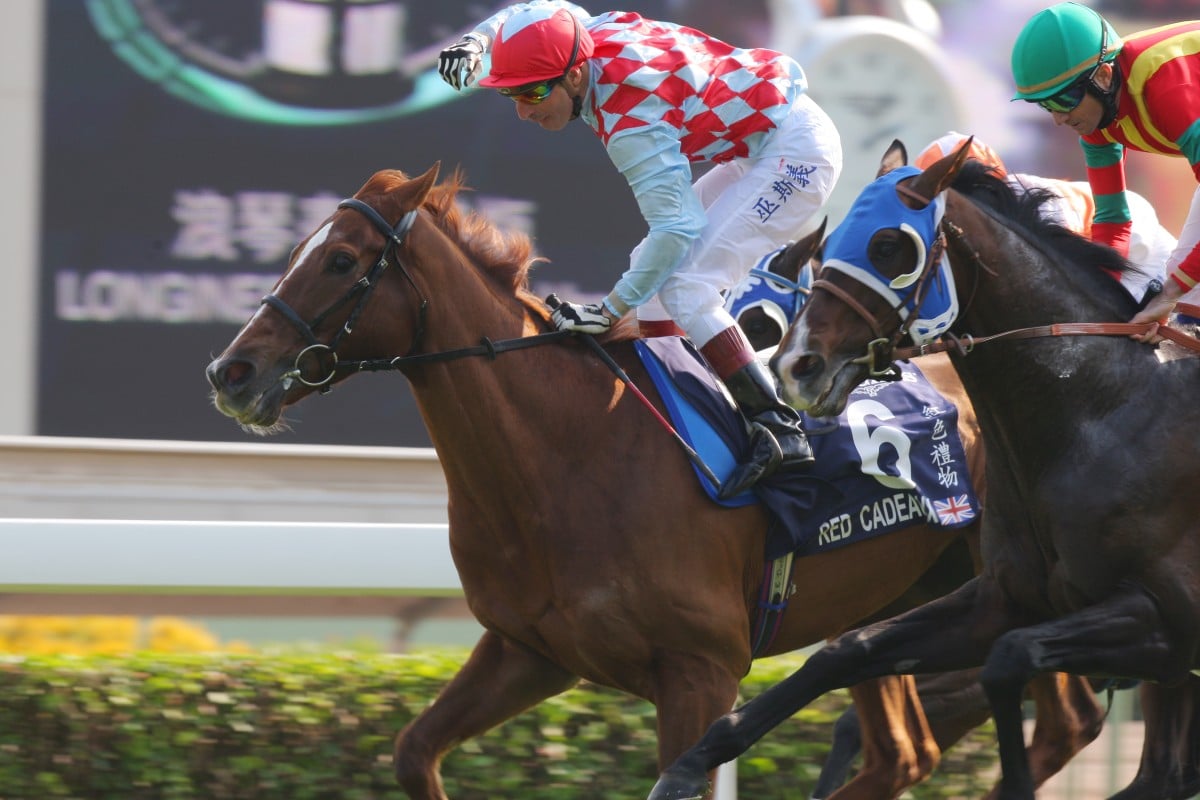 A key mid-race move was the pivotal moment of a vintage ride by Gerald Mosse - the Frenchman adding to his overflowing international day resume and helping Red Cadeaux shed his status as a big-race bridesmaid.
Twenty-one years after Mosse won the Hong Kong Cup on River Verdon for Ronald Arculli, the Frenchman produced a pearler for the former Hong Kong Jockey Club chairman, and delivered trainer Ed Dunlop his third international-day success.
Mosse has now won seven international-day features and showed why he has garnered the reputation as a big-race specialist with a nerveless display - an opportunist move to get away from the rail at the 1,600m proving decisive.
"That's where I won the race," said Mosse, who noticed favourite Dunaden had eased back and moved in front of him into the one-off position.
After being flushed out before the turn, it appeared as though the horse could suffer the same fate as last start when hampered in the Japan Cup, as a gap quickly evaporated between the tiring Joshua Tree and eventual runner-up Jaguar Mail.
"If I hadn't have got going when I did, or if I wasn't travelling so well, I think I would have lost my position," Mosse said.
Red Cadeaux, who was a heart-breaking runner-up to Dunaden in the closest-ever Melbourne Cup in 2011 and dead-heated for third in the Vase last year, was left to slug it out with Jaguar Mail, prevailing by a short-head in a thrilling duel. "Even if they went another lap they wouldn't have went past me," Mosse said.
Douglas Whyte had ridden a perfect race on the runner-up, an eight-year-old who was competing in the Vase for the fourth time, finishing third, fourth and fourth previously. The Andre Fabre-trained Meandre was third, and the best of the two locals was Liberator, sticking on for fourth after Weichong Marwing found the box seat. Dunaden was sent around 2.1 top pick, but couldn't do better than fifth, a flat performance well short of his best.
Dunlop had previously won the Vase with Ouija Board in 2005, and also the Cup with Snow Fairy two years ago, but said being able to put the ghosts of that famous Melbourne Cup defeat behind him, and give Arculli a home win, made this victory particularly satisfying.
"'He deserved this win - he was beaten three pixels in the Melbourne Cup last year, no pace in the Melbourne Cup this year and he got struck in the Japan Cup," Dunlop said. "Ronald Arculli deserves huge praise, and I'm so chuffed for him - to have a winner here is a huge deal."
Arculli showed a wry sense of humour when describing his six-year-old - now a seasoned campaigner who has competed in three countries in the last eight weeks, but took a relatively long time to find his way to Group One level.
"Bloodstock agents like to tell you that the horse they've got you is a slow developer, but this time they were right," he said.
THE JOCKEYS' VIEW
"Even if they went another lap they wouldn't have went past me. Jaguar Mail made me make my move because I feared at the 500m that someone was coming up so I decided right away to pick up. From there he really fought to the line. He showed fighting spirit all the way."
Gerald Mosse
Red Cadeaux
"We had a good trip and the horse did well, although he wanted to hang in towards the winner in the end."
Douglas Whyte
Jaguar Mail
"The pace was all right and my horse was quite relaxed throughout the race. We were following the first two home entering the last straight. No excuse, he did well today."
Maxime Guyon
Meandre
"Very brave to run so well against these very good horses."
Weichong Marwing
Liberator
"Not at his best today, he ran a bit free, I followed the second horse through, he was gallant but didn't have his finishing kick today."
Craig Williams
Dunaden
"We had a good run and he picked up well but didn't quite have the acceleration needed. He's just a three-year-old and still capable of improving."
Christophe Lemaire
Bayrir
"I'm a little disappointed. I was further back than I'd like to have been from the draw but I thought he'd pick up better for me."
Jim Crowley
Dandino