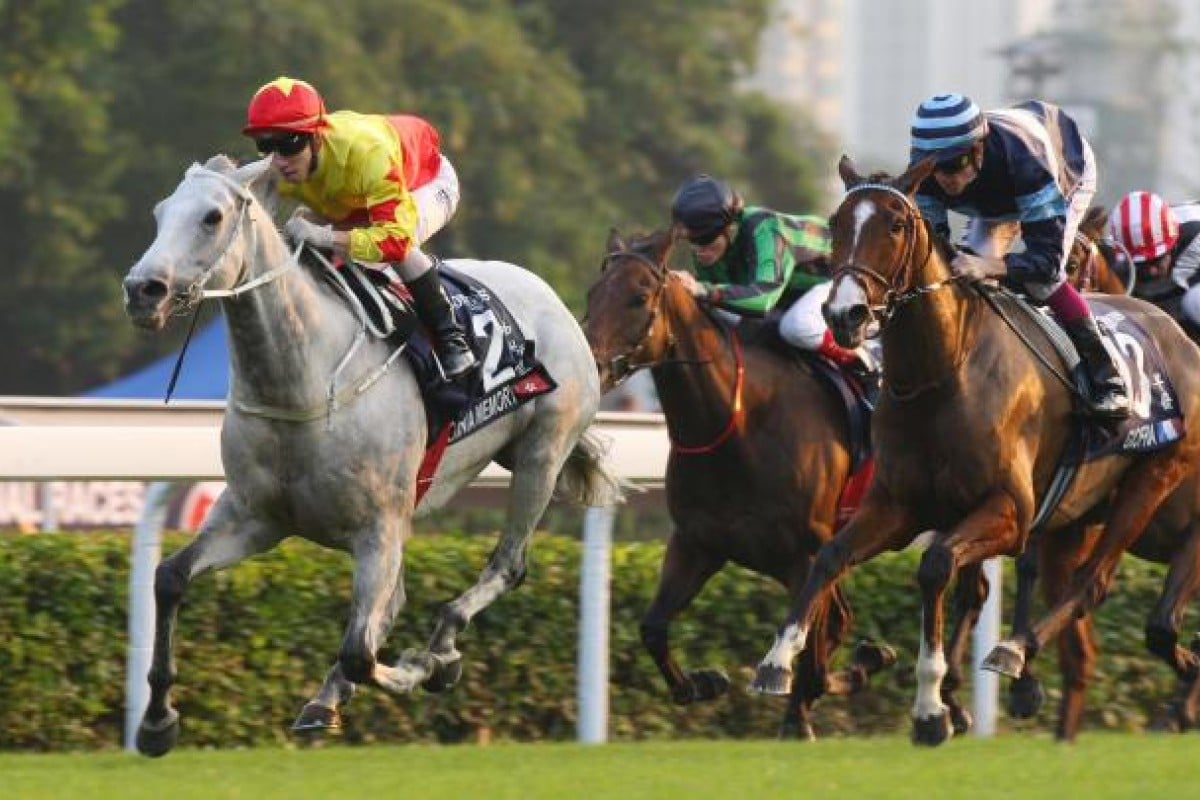 Many might speculate California Memory's back-to-back wins were a product of the shock scratching of the world's top-rated horse last Friday, but Matthew Chadwick thinks the penny dropped his way a day earlier.
"There were three barriers left at the draw - 1, 12, and 13 - and we got barrier one, like last year," the jockey said after the Tony Cruz-trained grey made light of the opposition to win by a length margin that didn't really tell the tale of his authority. "This is the best feeling in the world."
Cruz said California Memory had simply switched off when he was in front so early, as his wins often come with a big late finish, and he had time to wonder where the opposition had gone after skipping clear.
"He was never really going to lose - he showed that great acceleration, then just idled when he was clear in the lead, wondering where the others had gone, but if that second horse had come close, he would have found more," said Cruz, after French filly Giofra got within a length on the line, with a wider margin to Australian stayer Alcopop, who grabbed third.
Chadwick said the grey's ability to lay up handy from the low starting gate was crucial last year in a slow tempo and again in a soft pace this year and said the grey "put them to bed in three or four strides", but Cruz highlighted the young jockey had been less nervous this time around.
"It was the perfect draw again and Matthew rode the perfect race again, but I said to be patient and just follow the leader," Cruz laughed later. "Last year, he was in the same position and tried to come outside and they just pushed him back in, and he can get in trouble like that. I told him, stay cool, man, that's how the game goes - this time he rode with more patience and waited."
How Cirrus des Aigles might have gone, we shall never know, but Cruz was adamant the only way that anyone will get a measure of that will be if Cirrus des Aigles comes to Hong Kong, as he has ruled out overseas targets for California Memory.
"Last year the horse got injuries, he's had problems with his joints and he will probably have some aches and pains tomorrow. The best half of his season is the first half because of those injury problems so going overseas with him to Dubai and Singapore didn't help last season. It's doubtful he will go overseas again. We've got a sure thing going on here in Hong Kong so I think we'll stick to one place that's good," Cruz said.
"I have to send a big thanks to Ben Mason, who was my vet before, and who has recently gone to Australia to live and will probably be waiting for the result in Melbourne.
"Ben, you did a fantastic job on him and that is why he's performing so well now."
Christophe Soumillon was in deja vu mode with the Alain de Royer-Dupre-trained Giofra, making comparisons to the Cup finish seven years ago when Hong Kong's Vengeance Of Rain held off late-finishing Pride, ridden by him for the same trainer.
"Had we got a better draw, we would have won the race. The winner took off when we were still struggling to get out of there and, by the time I could go, we were six lengths back," Soumillon said.
"She showed that she was up to the task and hopefully could emulate Pride - that is, come back here next year and win the Cup!"
JOCKEYS' VIEW
"I'm over the moon right now, it's incredible. He's a great little horse."
Matthew Chadwick
California Memory
"Had we got a better draw we would have won the race. The winner took off when we were still struggling to get out of there and, by the time I could go, we were six lengths back."
Christophe Soumillon
Giofra
"He jumped in the air at the start and copped an early check. It turned into a sit and sprint."
Craig Williams
Alcopop
"He ran a massive race. He fought all the way through."
Neil Callan
Dan Excel
"He ran super. The race was run funny and we were near last and deep. They really slackened the pace and then took off at the 600m and left him a bit flat footed."
Brett Prebble
Military Attack
"He wasn't good enough today really."
Ryan Moore
Carlton House