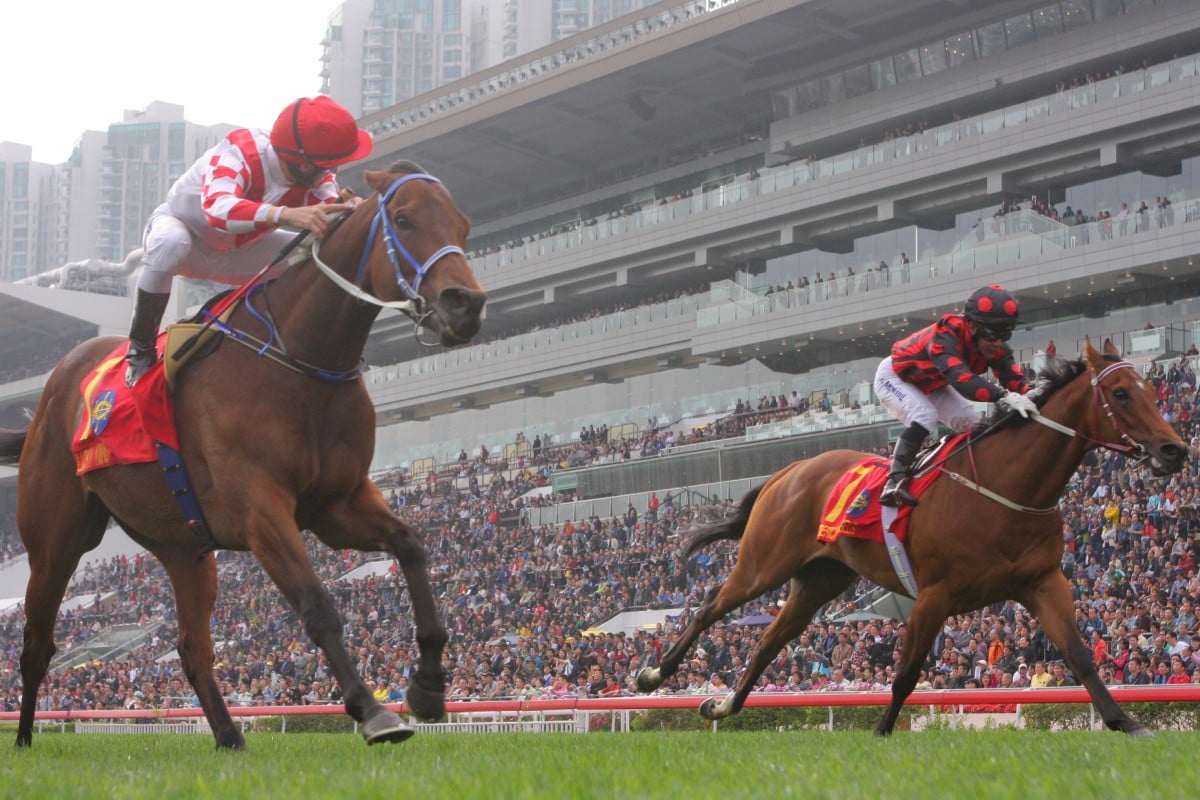 Having a limited pool of mostly geldings, with no stud values to promote or protect, and only two meetings per week at two tracks has its advantages. There's nowhere to run and hide and, as a result, trainers and their horses are pushed way outside preconceived comfort zones as the programme dictates where they run next.
As overseas jurisdictions dream up ways to get their best horses to race against one another and fans argue over hypothetical match-ups all over the racing world – on Sunday at Sha Tin the three best horses meet in a tantalising clash that could decide Horse of the Year honours.
Comparing the Queen's Silver Jubilee Cup match-up of Lucky Nine, Ambitious Dragon and Glorious Days, with the Australian Turf Club trying to lure the best in Australia to take on Black Caviar in next month's All Aged Stakes isn't exactly a fair comparison. Both races are 1,400m around a right-hand turn but it isn't like-for-like. But comparing the situations reminds us of what makes Hong Kong racing great.
The trainers of the "big three" don't have much choice but to run this weekend – it's either here or a mid-season trip to Dubai that could put at risk options later in the season. If they could avoid each other they would, just like everybody wants to avoid Black Caviar Down Under.
But if you have a horse that is a specialist at one specific course and distance it can be a long wait for a pet event. And if you're waiting for a set-weights soft option in which to beat the handicapper with your Group One star, you will only have a handful of starts per season.
If a trainer thinks he can prepare a horse along the southern hemisphere pattern of first-up 1,200m, progressing up in 200m and 400m increments and peaking over 2,000m for a feature race at the fourth or fifth run in, he is dreaming. The Hong Kong system has a way of challenging old-fashioned conceptions, training techniques and race strategies – it's like myth busters for racing.
There's no doubt trainers and jockeys in any part of the world get locked into one-dimensional thinking; one common idea being that a horse can only be ridden a certain way – forward or back in the field – and not adapt to the tactics that best suit it on a particular day.
Trainer Andy Leung Ting-wah is one trainer who could never be accused of one-dimensional thinking – in fact, if his fashion sense and zany quotes are any indication then his thinking might be more Merry Pranksters than Monty Roberts when it comes to horses. Last night he was sprouting war analogies after Creative Union won for the second time in three starts.
"It was like a perfect war plan – we creep up behind, then catch, and then boom," he said of Richard Fourie's perfectly executed winning ride.
Leung is famous for presenting a page of printed instructions to jockeys in the parade ring pre-race. As it turns out, last night the list was an astonishingly accurate three-step plan. But sometimes his instructions include half a dozen mid-race moves that can leave the rider scratching his head, especially when halfway down the list is the puzzling demand: "Please pick up my bright yellow jacket from the dry cleaners."
Just one other advantage of everyone being in one place, surprise stable raids aren't a necessity. That's because the stables are in a compound at Sha Tin and the only vets allowed near the horses are Hong Kong Jockey Club employees. The only "tubing" done by trainers is floating on a tire inner tube during an off-season junk trip to an outer island.
Of course, there is the fact that in between the Sha Tin meetings like Sunday's marquee match-up are a host of sometimes soulless Class Four and Class Five handicaps – they don't exactly capture the imagination. But a day like this Sunday makes it worth it.
If some financial incentives can convince any two or three of Black Caviar, More Joyous, Hay List, All Too Hard or Pierro to meet at Randwick– it would be something to behold. But for now it's the stuff of dreams and in the here and now, let's enjoy the reality of three great horses squaring off over 1,400m at Sha Tin.