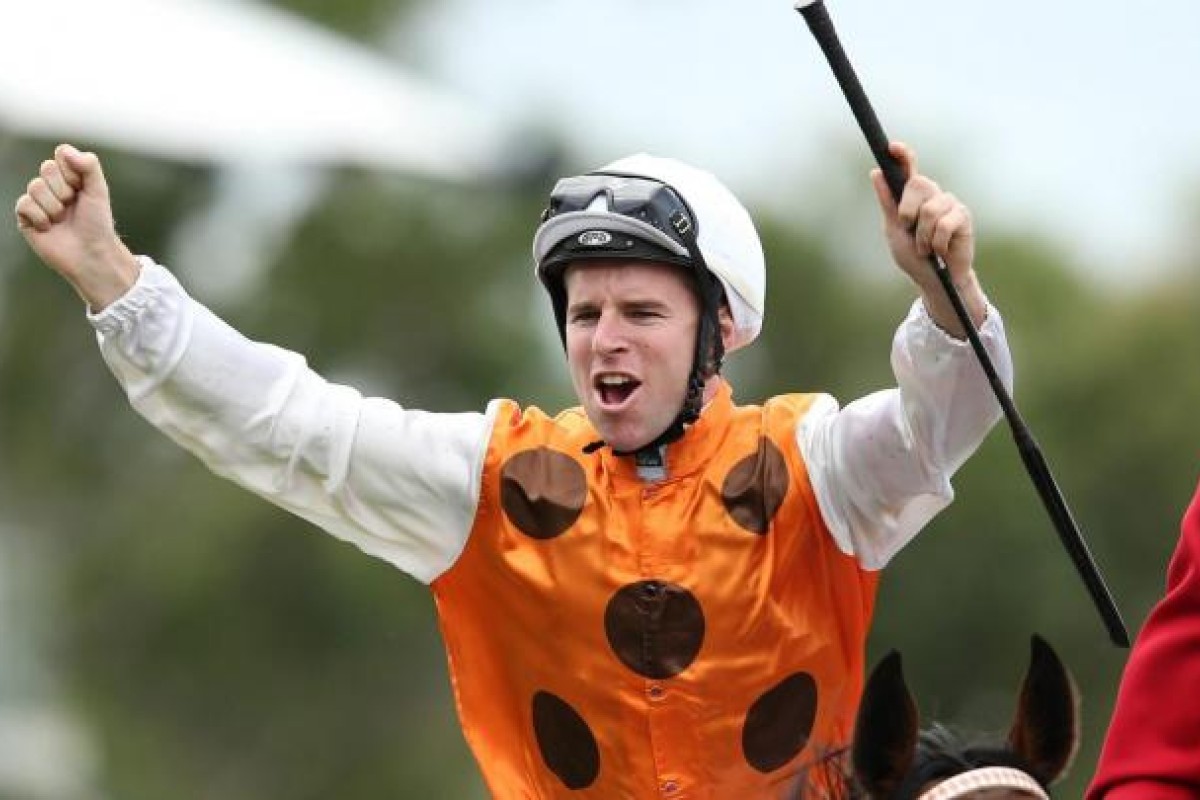 Fresh from his brilliant Golden Slipper victory last Saturday, Sydney's top young rider Tommy Berry will join the jockey roster from the end of this month.
Berry's licensing was one of the major announcements to come out of yesterday's Jockey Club Licensing Committee meeting, along with the granting of new trainers' permits to local horsemen Chris So Wai-yin and Benno Yung Tin-pang.
Berry, 22, is a rising star of Australian racing and is a stable rider for the powerful Gai Waterhouse yard, which provided his winner of the world's richest juvenile race, Overreach, at the weekend.
His arrival will fill the gap left by the departure of Tim Clark, who has been released from his club contract as of April 29 and will return home to Australia for personal reasons.
Berry's 21-meeting stint will start on April 28 and he will ride out the remainder of the season. In doing so, he will sacrifice the chance of winning his first Sydney jockeys' championship.
"I'm in front in the Sydney premiership at the moment, so that was something I had to consider, but it has always been a dream to ride in Hong Kong," Berry said yesterday.
"Steve Railton from the Jockey Club spoke to me about a month ago to say I was on the club's radar and to ask if I would be interested. I rang Gai and had a chat to her about leaving and she said I would still have a job if and when I came back.
"As she said, these opportunities don't come along too often. This tops off the best weekend of my life."
The son of a Sydney trainer, Berry has been riding since 2007 and was champion New South Wales apprentice in the 2009-10 season before linking with Waterhouse.
The Slipper was the fourth Group One win this season for Berry, who is closing in on 500 career wins at a strike rate of around 11 per cent and can ride at 116 pounds.
The new trainers, So and Yung, have been promoted to fill two vacant slots from the commencement of next season with the imminent retirement in July of Andy Leung Ting-wah and Peter Nk Bik-kuen due to age restrictions.
Yung, 54, has worked in Hong Kong racing since 1976, first as an apprentice then senior jockey, then as a work rider, including five years with John Moore in that role, before working his way up the path towards becoming a trainer.
He has worked as an assistant trainer since 1991 under several mentors but most notably has been the assistant to John Size since the Australian commenced his career locally in 2001. Yung has played an important role in the trainer's seven championship titles during that time, and a glowing recommendation from Size formed part of his successful application for the position.
So, 44, worked as an exercise rider and assistant trainer at Toronto's Woodbine racetrack for five years before joining the Jockey Club in 1997 as a work rider, serving in that role with David Hayes for three years and then with Tony Cruz for a similar period.
He was then promoted to assistant trainer for Caspar Fownes in 2003, Fownes' debut season, and So has worked in that position ever since with an active part in the two championships annexed by the trainer.
Both the new trainers have also had considerable experience working with trainers overseas as well as undertaking extensive training courses in leading racing centres around the world.
The pair will be formally presented to the racing media at Sha Tin this morning, and their training licences will take effect from July 11, the day following the season's final meeting.