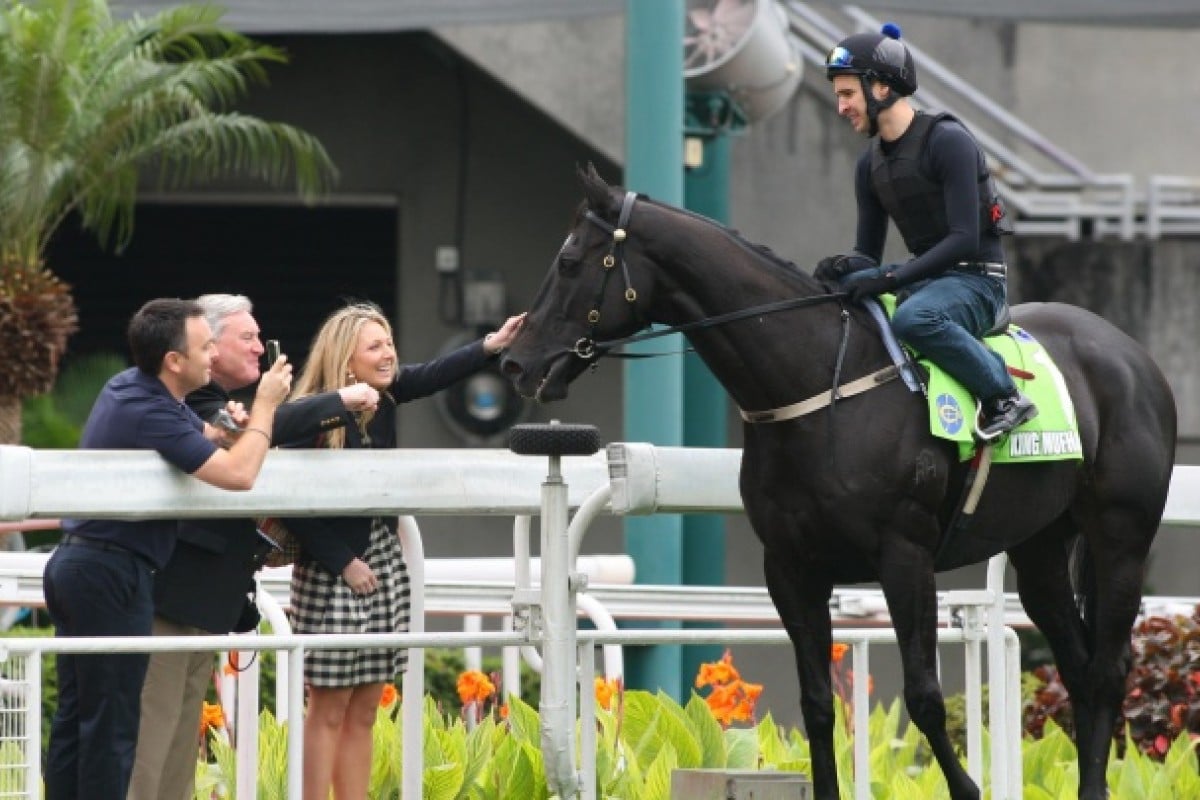 If Shakespeare is to be believed, there's not much in a name, but an epiglottis is more challenging and New Zealand's King Mufhasa may be the living proof after the Champions Mile.
Trainer Bruce Wallace took a gamble to have King Mufhasa undergo surgery mid-campaign in Sydney when epiglottic entrapment was interfering with the eight-year-old's breathing.
Now it might lay the path to the gelding winning a remarkable 11th Group One at Sha Tin at his fifth run since leaving long-time trainer Steve McKee in January.
With a fifth and third at Group One level in Melbourne for Wallace, King Mufhasa was not failing but something wasn't right and an uncharacteristic 10th in the Chipping Norton Stakes in Sydney was the catalyst for a rethink and throat surgery.
"He's a different animal now. He has changed in a lot of ways, not only the breathing - his movement, his action. Even Michael Rodd has commented on it," Wallace said after watching King Mufhasa roll around 1,400m at Sha Tin with some purpose.
King Mufhasa's preparation was put on hold as he recovered from surgery, but he shrugged off a month's break with a great second in the Ryder Stakes at Rosehill.
"That was a big thrill because it vindicated us. Had he come out and failed again, people might have said, 'All Wallace has done is take the knife to him and got no result,'" said the trainer.
"Given what he'd been through in four weeks leading to the Ryder, I give him credit for even making the race, and he's better now.
"The horse came to me from Steve looking great but as an eight-year-old with his issues. I'm not saying I've improved him but I think we're handling him well."
King Mufhasa races in New Zealand as Mufhasa - the King prefix was required to avoid confusion with a similarly-named horse when he raced in Australia. When Wallace proposed Hong Kong, David Archer and his co-owners had the choice and decided to keep King Mufhasa as the gelding's international name.
Wallace has been here twice, for a third in the 1996 Hong Kong Cup with Kingston Bay and a second in the 1998 Vase with Darazari, so he knew the drill.
"I said to David I've travelled horses for years, always liked the challenge. When I was younger, I probably raced more in Australia than New Zealand and had more success," Wallace says.
"They've had some great experiences with King Mufhasa but he's nearer the end than the start, and will probably retire under my care at some stage, and Hong Kong was an opportunity to add another chapter to a great career.
"In me, Amy Doran, who looks after him and rides his work, and Michael, we had the right team. What we did this week is what I did with Darazari and Kingston Bay and I couldn't be happier."