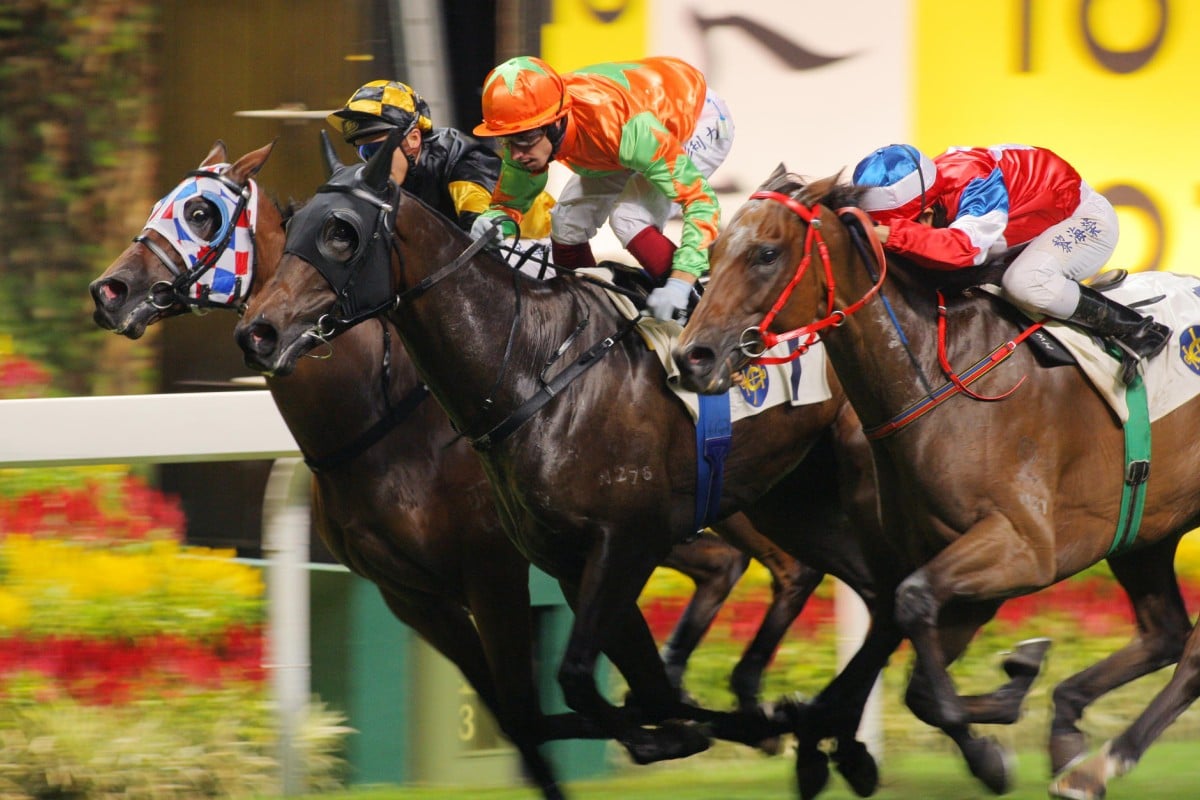 Happy Valley's first night back from vacation was punctuated with enough highlights to fill three meetings, as new jockey Nicola Pinna rode his first winner, trainer Me Tsui Yu-sak landed the first turf treble of his career and Gary Ng Ting-keung made an unaccustomed strong start to the term.
Appropriately, Italian rider Pinna was aboard Tsui's winner Forza - his name means "strong" in the rider's native tongue - and it was no accident that another of the yard's heroes, Golden Bauhinia was ridden by another new boy in Karis Teetan.
When I was a new trainer, I appreciated the chances that people gave me. Now I like to give the new jockeys a chance to prove themselves, too
"When I was a new trainer, I appreciated the chances that people gave me," Tsui said. "Now I like to give the new jockeys a chance to prove themselves, too."
For Pinna it was a nice surprise, of sorts, although the breakthrough win for the jockey was three in a row for the horse.
"Forza is what I yell out when I go to Juventus football games," Pinna smiled.
"But, seriously, I know it is important to get a winner early, maybe get better rides. I spoke to Douglas Whyte who trialled the horse but had another one in the race, and he was very helpful so I'm grateful to him."
The treble was a triumph for Tsui, who had three-timers on March 23, 2011, and again on June 5 the same year, but nearly all those wins came on the all-weather track.
Before Teetan and Pinna made their presence felt, Whyte had steered home Tsui's first winner, the seven-year-old Fresh Air in the Class Five opener.
He hadn't won since March last year but more remarkably, given that the Durban Demon has now won three of four on Fresh Air, the jockey had not been aboard since late 2010.
Gary Ng is normally a slower starter each season but he snapped up something expected in the Class Five mile with Casa Junior and something totally surprising with St Yazin later in the night, both with Eddie Lai Wai-ming in the saddle.
"This was the right time for Casa Junior. He is a horse who doesn't carry much condition and doesn't handle much pressure, so I was confident with him coming back after the summer break, with some weight on him, but I couldn't say he will keep it on now," said Ng. "He was expected but St Yazin completely unexpected. He wasn't handling turns very well last season. He is better now but this race looked too short."
A big night was anticipated for Zac Purton, but he had to wait until the final race to land his lone winner and it didn't come without incident.
Favourite Pleasure Gains was slowly away before finding a good place midfield on the rail but his troubles emerged once heads turned into the home straight. Purton was held in a pocket by arch rival Whyte on Cool Bean as he made his challenge and Pleasure Gains had nowhere to go until the final 100m when he found a split, put his impressive acceleration to work and got up by a nose.
"I was trying to save him from the handicapper," quipped a relieved Purton but the comment might have some resonance for trainer Manfred Man Ka-leung.
"He has won tonight off a 72 rating and he won't get much for that. For a horse with ability like him, fairly low in the ratings, he might be a chance for the 1010 Million Challenge here," Man said. "He is also an International Sale horse, so with three wins, that's also a HK$1 million bonus which could be a chance for him."
And Danny Shum Chap-shing was forecasting more to come from Perfect Finish (Alex Lai Hoi-wing) after he won his third Valley sprint. "He was better tonight in a Class Two with a light weight. When Douglas Whyte rode him in Class Three with a big weight, the horse found it too tough," Shum said. "Perfect Finish had a long break with a suspensory problem when he arrived so for a five-year-old, he is only lightly raced and I think he can go higher yet."