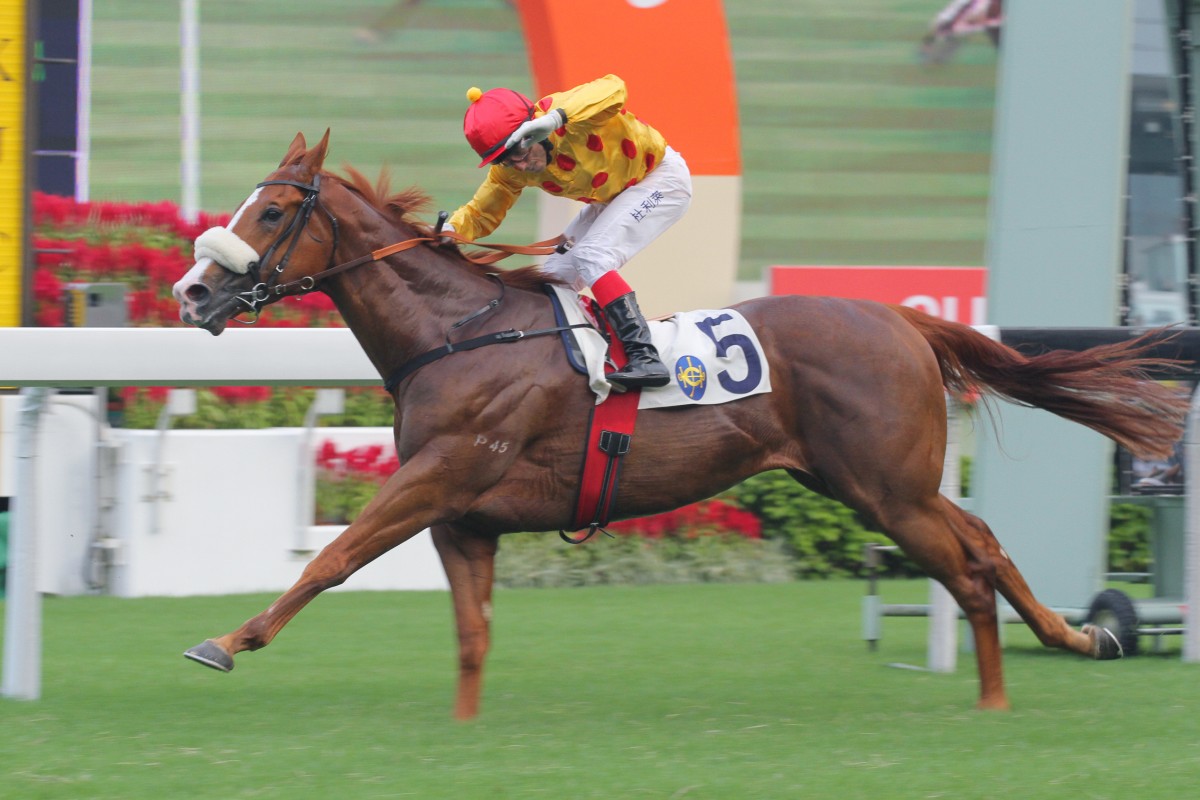 Richard Gibson's jockey merry-go-round has suddenly stopped, with in-form Frenchman Olivier Doleuze retaining the ride on stable elect Gold-Fun and Douglas Whyte sticking with the out-of-sorts Akeed Mofeed in Sunday's Oriental Watch Sha Tin Trophy.
As many of the big guns, including reigning Horse of the Year Military Attack, are wheeled out for the first time this season in the mile handicap, much of the pre-barrier draw intrigue surrounded whether Whyte would again replace Doleuze on the Gibson stable's "number one seed" - as he did on a number of occasions last term.
Pan Sutong owns the two Gibson-trained runners, and even though Doleuze rode both horses in their first starts for the trainer, it was Whyte who won the big ones: taking the Classic Mile on Gold-Fun, then switching to Akeed Mofeed to win the BMW Hong Kong Derby. In fact, Doleuze hadn't won for the owner before Gold-Fun's breakout effort in last month's National Day Cup.
Olivier has started the season in spectacular form and both he and Douglas now know their respective mounts very well
"It would have been the wrong decision to take Olly off the horse after such a good performance," Gibson said. "These decisions are made in close consultation with the owner, but Olivier has started the season in spectacular form and both he and Douglas now know their respective mounts very well."
Doleuze was obviously thrilled at the show of faith and said it was Gold-Fun's ability to adapt to differing race tempos that will hold him in good stead on Sunday.
"I've looked at the entries and the lack of pace may be the key to the race. I don't think there is a major leader," he said.
"The good thing about this horse is that he is very flexible. Last time he showed he can come from the back, but he can win from on pace, too."
It's rare that Whyte doesn't get the ride he wants, and there's little doubt he would prefer to be on Gold-Fun, but the champion jockey is expecting sharp improvement from Akeed Mofeed.
The big entire was always going to need racing to bring him to hand, but a sluggish first-up ninth on National Day was still underwhelming, and Whyte is now looking forward to getting to what he feels is the horse's optimum distance: 2,000m.
"Last season we were of the opinion his best distance was a mile, he just wouldn't let go of the steel and the pace of the shorter races suited him but he has chilled with age and mentally taken the steps that a good horse needs to take," Whyte said.
"He was rusty first start, but he was never going to get to anywhere near where we wanted him without race fitness.
"You can pump as much work into a horse like that for as long as you want, but it's race fitness that gets him where you want him to be. How he comes out of that last run will be interesting, and I'm hoping for big improvement. But whatever happens, he will be better again after this run."