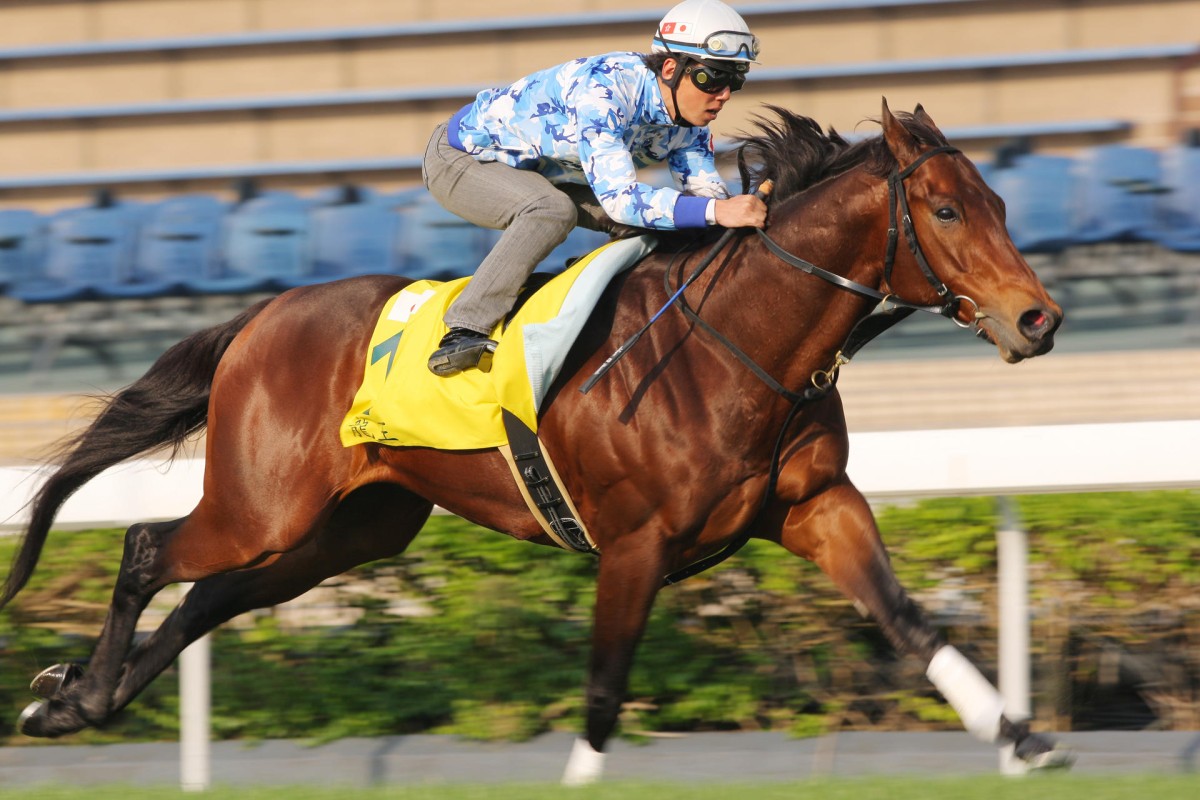 It was only a track gallop but it should send the biblical "fear and trembling" through the ranks of Longines Hong Kong Sprint rivals. On Monday, it was Lucky Nine's turn at the headline writing and yesterday, his high-profile Japanese nemesis Lord Kanaloa returned serve - and did not miss.
These midweek mornings in the lead-up to the International Races are paradise for horse lovers. Where else can you see so many legitimate Group One horses, working on the same tracks in ideal conditions, just begging for comparisons to be made?
Firstly, the nuts and bolts: Lord Kanaloa, ridden by regular work rider and assistant trainer Shogo Yasuda, worked solo on the Sha Tin course proper, where the markers were about 23 metres out. He moved off down the back straight and went a full 1,200 metres - the same distance he'll be asked to cover on Sunday in the HK$16 million Hong Kong Sprint - and clocked 1:19.50 for the full journey.
It was all pretty much laissez-faire until the 600 metres, when the tempo quickened appreciably. Then again approaching the 400m, the screw was tightened once more. And finally, at the 200m, a single hit with the whip signalled "fly time" to the champion.
And fly he did. Lord Kanaloa ran his last 400m in 21.4 seconds, lengthening out superbly over the final 200 in 10.3 seconds.
Thoroughbreds just don't go any faster at the end of a full 1,200m gallop, and experienced clockers on the eighth floor of the grandstand were scrambling to check their times against each other's, thinking this was just "too fast" and fearful of having made a critical mistake. Ten point three seconds, correct weight.
Yasuda said later that Lord Kanaloa had been "too relaxed" during the week and was enjoying his Hong Kong holiday a bit too much. "That was what he needed, and he'll have another gallop the day before the race, as he did last year - just a quick 200 metres," Yasuda said.
If Lord Kanaloa could be regarded as sending a return salvo back across the net to Caspar Fownes-trained Lucky Nine, who made the trees sway with his own brisk piece of work two days earlier, he might also have been sending a warning note to the international handicappers.
Indeed, if horses could read and take offence at such things, then Lord Kanaloa would be highly indignant at his assessment going into Sunday's showpiece, where he shares top billing with Lucky Nine (among the sprinters at least) on a rating of 120.
Last year, Lord Kanaloa not only won the Hong Kong Sprint (with Lucky Nine fifth), but he was the most superior winner of the race since Sacred Kingdom in 2007. His speed rating, a scientific measure of performance, was up there with Sacred Kingdom's and that other sprinting legend, Silent Witness (2003, 2004).
He's returned home to Japan to not only win a second Group One Sprinters Stakes at Nakayama, but extended his dominance to the mile realm in the Yasuda Kinen (Group One) in June - something even Silent Witness could not do. And against international competition, too.
While drawing barrier 12 was undoubtedly the excuse for Lucky Nine last year, it should be noted barrier 16 proved no obstacle for Lord Kanaloa in the 2012 Sprinters Stakes, when five deep at the 600m was the closest he came to the inside rail.
Lucky Nine has won 11 from 33, including the 2011 Hong Kong Sprint and the 2012 Krisflyer Sprint in Singapore. Lord Kanaloa has won 12 from 18, including five Group Ones. In their head-to-head battles, it's 2-0 to the Lord.
Sunday is Lord Kanaloa's swansong before switching careers to the breeding barn, so the handicappers have one last chance to get it right.