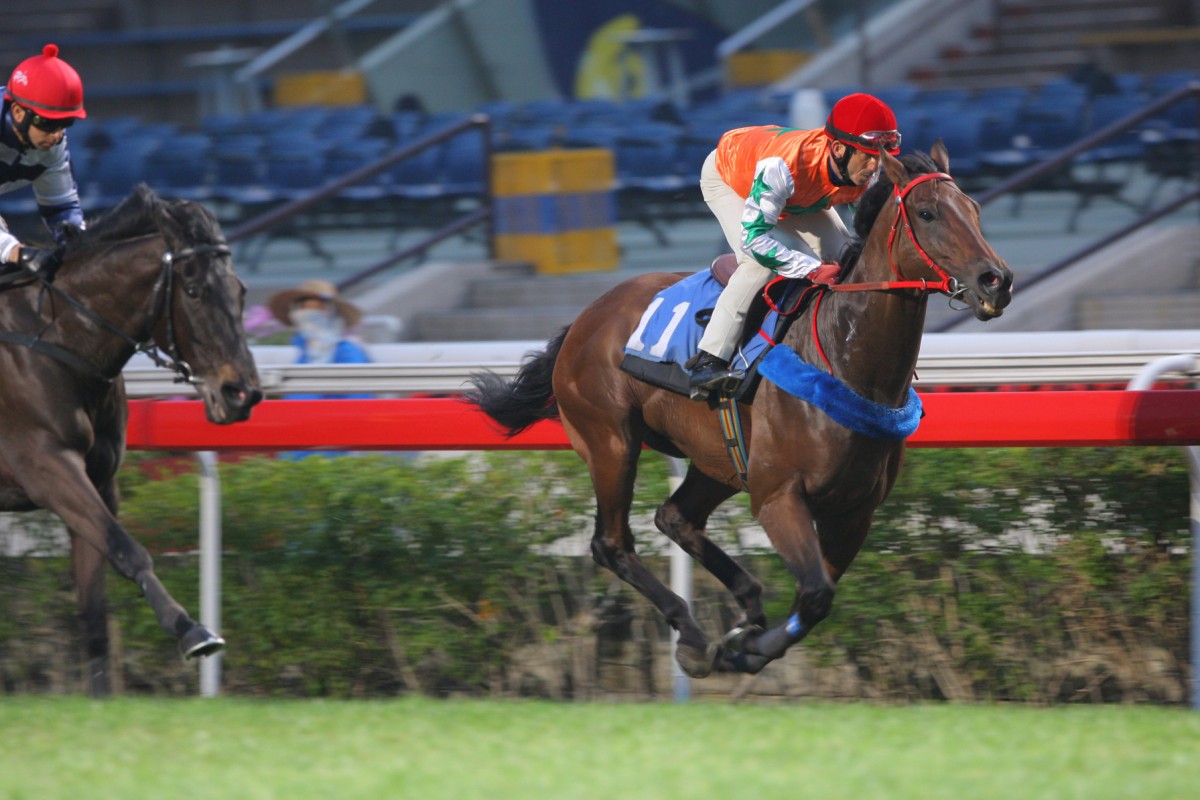 For all of the trouble Manfred Man Ka-leung's Eagle Regiment has had with sore joints over the years, it is a relatively new problem that means he will not be pressed early from a horror draw as he chases a record-breaking third consecutive Group One Kent & Curwen Centenary Sprint Cup on Sunday.
Barriers closest to the Sha Tin grandstand are paramount over Eagle Regiment's favoured straight course and the six-year-old came up with gate one, meaning he will jump from the centre of the track.
And even though Olivier Doleuze pulled off one of the rides of the season when bouncing Ensemble to the front from a similar position to steal a lower grade race, he will not be trying anything of the sort on Sunday.
I won't be burning the candle too early. It will be better to keep something for the last bit
"We got the worst gate we could have, but we will see what happens - we might get cover. He has had his issues and you need to take that into consideration when you ride him, too," Doleuze said, not referring to Eagle Regiment's well-publicised leg problems, but bleeding issues that surfaced when he ran first-up this season.
Doleuze not only wants to avoid exacerbating any internal problems by pushing too hard early, and figures taking a sit might be the best option, especially given the expected speed in the race.
The pace is likely to be on from the outset with Go Baby Go drawing 10 of 10 and the coveted grandstand rail, and speed machine Amber Sky likely to cross and take up the running early.
"I won't be burning the candle too early. It will be better to keep something for the last bit," Doleuze said.
"The main concern is that we have to ride him differently now because of his issues and because he is getting older.
"He will show me where he wants to be in the race. We have to respect him and, in that case, he will be able to give us a very good turn of foot at the end. I will have getting cover as a target, and then make a move at the right time."
After a failed attempt at December's Group One Hong Kong Sprint, Eagle Regiment has been given an easy time since then - a quiet trial topped off by Doleuze partnering the horse in an impressive grass gallop earlier this week.
"I don't need to touch him to know he is in good form," Doleuze said. "Fitness wise I am very happy with him - but we need to keep some power in the tank."
The light preparation was not only geared toward Eagle Regiment being as fresh as possible for his pet event, which he won first-up off a near 10-month break last year, but for a planned third trip to Dubai for the Group One Al Quoz Sprint, where he was third last year.
In other news, Irish jockey Neil Callan will apply to extend his licence to the end of this season, but Italian Mirco Demuro will not. Callan will ride beyond Group One Hong Kong Derby day on March 16 pending Licensing Committee approval.
The lure of riding potential Dubai World Cup runner Logotype was too much for Demuro to resist, and he will return to Japan to ride the horse after the Happy Valley meeting on March 5.