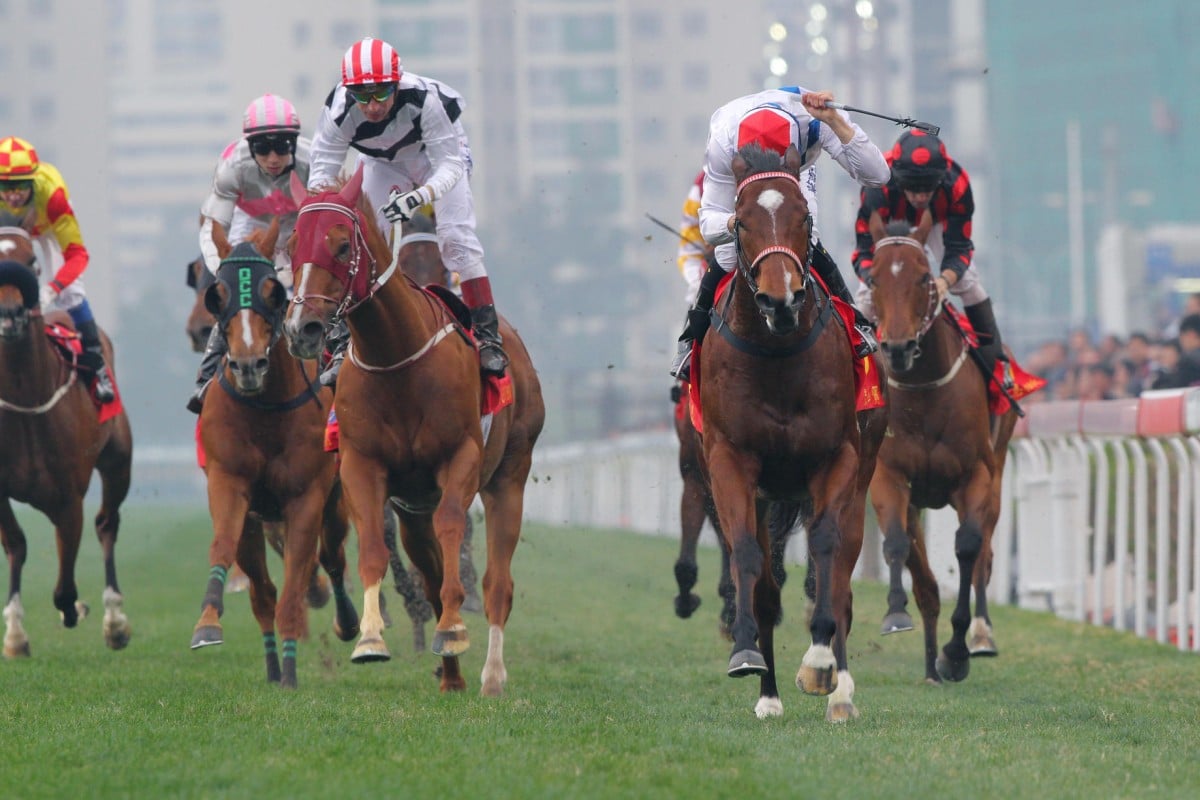 The problem with straight racing at Sha Tin has surely now become unconscionable for the Jockey Club.
Looking beyond the sizzling win by Amber Sky on Sunday, which set him on a path towards Dubai, surely there has to be consideration the track bias may also have meant the end of any such plans for others.
Of course, Frederick Engels had an issue other than his inside draw - something partly overcome by jockey Neil Callan finding his way to the outside rail movator - as he emerged with a "blood-in-the-trachea" report, but his bid for the Centenary Sprint Cup had already become troubled when the barrier draw took place.
The straight course has been a nightmare for inside draws for some time, but the bias is becoming more accentuated and the three-lane highway down the outside rail looked more like a two-lane moving walkway on Sunday.
No better read than that was available, since the Jockey Club has insisted lately on programming more "orphan" straight races - meetings with just one 1,000m event - and the Group One was Oliver Twist.
The straight course has been a nightmare for inside draws for some time, but the bias is becoming more accentuated
Perhaps, the club itself has become rightly embarrassed by the course and wouldn't want too many races there to "show it off".
The official reaction to views like this - wherever you are in the world and whatever the issue - tends to be dismissive denial, but this is real, even if more subtle than the example of Solar Spirit. His form turnaround was enormous, after he jumped from two outside gates to win and finish fourth, and then was beaten 12 lengths into 11th when he had to run from gate two.
For a snapshot of a time when the straight course was fairer, we had a look back 10 years ago - an arbitrary, random choice of the straight races run in the 2003-04 season, vis a vis barrier draws.
There are issues with that form of comparison - for one thing draws have an influence on what path a horse takes, but aren't everything.
On Sunday, horses from gates two (Frederick Engels) and four (Straight Gold) found themselves racing against the outside rail.
Given that there will always be races with less than full fields, and thus races without wider barriers, there is also some statistical bias towards inside draws, but that will be the case in any collection of races, even the ones this season in which the proportion of under-filled fields are almost identical to 2003-2004.
Rather than go through it barrier by barrier, we have broken them down into Group A, barriers 1-5, Group B, drawn 6-9 ,and Group C, the double-figure draws.
In 2003-04, from 41 races, Group A won 17 races, Group B won 10 and Group C won 14. This season, from 21 races, those scores read Group A 6, Group B 7 and Group C 9 - a clear swing in percentage terms towards the outside.
Placings also show a change. Ten years ago, Group A contributed 30 per cent of place-getters, Group B 34 per cent and Group C 36 per cent. Again, the spread insinuated a plus for outside draws, but not a crazy one.
In 2013-14, those percentages have become, respectively, 24 per cent, 35 per cent and 41 per cent - the middle draws have remained similar but inside draw placings have dropped by around the same amount that outside draw placings have increased.
We may be dealing with smallish numbers but those numbers support the notion held by just about everyone who is taking any notice - the spread has shifted outwards.
On the C+3 course, which for some reason is the course most used for straight events, including 13 this season, more than half the winners in 2003-04 came from gates 1-5. This season it is less than one third.
What to do? We aren't privy to what effect work on the track or its drainage might have had, but moving the barriers back to where they were might be a start - winners did come down the centre and even against the inside rail.
Perhaps the effort to get to the outside rail took the steam out of some of those who did so, in those days.
Some won't want to fix the problem - there have certainly been those who took advantage of the situation to disguise horses' form by racing out in the centre of the track - but if the Jockey Club is interested in fixing the problem, the first step is to agree there is a problem.