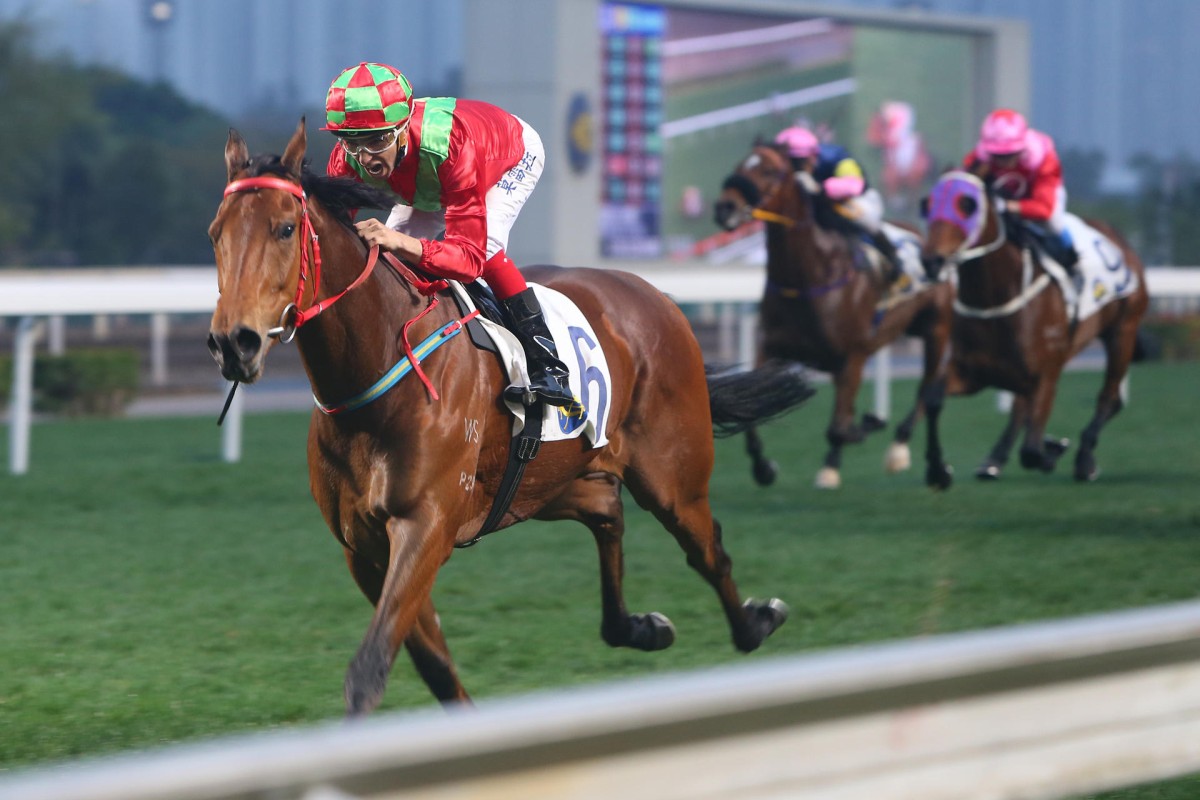 Joao Moreira believes leader Zac Purton is the most likely winner of the Jockeys' Championship, even after a four-timer at Sha Tin took him to within nine wins of his rival at the halfway mark of the season.
I still think Zac has a higher percentage chance of winning. He has the lead and I'm out for another three meetings soon
Purton came up empty after returning from a two-meeting suspension and Moreira dominated with wins on Hello Kimberley, Telecom Prince, Dehere's The Love and Flame Hero to go to 48 wins for the term.
Moreira spotted Purton a 10-meeting start and a 13-win margin at the beginning of the season - the same buffer between the two before Saturday's 10 race card.
But even with many believing a Moreira championship is inevitable, the man himself is not so sure given his trouble with stewards that have seen him handed careless riding suspensions on four separate occasions, with one three-day stretch still to be served.
"I still think Zac has a higher percentage chance of winning," Moreira said. "He has the lead and I'm out for another three meetings soon. From here until the end of the season, I can get more suspensions too - my situation is worse than him because of my previous record."
"Zac also has some great support - he is a great jockey and he deserves all of the support he gets. If he wins I will be happy, but I am more thinking about next season.
"It would be pretty special to win the championship here, but if it is going to happen, it will happen by itself.
"I haven't set that up in my mind because I don't want to put any more pressure on myself. I just want to ride winners, and I think it is going well - even if I have been banned a few times."
Moreira admitted coming to terms with Hong Kong's tight racing style was tougher and far more difficult than he expected it to be.
"I came here to learn a little bit more about horse racing and I knew this place would improve me, but I am finding it so tough. Even though I am winning races, it's a very tough game. I never expected it to be as tough as it is," he said.
"The handicappers keep the racing tight and in the last 200m there isn't much difference between horses and not much room. There are a lot of great jockeys over here and they probably can judge these tight situations better than me, and perhaps not get suspended as much as me."
"The number of suspensions shows that I'm still not familiar with this type of racing, but I am confident that down the road I will work it out."
What pleased Moreira most about his haul was the progressive nature of two of his winners - Flame Hero and Dehere's The Love.
"Things couldn't have gone any better and two of the winners are horses I hadn't been on before and they look like going on and winning more races," he said.
"I'm looking forward to staying on them. Unfortunately I have those suspensions - I just hope next time they race doesn't clash with when I am out."
By the time Flame Hero ran in the last race it was clear that getting to the outside fence was key, and once Moreira got him there he was on his way to an easy five-length victory.
"Good horses make jockeys' lives easier," he said. "He got to the outside fence easily, and I probably touched him with the whip once."
"Even if he goes up a lot in the ratings - he won pretty easily and they may punish him quite heavily - he can win another race."