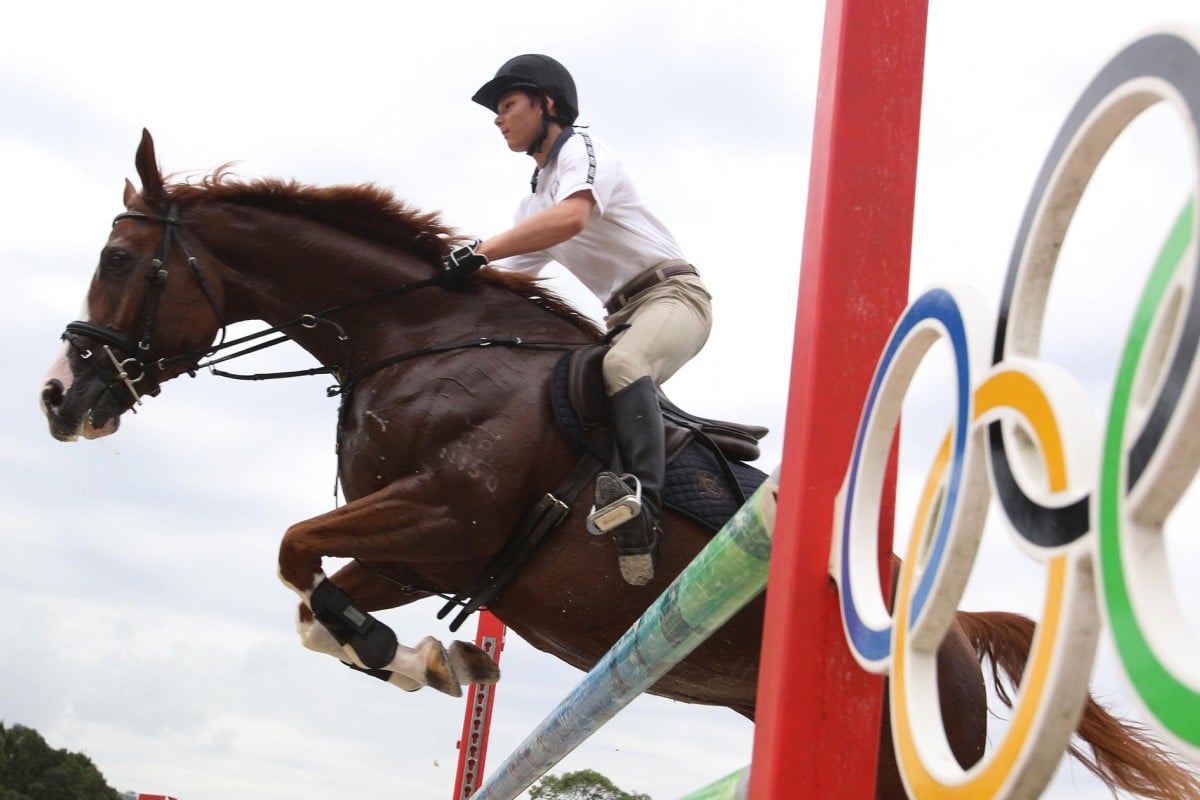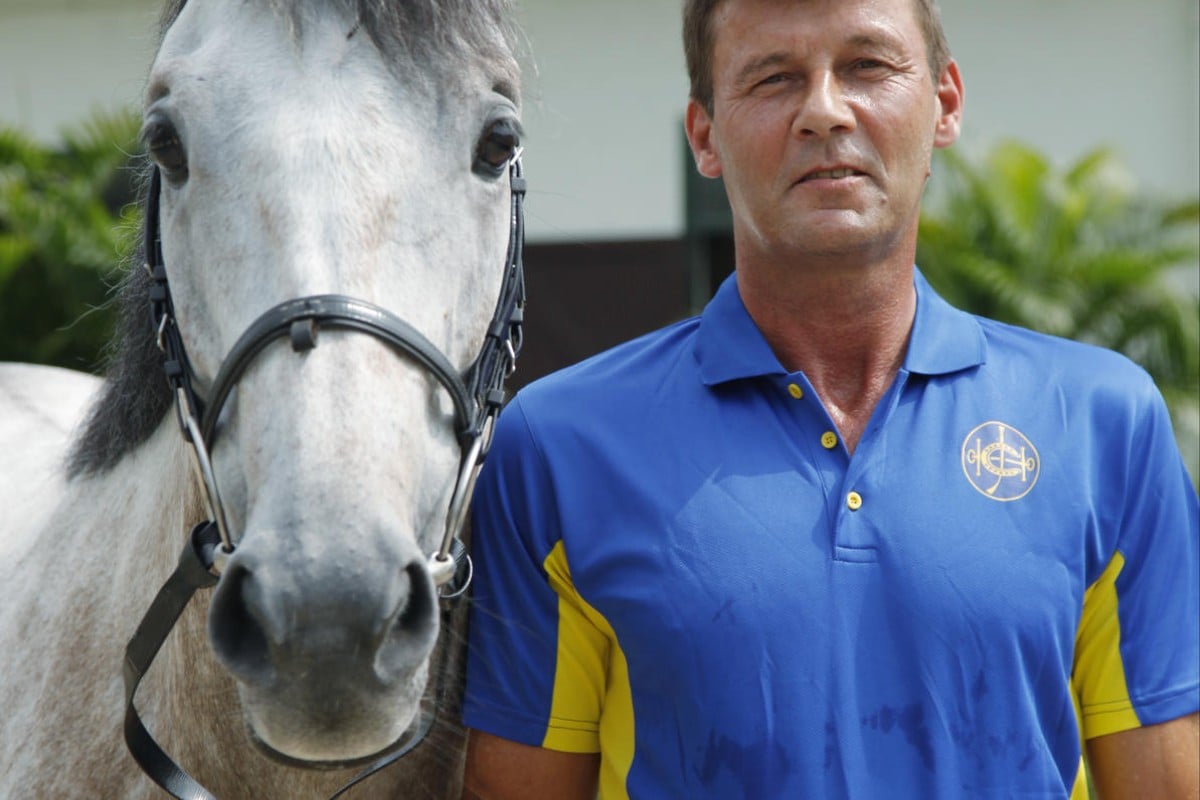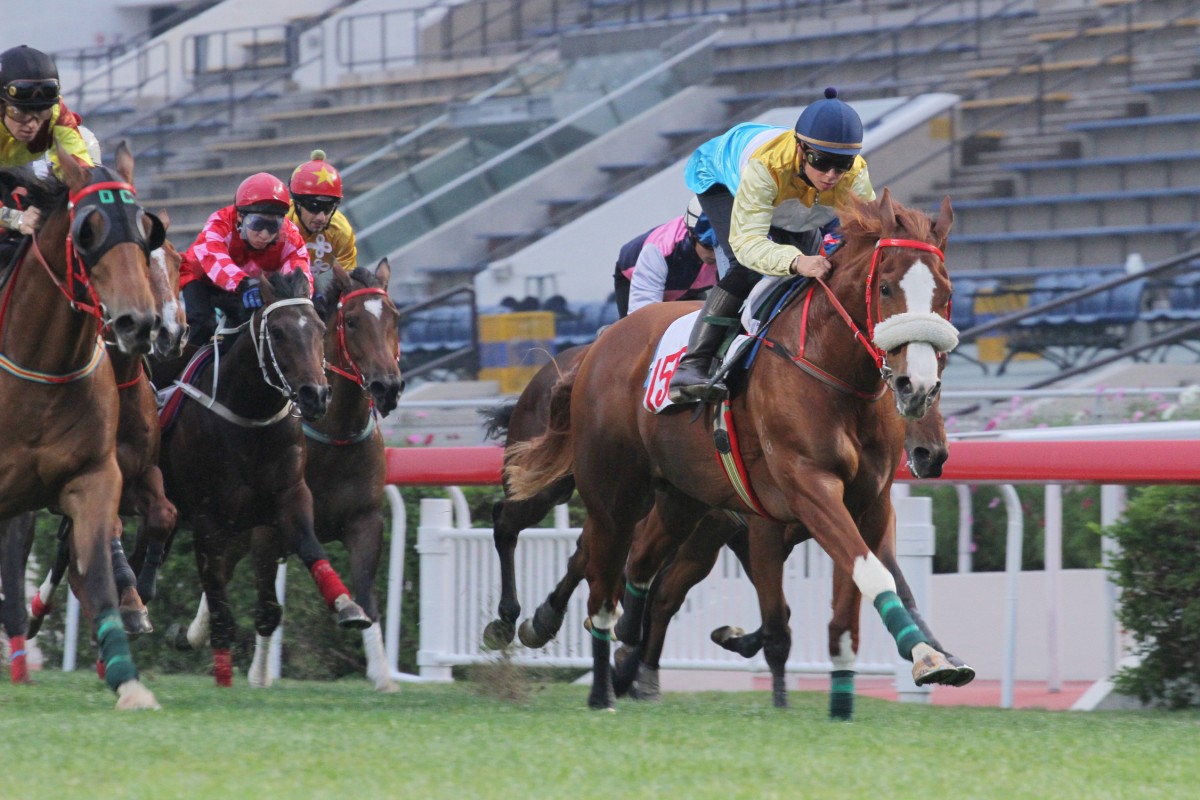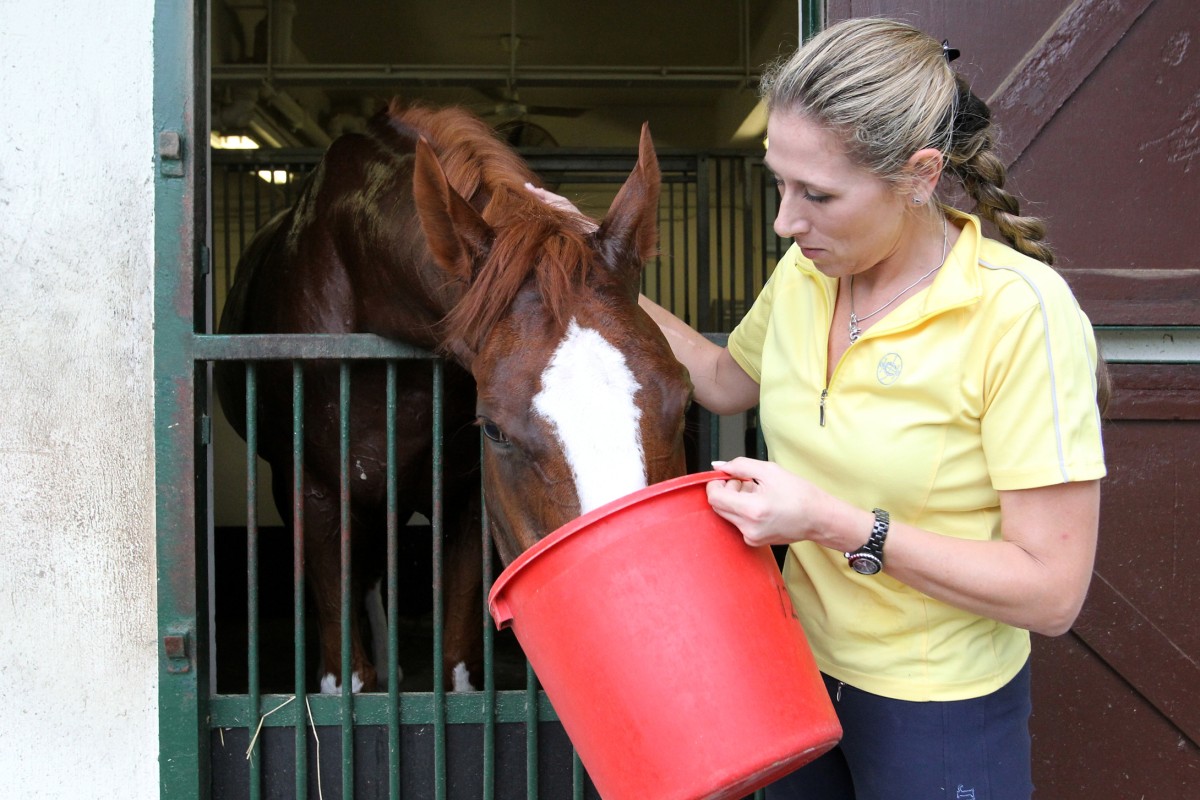 On a rainy morning at Beas River Riding School last week, two racehorses from opposite ends of the spectrum stood side by side as equals. In one of Beas River's trotting rings was Ambitious Dragon, a winner of nearly HK$50 million and a two-time horse of the year, stretching his legs as he recovers from injury.
Just across the way, in the other trotting ring, a bold, flashy chestnut with distinctive white markings patiently went about his work - slow trotting around the ring, head down and under the total command of his young rider.
His name is Phaedo and you will not find him in the annals of the world's greatest racehorses.
We are just teaching them that this isn't like racing anymore. It is just about getting them to slow down
In fact, Phaedo was one of Hong Kong's worst racehorses. He cost his owners nearly a million dollars as a yearling, was the winner of exactly zero dollars and was unplaced in five disastrous trips to Sha Tin and Happy Valley. And that's why the hulking 1,200-plus pound beast is here.
Phaedo is typical of the 400 or so racehorses that are retired each year, the vast majority of whom come to Beas River for rehabilitation and training.
Although Ambitious Dragon was at the picturesque New Territories facility for rest and recuperation before what is hoped will be a return to racing, Phaedo is preparing for a new career as a showjumper.
Phaedo's problem as a racehorse was not that he wasn't fast enough - it was that he wanted to do everything at once. He even got a mention in the SCMP as a horse to follow after some impressive-looking barrier trials before his first start - although his "unrefined" and "severe" action was noted.
The reports also stated the horse would be better when he learnt to settle. He never did calm down though, running near the front of the pack in his races, but fading badly at the finish.
And upon arrival at Beas River, Phaedo burnt around the trotting ring like it was a mini Happy Valley.
If the horse can change its attitude and they accept you as boss, that's when it works
"He just took control and started doing laps of the parade ring at full speed," says Beas River's senior showjumping trainer, Joachim Heidenreich, as he watches a transformed Phaedo calmly warm down, two years of hard work later.
"He is so strong there was no chance to slow him down, but after a while he gave up. It took around three or four months."
The Jockey Club requires an owner to front a HK$60,000 bond to go towards a horse's relocation or, as in the case of Phaedo, retraining and rehabilitation.
"It is something that sets us apart from other racing jurisdictions and it's part of the deal if you want to be a racehorse owner here," Jockey Club director of racing Bill Nader said.
"It is something we take very seriously. It is great that we have this private riding centre to retrain horses and give horses a second career.
"It's a wonderful facility, not only to give a horse like Ambitious Dragon a chance to rest, but to give horses an opportunity to have a happy, healthy and productive second career."
After a horse is retired, Jockey Club vets ensure they have no physical ailments that will stop them having healthy post-racing lives, and they begin a three-stage thawing-out process.
A horse's feed is adjusted and he is taught to relax, Sha Tin's trackwork riders are used to help re-educate the horses.
Martin Leung Chun-man was one of the first to work with Phaedo after his initial phase, and is amazed at his progress.
"At first he was looking around everywhere, thinking about everything," Leung said.
"But we just walk, trot and canter them in big circles, in different directions - just slow. We are just teaching them that this isn't like racing anymore. It is just about getting them to slow down. He has really taken to it."
Heidenreich said the same boldness and desire to be at the front of the pack - however misdirected and uncontrolled on the racetrack - might be what has made Phaedo such a natural at showjumping.
"He was a good jumper straight away, he loves jumping. He is careful for a thoroughbred, although it wasn't easy for him. He just wanted to go too hard," Heidenreich said. "But most of them want to go a bit too hard in the beginning and many are very strong-minded characters. With this type of horse, they need a lot of time.
In showjumping, the horses have to be very, very brave - if there is a wall in front of them over a metre high, they have to trust you to jump over it, they have to trust that there isn't a hole behind the wall.
"You need the horses with strong character like this, they are natural-born leaders. When they are in the paddock as yearlings, there is already a hierarchy and the horses that are very good at showjumping are the alphas - the leaders.
"This is where the challenge is. In showjumping, there can only be one boss who decides what to do.
"If the horse can change its attitude and they accept you as boss, that's when it works. When they want to go on fighting and be the boss, it can't work."
Horses coming through Beas River's rehabilitation and retraining scheme are sent for second careers on the mainland and ranches overseas, but they aren't forgotten about. The horses' movements are tracked on a database and each horse is visited by a Jockey Club vet at least once every year, if not every six months, to check on its welfare.
More than 1,000 ex-racehorses are in equestrian clubs on the mainland, and Jockey Club head vet Chris Riggs said they play a vital part in developing a culture of horse husbandry there.
Phaedo will never be a world-class showjumper - the days of thoroughbreds competing at the top level are over, but he has already progressed to the point where he has been specially chosen to help the preparations of junior equestrian star Lennard Chiang, who will compete at the Youth Olympic Games in Nanjing in August.
As Chiang guides the big chestnut gently around the ring - gracefully floating over the obstacles, it's hard to believe Phaedo was once an uncontrollable racetrack rogue who refused to settle down. "He is only a young horse. He is only five so he will keep improving," Heidenreich said.
"He will end up one of the best showjumpers here."