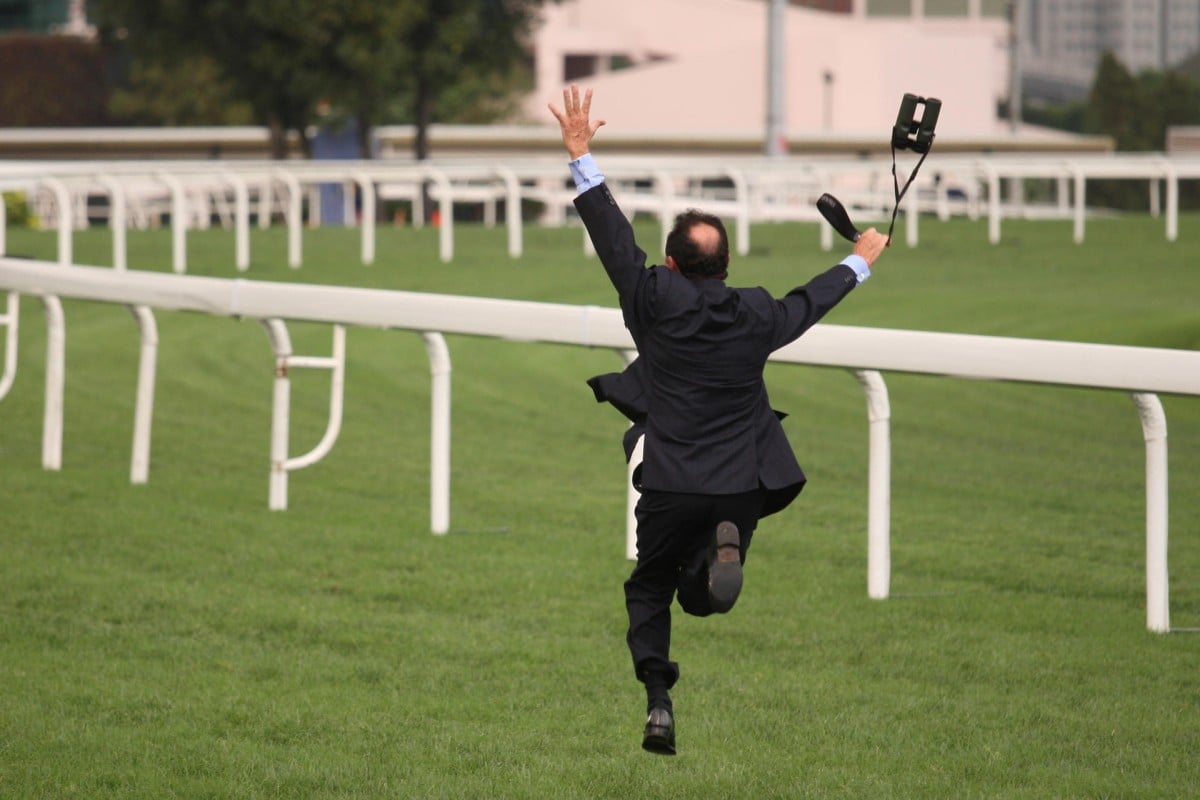 August 1, the horse's birthday in Australia, in China's year of the horse, seems the perfect time for Gary Moore to close the book on what has been a wildly successful and equally colourful career in Asia, open a new page and start another - one that brings one of racing's great family dynasties full circle to where it all began in Australia.
Moore - son of perhaps Australia's greatest jockey, the late George Moore, and younger brother of Hong Kong trainer John - will leave Macau after 13 years, returning to train at Rosehill in Sydney this month.
As that day rapidly approaches, Moore is holding court. The spritely 62-year-old is looking sharp in a navy suit and white open-collar shirt with his similarly dressed and debonair sons, Nicholas and James, by his side at the old Mandarin Oriental in Central. The colonial stylings and opulence are well suited to some good old-fashioned story-telling from a golden era.
Moore has plenty of stories to tell, but like all good racing folk the best ones, unfortunately, aren't going into print. He says he would rather look forward than back, anyway.
What is on public record is Moore's astonishing and vastly under-appreciated professional résumé. He has seven Hong Kong jockeys' championships and two Derby wins among his nearly 700 victories.
In Europe, a French championship and a Prix de l'Arc de Triomphe are among his big-race successes for some of the most famous names in the sport.
Then there are his considerable big-race triumphs in Australia. It is Hall of Fame calibre stuff across three continents.
His was a roller-coaster riding career punctuated by a ban for his involvement in the "Shanghai Syndicate" race-fixing scandal of the mid-1980s, but what followed that episode was a triumphant return to the saddle and then after that, a training career in Australia and Macau, where he won seven premierships in 13 seasons.
"You know when I had my first ride as a 15-year-old my dad told mum, 'I think we better send him back to school'," Moore laughs. "And then when I stopped riding and went back to Australia to train, my father said 'they'll eat you alive down there'.
"Dad is gone, but in the weeks before he passed away he told me, 'you've reached an echelon that you should be very proud of and I think you are as good a trainer as I was'.
"That meant everything. I have big hopes for us moving to Australia," he says earnestly, before the grin rapidly reappears. "Let's hope we start well. I would like to do better than when I first started training. My first runner I had as a trainer ran last and then the first runner I had in Macau broke his leg."
Moore will begin with 24 boxes at Rosehill and a star resident in the form of his brother's dual Group One winner Dan Excel, who Gary will guide through the early part of a Cox Plate preparation. Dan Excel may be the pin-up boy on day one, but Moore stresses the stable is no satellite operation for brother John, one from which the best talent is poached and sent to Hong Kong. While still part of "Team Moore", Gary stresses he is there to win, and win big.
"It's not something that I have done on the spur of the moment. I asked the Australian Turf Club for boxes 14 months ago. They couldn't accommodate me right away, but we have planned this for a while now. What I said to the ATC is that we are moving there to be a Group race-winning stable," he said.
"I don't want to be just there qualifying horses for Hong Kong - that's not the aim. We hope to be competing with the big stables, Chris Waller, Darley [Racing] and Gai Waterhouse. They aren't selling their good horses and that's because the prize money is so great down there and I want to be part of it.
"We are definitely not going there to just prepare horses for the Asian market. It is more likely at first we will bring horses back from Hong Kong that owners might want to replace here and still have something left to offer."
What Gary will also do in conjunction with his brother is scour Europe for staying talent to aim at Australia's rich Cups at Caulfield and Flemington.
"John is one of the best trainers in the world, just look at his earnings," Gary said of his brother, the leading money earner for the past four seasons, whose runners won close to HK$137 million domestically this term.
"It comes down to his selection of horses, and his son George's selection of yearlings," Moore said. "Every year I go to Royal Ascot and Glorious Goodwood and I follow John around the stables. We do a lot of miles and while John is looking at sprinters and milers, and mostly younger horses, we can look at tried horses for the feature races in Australia - horses that might need a bit further."
On his leaving Macau, Moore said he has been saddened by the decline of racing in the casino era. "To put it in perspective, when I first started, there were 1,000 horses and now they are down to 350 - it has to be a concern for the club," he says.
"Our stable have been supplying 10 per cent of the horse population, it's quite sad. Most racing jurisdictions in the area are growing and Macau is in limbo. There are a few aspects that need to be looked at to entice people back; for one, prize money doesn't stack up with the cost of racing a horse."
Moore is hoping the family legacy will live on in Macau through his 23-year-old son James, whose application to take a trainer's licence is being considered by the Macau Jockey Club.
James, a well-spoken and clear-thinking young man with a measured version of his father's sometimes over-the-top energy, spent two years as assistant to the latter before studying equine rehabilitation and massage at an English college, and returns optimistic Macau can turn things around.
"For someone that is young and enthusiastic like me, I think Macau is the perfect place to train," he said. "I believe there is still a future here and next year when the club re-signs the lease for the racetrack, it will hopefully be the catalyst for a new era. In terms of my aspirations, I just want to win races in Macau and continue the family association."
So what of the old days - and what has to be raised in any serious recollection of Moore's career: the Shanghai Syndicate, a controversy that saw him receive a four-year worldwide ban?
Moore is understandably hesitant to go into detail, it was nearly 30 years ago, but admits the charges probably ruined his chances of fulfilling a dream.
"I regret never having the chance to train in Hong Kong," he says. "I am sure that if I had the opportunity, I don't know whether we would have been able to beat my brother, but maybe you would have been able to see a Moore one-two."
Moore did get to at least train a race winner at Sha Tin when 100-1 shot Viva Pronto led all the way in the 2010 Hong Kong Macau Trophy.
"That was one of the best days in racing. I've won some of the biggest races in the world but that was a very special day," he says. "Beating my brother into second made it even more special."
So what if the brothers combine and Dan Excel wins the Cox Plate in October with Gary as assistant to John - will we see a replica of the wild, binoculars in the air and run-on-to-the-track celebration from 2010?
"Oh, you will see more than that," Moore says. "This year my brother has shown he can train on the world stage with a Group one win in Singapore for the second straight year and one in Dubai. The year would be rightfully capped off by Dan Excel winning the Cox Plate with me as assistant trainer of course. The Moore one-two in a different way."