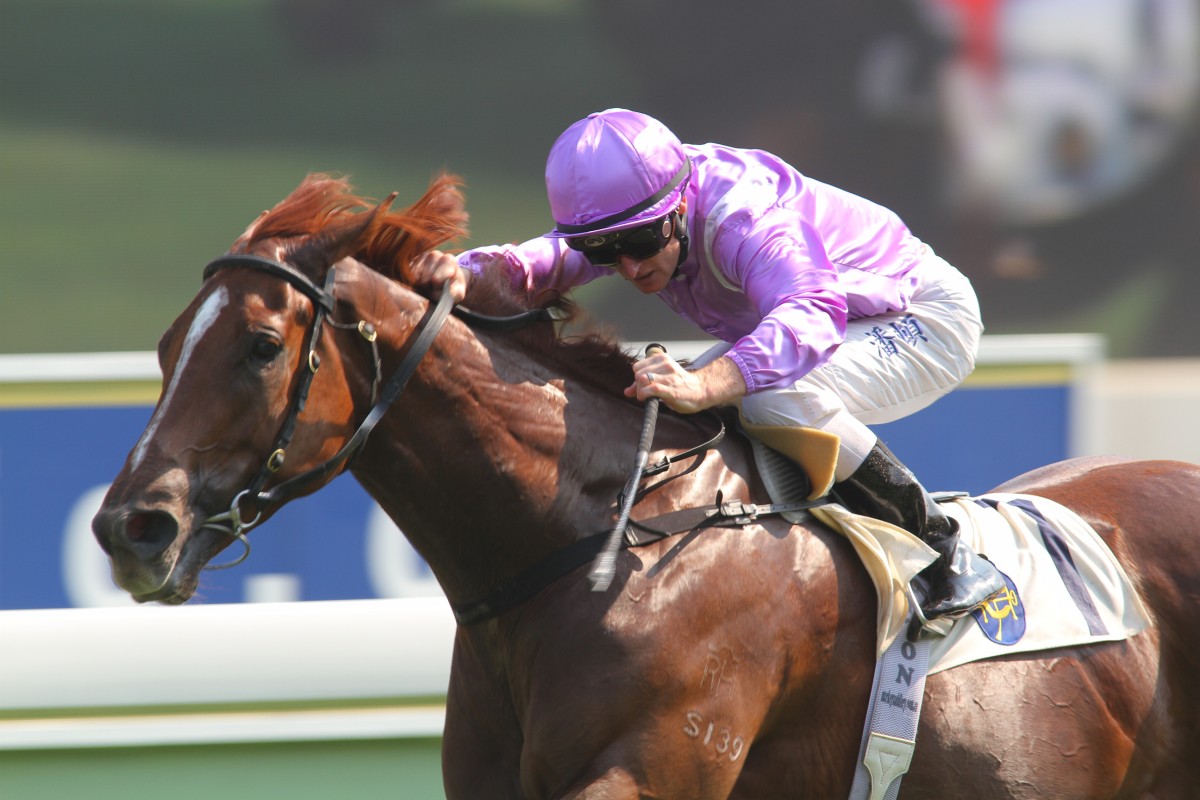 It wasn't a walk in the park for the day's shortest-priced favourite, but Paul O'Sullivan's Star Track did enough to get his head in front and stamp himself as a horse for the future at Sha Tin on Sunday.
It was a nice win because 1,200m is not his distance - he's always given the impression he's a miler
Star Track (Zac Purton) started at 1.9 on the back of an impressive June debut behind Brilliant Dream, and despite a check early in the straight, raced up powerfully at the 200m and looked set to put a margin on the field.
But Purton had to get busy when Karis Teetan and Thunder Flyer moved up alongside, with the son of Starcraft fighting back to prevail by a neck.
"He was floating when he got to the front, but when the other horse came and I gave him a push, he dug in and that was his class showing," Purton said.
"He's just got a habit of being a touch slow out of the gates which, in 1,200m races, is never ideal - it puts him back in the ruck. But I was able to save ground and get the right runs through.
"It was a nice win because 1,200m is not his distance - he's always given the impression he's a miler. He's a horse going to go through his grades this season."
"I think it's fair to say he's better than a Class Four horse," O'Sullivan added. "Once he gets up to a mile and 1,800m he could make into a very nice horse, but he's going to take time to develop.
"He's going to make mistakes and get beaten along the way, but over a period of time you could see him progressing well into Class Three by the end of the season and maybe further."
O'Sullivan's father, Dave, bought the horse in New Zealand, where he won a trial before arriving in Hong Kong.
"He drove four hours to Palmerston North to look at one horse," O'Sullivan said. "They pulled the horse out and he was an awful thing, so he went around to thank the guy for bringing the horse out, and standing there was Star Track. He was for sale too, so he bought him right there."
The expat Kiwi also heaped praise on owner Martin Mong Man-tak, a riding boy in his youth, and believes he will be rewarded for his patience.
"He had a tough race on debut in June, so I said to the owner I'd prefer to take time with him. And he used to ride work at Happy Valley, so at least he knows about horses. They are a hobby for him.
"He understands that patience is everything and he has a nice horse on his hands."