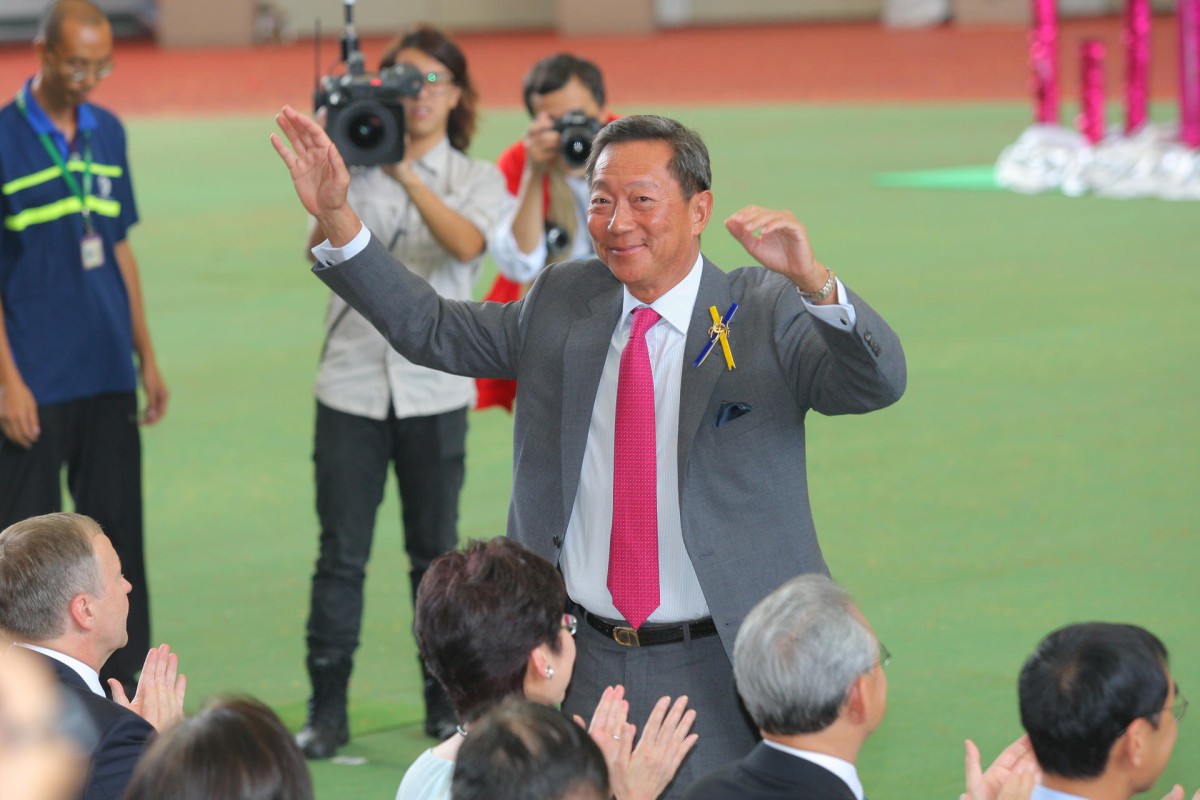 Dr Simon Ip Sik-on - pillar of the Hong Kong legal community, equestrian and horse-racing enthusiast and three weeks into being the 23rd Jockey Club chairman - swirls a glass thoughtfully and runs his mind's eye over challenges that will define his time at the helm of one of this city's most iconic organisations.
Pressing and essential but, to the public, more mundane, is the need to renew the club's lease on its Sha Tin facilities. Details have yet to be hammered out with the government, but Ip says he expects the fine points to be settled by mid-2015.
When it was first presented to the board as an idea, I was really excited because I can see it taking Hong Kong racing to a whole new level
Under his hand, the club will also complete the multibillion-dollar "Master Plan" of reinvestment into its facilities and infrastructure. But even more tantalising would be the legacy of having guided the club's Conghua training facility to completion, knowing it might be the beachhead to racing in Guangdong province one day.
"When it was first presented to the board as an idea, I was really excited because I can see it taking Hong Kong racing to a whole new level," he says.
"To be confined to a horse population of 1,200 at Sha Tin, well, we weren't going to be able to grow any more. That's it. No more training facilities, no more stabling, no spelling areas.
"Beas River is not ideal, it's pretty basic and nobody uses it much for that purpose. Then you look at Conghua and the vastness of the area we have - it's two-and-a-half times the size of Sha Tin."
The training centre project has been a tremendous headache for the club, with constant delays and setbacks, but Ip expects its completion while he is chairman, with potentially an even grander vision for its future.
"The first phase is to have stabling for 400 horses, but that can be expanded to 1,500 and we could have a grandstand there to hold 40,000 or 50,000 people," he said enthusiastically.
"We're not going to have that at first, as we're not going to have full-blown racing in the foreseeable future, but the project is being constructed with that strategic thought in mind.
"There are other initiatives in China from Dubai and Coolmore, but they're trying to make an impression remotely, and we are way ahead of anyone.
"Frankly, we've said we're not interested in Wuhan or Tianjin ... we are committing to Guangdong, with a population of 100 million right next to us. If we can get our act together there, then we are a step ahead of everyone if, and when, there is a change of policy in Beijing.
"At first, it will be a state-of-the-art training centre with spelling facilities, but if it comes to racing there, we could use that facility overnight."
The club has the backing of administrations at all levels, from the central to the Conghua governments, which want to develop the area as a tourist destination.
"Conghua itself is very picturesque, with a pretty river running through it and hot springs, where Communist Party leaders, like Zhou Enlai, used to go for holidays," Ip says. "And the government there sees the existence of a horse centre as a positive."
Ip admits there have been "engineering and technical problems" holding back Conghua's construction and other difficulties connected with doing business in mainland China.
"Particularly when you are building something people are not familiar with, like this, and you need a lot of protocols for quarantine, movement of medicines and so on. It's difficult even with government support because it's all new," he says.
"A lot of it has now been worked out. Hopefully, we are back on track and by 2017-18 will be able to open it. There will be sceptics and agnostics for a while, but we need to make sure we have sufficiently robust systems that we can satisfy people it will work and that there is benefit in doing it."
Though Ip came to horse racing in the late 1980s, his connection to horse sports began much earlier.
"I had passion for all sports and the horse always appealed to me. Of course, there was no chance to ride horses in Hong Kong when I was a kid. The best you could do was a donkey at Repulse Bay beach in the 1950s," he recalls.
"I started to ride when I went to school in England and later it became something of a family hobby. I don't ride any more - at my age if I came off a horse it would hurt and take a long time to heal - but I don't know of any other club chairman I've met that rode. Although Michael Lee [Tze-hau] who is on the board is a keen horseman who has ridden for many years at Beas River and competes in three-day events."
There was no chance to ride horses in Hong Kong when I was a kid. The best you could do was a donkey at Repulse Bay beach in the 1950s
Nowadays, his equestrian appetite is sated by a strong involvement with the sport as the president of the Hong Kong Equestrian Federation.
And his thoroughbred tastes are covered with his role at Sports Road and racing a number of horses, both as a syndicate member and in his own right, the latter being characterised by his charges carrying names associated with drinks - Double Martini, Limoncello, Olive Or Twist and Glacier Blue.
"I've had some decent horses. The best of them was Sambuca, who was a good third in the Derby behind Vengeance Of Rain, but he was probably unlucky when he was just beaten in the Classic Mile," Ip says.
"I've been in the Master Syndicate for a long time and we raced Master Gunner, who gave John Moore his 1,000th winner a few years ago. I don't have any River Verdon-type ownership stories, but I suppose not many people do."
Ip is on record with a view on how much influence any Jockey Club chairman has, or should have, on the club and its direction. "It is a big ship," he said.
"Things don't suddenly change with a change of chairman. Nor should they. Clear strategies are set and important policy decisions are made from time to time regardless of who's chairman. But I do think every chairman can bring his own flavour to the position."
That "flavour" under Ip is more focused on tweaking the non-racing side of what the Jockey Club does in the community.
"The racing is world class, our executives across the club are, too, and we just need to continue that and be prepared to meet whatever changing circumstances are occurring," Ip says.
"The other side of the coin, though, is charity, and there's more we can do there. In the past, we have done very good work building hospitals, schools, universities and so on.
"Our donations were HK$3.5 billion last year and about 80 per cent of that was capital expenditure, with the other 20 per cent on programme costs. But we need to look at whether we need that much capital expenditure.
"We do need to build some infrastructure, of course, but maybe we could rebalance the ratio to 60-40 and also build up more in-house expertise in certain areas."
Ip talks about an over-arching theme to the club's charities work and sees three strands to the club's future strategy in meeting Hong Kong's needs.
"We want to work firstly towards building an aged-friendly society; two, to do more on youth development and; third, I think development through sports is an area, which has been under-funded," he says.
"Having decided our themes, we need to look for specific projects, talk to people who work in these areas to see what we can do proactively and in an impactful way. Not just write a cheque and get a plaque on the wall, we want to initiate and monitor projects, and see results."