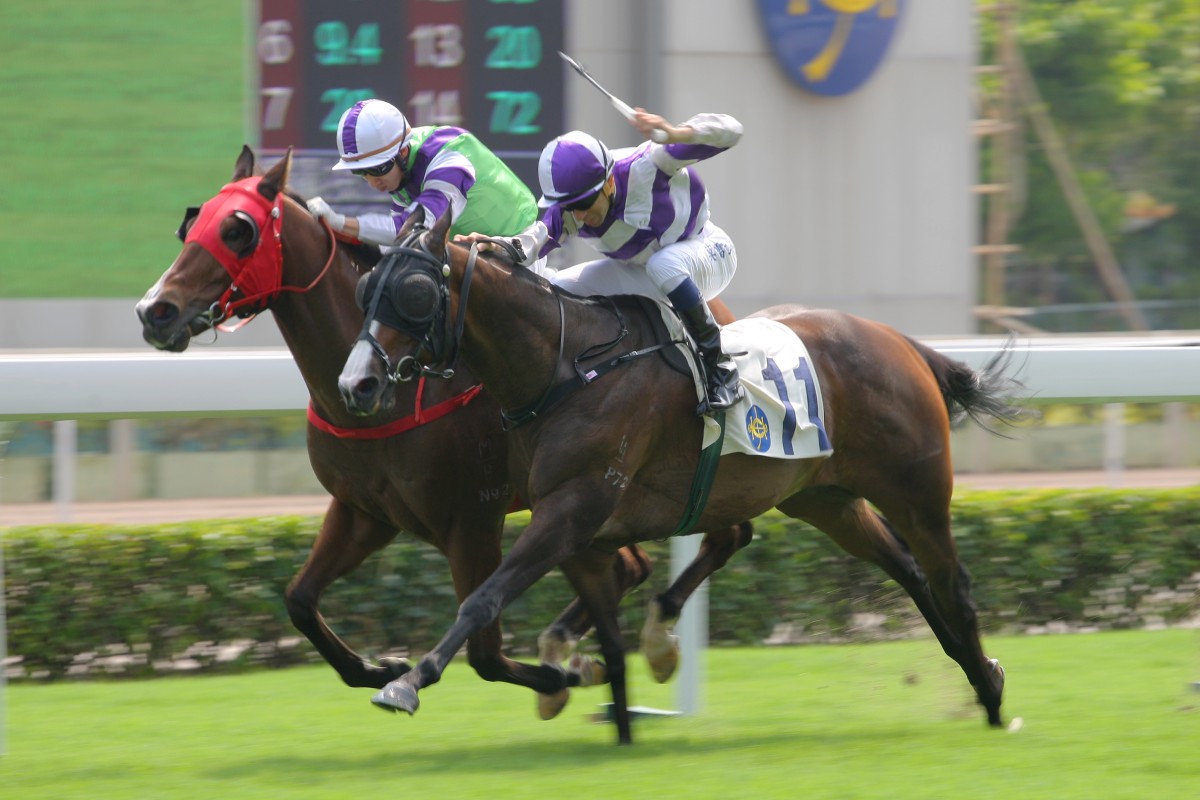 There was a plane flight and at least half a world's difference for Joao Moreira as he returned to Sha Tin on Sunday to pilot Class Five battler Goldweaver in the opening race but the Brazilian showed that he is a race winning machine by getting on with it and getting him over the line.
The way the race panned out really did help him. I was able to get the front and control the race and that was important
At Melbourne's Derby Day on Saturday, one of Australia's biggest race meetings of the year, Moreira had won a Group One, narrowly missed another and hooked up with Signoff, the horse he will ride as one of the favourites in the Melbourne Cup on Tuesday.
So it was a prodigious drop in quality to Goldweaver, who had not won in 24 starts here, however, the Brazilian had enough magic left to squeeze him home narrowly and said every win was important to whoever was paying the bills, Group One horse or Class Five.
"It's always nice to win and great to get a win out of this horse," Moreira said. "The way the race panned out really did help him. I was able to get the front and control the race and that was important."
A six-year-old, Me Tsui Yu-sak-trained Goldweaver perhaps showed why he is in the cellar grade as he should know what is required at this point but still makes mistakes.
"He still did things wrong in the race," Moreira said. "You see him on the home turn, he wanted to hang out and that allowed the second horse to get up inside him and get in front of him for a little bit. If he stayed on the fence, he probably wins by half a length instead of a short head."
The class wasn't officially that much higher when Moreira was back to win an hour later on Chris So Wai-yin-trained Sight Seeing, but the Brazilian had much more positive news about him.
"When I trialled him the other day, I was quite impressed and I was excited to see how he would race," the jockey said. "Of course a race is different to a trial but I thought if he brought that today, he would go well and he didn't let me down. He's still a green horse, it was only his third start and he will keep improving. I think the owners will have a lot of fun with this guy."
Trainer So said the four-year-old had strengthened up during his summer break and was predicting more from the gelding.
"He is a nice horse that came here through David Price Bloodstock and I'm really thrilled that the owner gave me a chance and trusted me with him," So said.
"I think the second horse he beat today is quite promising, which says Sight Seeing has a future, too. He might get a little further later, but I'll keep him to 1,200m for now."