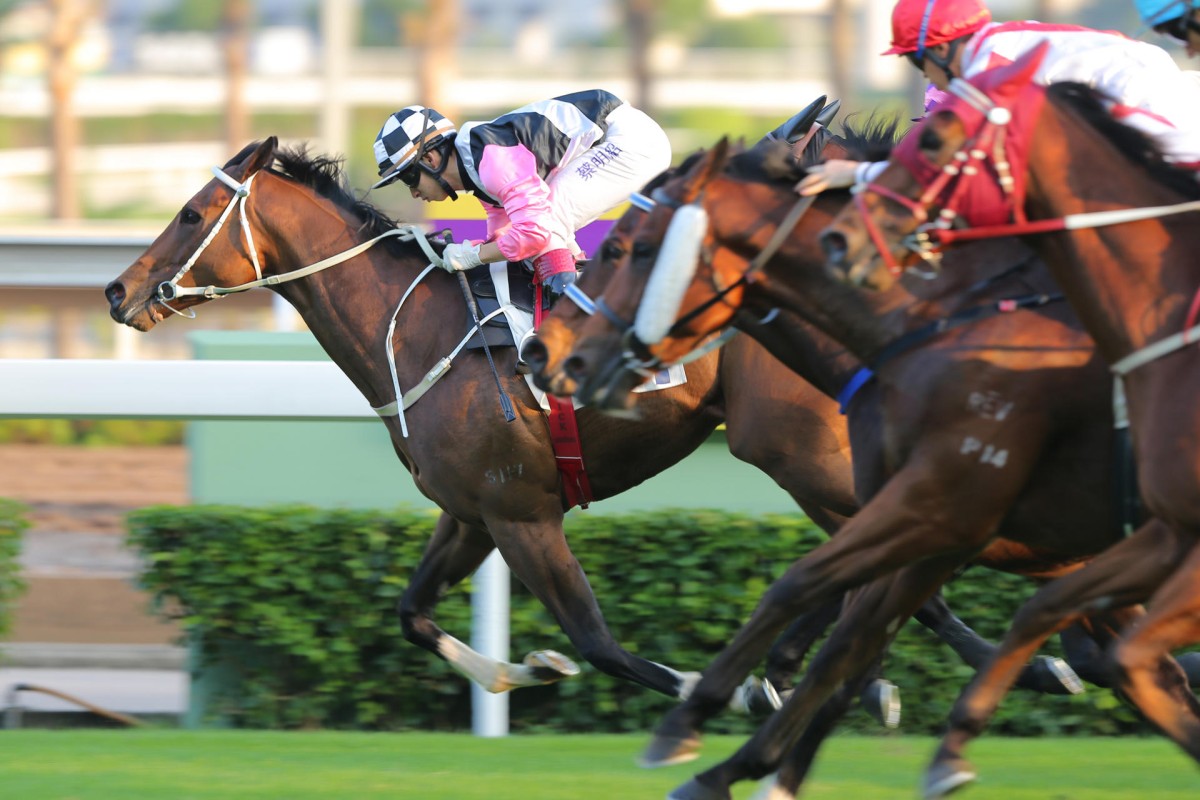 High profile four-year-old Luger pulled up with a heart irregularity after his shock defeat in the Panasonic Cup and it was owner Simon Kwok Siu-ming who continued his hot streak in the Class One feature with Tony Cruz-trained Beauty Flame.
The fireworks expected to accompany the return to racing of Luger did eventuate, but not in any crowd-pleasing fashion, with the John Size-trained gelding a spent force soon after straightening for the run home and the odds-on favourite finished 11th before vets found him to have an irregular heart rhythm.
Instead Beauty Flame made up for seconds to Kabayan, Divine Calling and Packing Llaregyb in his three runs this season to lead all the way for Matthew Chadwick and earn a HK$1 million bonus for his owner.
"He was beaten a whisker last time in Class Two, and a win there would have been a HK$750,000 bonus from the club," said Cruz. "We weren't originally going to run in this race until we heard that Divine Calling was going to miss it and we changed our program - so instead Mr Kwok got a bigger bonus because it's a Class One."
Kwok has already had Beauty King and Derby aspirant Beauty Only win four races in the family colours of black and white with pink sleeves, almost half Cruz's total, but Beauty Journey (Alvin Ng Ka-chun) and Beauty Flame (Chadwick) made it six yesterday after the trainer had put his head on the block to support both jockeys.
"Beauty Flame has been a bit unlucky with three seconds and Mr Kwok was thinking to change the jockey and change the luck," Cruz said. "I talked him into giving Alvin another chance on Beauty Journey and Matthew another chance on Beauty Flame so I'm happy it turned out as well as it did and they won because otherwise I'd be in trouble too. But this is how the game goes - everybody is very intense. Mr Kwok isn't a gambler but he wants to win and if you don't win, somebody gets changed, either the jockey or the trainer."
Cruz said Beauty Flame has an entry for the Jockey Club Mile next weekend against the big guns but said it was unlikely he would take his place.
"Mr Kwok is hot at the moment and keeps winning so I'm keen to run his horses as often as I can, but that race might come too soon. We'll have a talk about it," he said.
Chadwick said the key to Beauty Flame's victory was the scope his rival riders gave the gelding in the lead.
"Even on the track in the morning, if something comes up and sits at his girth, he tries too hard and does too much in his work and he's the same in a race," he said. "At a mile, he doesn't quite get away with that although he is stronger at 1,400m. But when he gets a clear lead by himself like he did today then he's more relaxed and harder to get past and he probably can win at a mile left alone."
Beauty Journey was the third win of the season for apprentice Ng, who has been in something of a personal riding wilderness with just two wins for all of last season, but Cruz also went into bat for him to retain the ride yesterday.
"Mr Kwok was reluctant to keep Alvin on after he didn't keep this horse straight last time and was just beaten and also suspended," Cruz explained. "But I said Alvin had ridden the horse well before and should have another chance and this time he rode a good race. The boy's confidence was down, it's starting to come back now and I'm going to give him more opportunities - but first he has to start his suspension now from that last time."