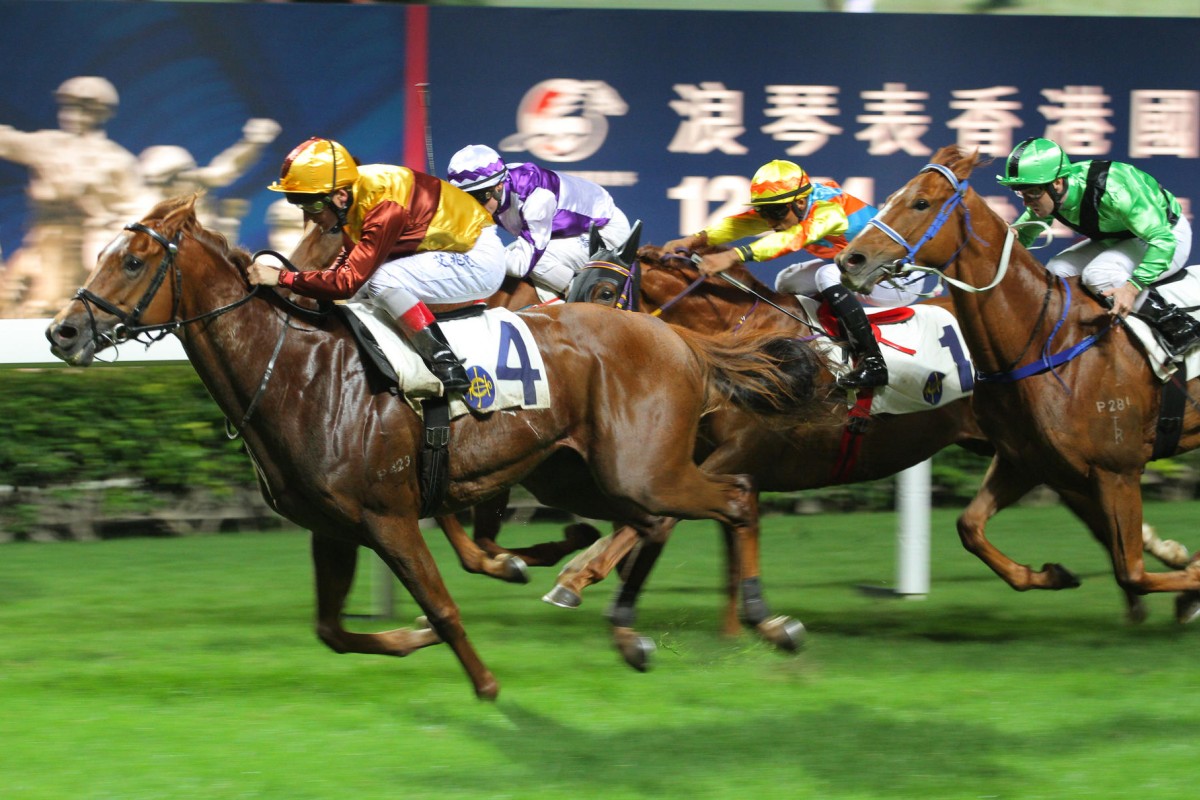 Jockey Neil Callan continued a long-standing hot streak, while Sean Woods led in a much-needed winner, but it was a case of glass half empty as each could have finished with more at Happy Valley on Wednesday night.
Callan landed a double on Triumphant Jewel for Danny Shum Chap-shing then followed with the easiest win of the night on Expectator for Peter Ho Leung an hour and a half later, but missed a win in between.
The Irishman had been aboard Ricky Yiu Poon-fai-trained Enjoy the Game when he raced wide last week and won, but Callan had a prior engagement for Ho-trained Telecom Supremo in the fourth race last night, so the ride went to Mirco Demuro - not that getting on the horse is a luxury for any jockey.
I was looking before the race at his record - no wins and five seconds in 20 starts, so I wasn't going to take a chance on him pulling up on me when he got to the front
"He takes a lot of riding - I think the jockey tonight used the whip 50 times getting him around the field in the back and keeping him going to the line," said Yiu.
"He's a very lazy horse, a real grinder. He had a tough run and won last week, and an even tougher run tonight and won. And he's so sound, you could run him again next week. He's tough but the jockey just has to know not to be pretty on him."
Still Callan was satisfied with his double - a pair that took him to 27 wins from his past 208 rides in Hong Kong - a tremendous strike rate stretching back into last season.
Perhaps Ho could have been forgiven some disappointment at Callan sending Expectator to the line to win by almost five lengths, but the jockey said he wanted to take no risks.
"It won't have helped him in the handicap I know, but I was looking before the race at his record - no wins and five seconds in 20 starts, so I wasn't going to take a chance on him pulling up on me when he got to the front," Callan said.
"There's usually something running on late here, so I kept him going and he ran away, but I'm pleased he has broken the ice because the owner's a lovely guy."
Woods has been battling for wins, but running in plenty of minor placings and Good Choice (Andrea Atzeni) gave him a well-deserved fourth victory for the season.
"I've been pulling my hair out. This horse has been racing very consistently but the pace has been against him race after race - tonight the leaders turned it on a long way out and that suited him better and he could get home," said Woods, but reckoned he had a hard-luck tale, too, after his runner in the third race, Sky Far, was scratched prerace with a lameness issue.
"I could have won two tonight if they hadn't taken him out."
The Class Two feature went as expected to Domineer (Zac Purton) and the only surprise for trainer Caspar Fownes was how easily he got the lead to himself.
"It's the seventh race and horses on the rail have been winning, so I was a little surprised they let him lead like that, but I was very confident after they had gone 200m and he was coasting on his own," Fownes said.
Australian rider Nash Rawiller was once again in trouble with the stewards, landing a three-day careless riding ban for his efforts on Dragon in race four. Rawiller has barely been in the saddle in the last three months after being suspended in Japan, then in Hong Kong and once in Australia.
He begins the new ban after Sunday's Sha Tin meeting, allowing him back in time for the international meeting on December 14.