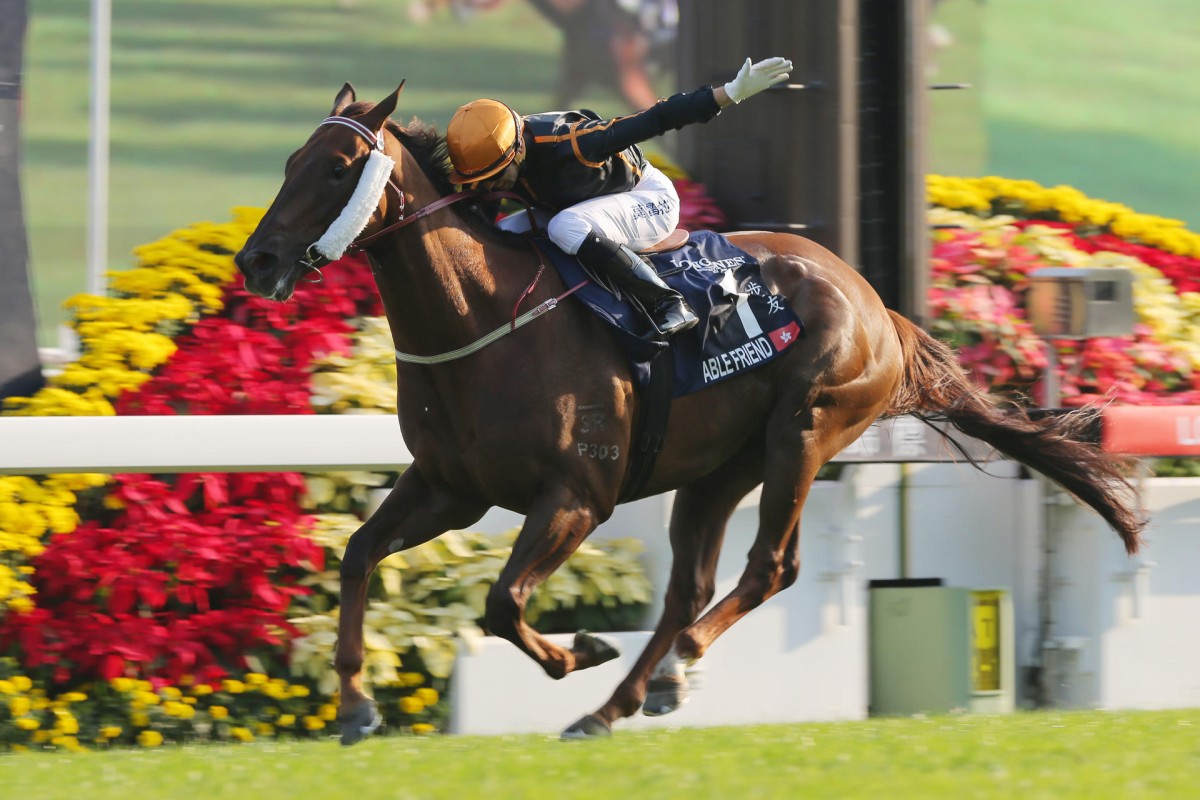 Pace makes the race. Tempo is the quality of a race which can make the average look like a champion and a champion look average.
And, with multiple runners - even half the field sometimes - in most of the top-end races on the calendar, John Moore gets accused by rivals, off the record of course, of all kinds of trickery regarding tempo.
It's an insidious form of jealousy and there hasn't ever been any evidence to support it. For example, Moore himself was the loudest voice complaining about being disadvantaged by a very slow tempo after Fay Fay's 2012 Derby, in which he saddled up six of the 14 runners.
So, there was a certain irony in the Longines Hong Kong Mile on Sunday that, when Moore would have loved a pacemaker, his major rival took up the role and assisted Able Friend to produce the (officially) best performance ever by a Hong Kong horse.
There was a certain irony in the Hong Kong Mile when John Moore would have loved a pacemaker, his major rival took up the role and assisted Able Friend to produce the [officially] best performance ever by a Hong Kong horse
Just about the only way Able Friend might have been beaten after drawing wide in the race was a traffic problem in a very slow race, or a stop-start kind with a long dash from the 800m that dragged his devastating sprint out over a longer distance than just the length of the straight. A good well-run tempo was just what the doctor ordered.
A very slow pace will always condense the finish and thus immediately takes away the possibility of the kind of international rating that Able Friend's wide margin guarantees him when the revised numbers are published, so connections will have Gold-Fun to thank for that, as well.
A slow tempo brings the good horses back to the lesser ones, which is why Khaya was able to finish so close to Flintshire, despite the gulf between them in ratings and talent.
Flintshire would have clobbered Khaya with more speed on, but the pace was well against Willie Cazals, too, and he got fairly close to tipping the favourite over.
He's a good quality stayer and we'd love to see him join Dominant in tackling a race at The Championships in Sydney, like the Sydney Cup, since there's not exactly a lot on for stayers here until May.
The Vase never really looked like being run any other way - and that was hardly a first for a 2,400m race here - but there was either no recognition of that or any attempt to take remedial action from any of the better-class visitors, whose people shrugged and blamed the speed afterwards.
The speed in the Cup was notable for a different reason.
Very few races in this part of the world start moderately and build as the race goes along but that's what happened in the Hong Kong Cup, where every 400m section was quicker than the one before.
Strangely, that shape seems to have been seen in this race several times in recent runnings, but rarely happens in plain vanilla local 2,000m events where the pace bounces up and down then finishes with a dash home.
The track raced fairly - the strongest evidence for that being some participants appeared to believe racing on the pace was a big advantage and some others thought the fence was off. Neither was true. And times suggested a surface just a tiny bit slower than last year's HKIR stage but a whole lot slower than the roadway we had at Sha Tin in November.
All things considered, a successful HKIR that will hold up as our horses branch out to other meetings like Dubai and hopefully its all-round professionalism will help to attract runners in for the newly international races in the new year, like the Stewards' Cup and Gold Cup.
---
New facets of commingling and webcast open to growth
One of the selling points on commingling's role in racing, in the days before it became a reality, was always its role in international racing.
The idea that punters in all jurisdictions are biased towards the horses they know is a fact.
When visitors used to come and plunder them as a matter of course, the international races used to be the lowest-holding races on the card every year.
We'd even suggest the steady increase in turnover on them in the past decade has as much to do with the higher frequency of success for Hong Kong-trained horses as any increased exposure of punters to foreign horses via simulcasts.
Horseplayers now have confidence to back the local horses they know, in the expectation they will be strong and competitive - and if they keep lining up as favourite and winning the way they did on Sunday, the internationals could soon be holding more than domestic races because there is nothing a Hong Kong punter loves more than a "sure win", at any price.
Singapore's punters, in the very first commingling race with the Lion City, were able to back Joao Moreira on a winner and get 12.5 for their money - that would have been a new experience
So, one of the commingling arguments had to do with the attractiveness of the odds available across different jurisdictions.
How much, they said, would Hong Kong punters have loved the good odds in Japan when Silent Witness ran there, or anywhere that Hong Kong's stars turned up overseas and were underrated by locals?
For example, no doubt the Australian racing fan who contacted the SCMP racing department via social media in November, wondering if we thought Buffering would be odds-on when he ran in the Hong Kong Sprint, will have been surprised and delighted taking the commingled 41-1 on Sunday. Before the race anyway.
A happier story last Wednesday for Singapore's punters when, in the very first commingling race with the Lion City, they were able to back Joao Moreira on a winner and get 12.5 for their money - that would have been a new experience.
Alas then, there are no figures from the Jockey Club regarding geographical breakdown of the HK$56 million in commingled bets on Sunday's international meeting.
What is significant perhaps is that turnover on the meeting was up year-on-year by "only" HK$98 million and, given that it was the first post-commingling HKIR, then HK$56 million of the HK$98 million increase was therefore from Australia, New Zealand, Singapore and the United States. Of course, there were no horses from the US running on Sunday, only one from Singapore and two from Australia, so the scenario didn't set up perfectly for analysis.
As of tonight's Happy Valley meeting, bets on Hong Kong from Europe will be joining the commingling, taking a long route via Australia's TABCorp. Again, that might have been more interesting had it happened for Sunday.
Another new facet was the webcast. A year ago we suggested that a live feed of international day would help it reach places where traditional telecasting was absent and the Jockey Club picked up that ball and ran with it.
The inaugural webcast engaged 8,914 unique visitors, a prospect to build on for the future.