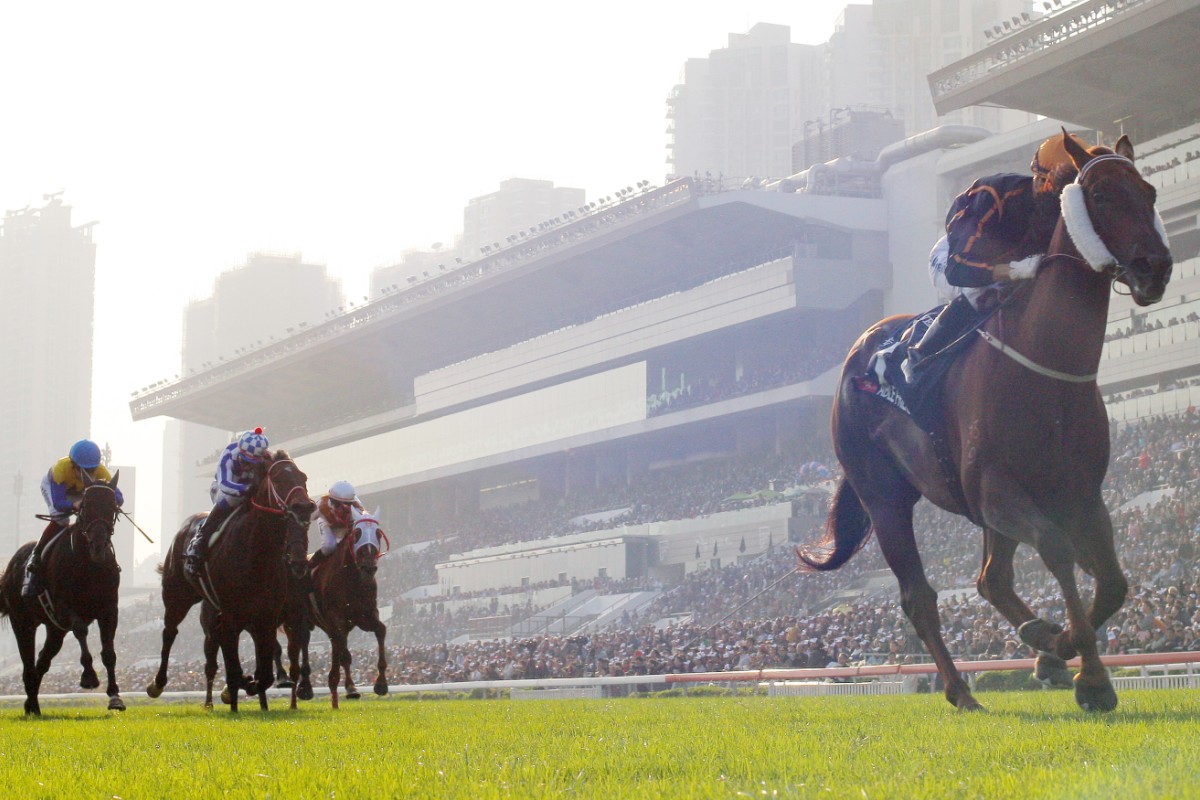 The euphoria that accompanied Able Friend's demolition job in last week's Longines Hong Kong Mile has seen the John Moore-trained galloper tagged Hong Kong's highest-rated horse of all time. But a more dispassionate look through history puts the gelding's remarkable win into a more balanced perspective.
According to Jockey Club senior handicapper Nigel Gray, Able Friend will be elevated to "126 or 127" on the world rankings. It's higher than either Sacred Kingdom or Good Ba Ba and he will officially become Hong Kong's "best-ever racehorse" when that assessment is ratified by the international handicapping panel.
Able Friend will be elevated to "126 or 127" on the world rankings. It's higher than either Sacred Kingdom or Good Ba Ba
His win was, according to our figures on Racing Management Asia's Hong Kong racing database, the best individual performance by a Hong Kong-trained horse. But it was not the best rating ever recorded at Sha Tin and it wasn't even the first time a mark of 127 (in international ratings language) had been posted.
The benchmark still belongs to Falbrav, the Luca Cumani-trained stallion who ran at Sha Tin in the colours of Japan's leading owner-breeder Teruya Yoshida. The video of Falbrav and Frankie Dettori winning the 2003 Hong Kong Cup is still available on the HKJC website and makes electrifying viewing. Our measurement of that performance was 130.
Before that, Sha Tin hosted many wonderful horses in a vintage era, headlined by French wonder horse Jim And Tonic, trained by Francois Doumen and ridden by Gerald Mosse.
He came the first time for HKIR 1998 edition and handsomely won the Bowl, a race at 1,400 metres that preceded the Mile. He returned the following April to trounce our best again at 2,000 metres in the Audemars Piguet Queen Elizabeth II Cup and made it three from three in December 1999 when he again won at 2,000 metres in the Cup. It was the last of those three wins that saw him rate 127, the number Able Friend equalled last week.
Although Able Friend's winning margin of 4.25 lengths was a half length better than Jim And Tonics', a deeper analysis of comparative beaten margins shows Jim And Tonic's win to be slightly superior.
For example, the seventh horse behind Jim And Tonic (champion Sunline) was beaten 7.25 lengths, while the seventh horse behind Able Friend was "only" six lengths in arrears.
The mention of Sunline brings back memories of one of the greatest contests ever seen at Sha Tin. In 2000, the New Zealand mare was the star attraction of HKIR and staged a titanic duel with local idol Fairy King Prawn. Only the photo finish separated them and it was Sunline, by a nose, with the third horse 4.5 lengths away. It was a similar story to Able Friend's race, except there were two horses in front, rather than one.
Because he carried more weight than Sunline, and finished alongside her in a near dead-heat, Fairy King Prawn rated higher, earning an RMA mark of 126.
Fairy King Prawn was a champion miler, but was already a Hong Kong Sprint winner when trained by Ricky Yiu Poon-fai. When given an international mark of 122 he was fêted as Hong Kong's best, yet that was probably four or five pounds light.
One of the great performances that rarely gets a mention was Absolute Champion's in the Hong Kong Sprint of 2006. The David Hall-trained and Brett Prebble-ridden gelding destroyed the opposition that year. Second, at 4.25 lengths, was Silent Witness, winner of the previous two editions of the Sprint and himself an icon. Absolute Champion's performance rated 126.
The handicappers' panel has always held that Good Ba Ba, the three-time winner of the Hong Kong Mile, was officially our best horse prior to Able Friend. His official rating of 124 made him the world's best miler in 2006, meriting discussion on two fronts.
Firstly, as our list shows, Good Ba Ba at his best was better value than 124. And secondly, how underrated were so many of his contemporaries?
To understand the anomalies and apparent lack of recognition, you need to appreciate the history of the international classifications, which morphed into the World Thoroughbred Rankings in more recent times.
It pained Winfried Engelbrecht-Bresges, then executive director of racing at the HKJC, that Hong Kong's best were being undervalued in this global forum. The bias was UK-centric, and the judgment of horses from other countries was subjectively negative, repeatedly.
Engelbrecht-Bresges hired handicappers with international credentials. Irishman Ciaran Kennelly was the first, and incumbent, Gray then came in. They gave Hong Kong a seat at the top of handicapping's peak body and recognition of our better horses began to flow.
The Silent Witness era gave Hong Kong racing more publicity than it ever had before. Archie and Betty da Silva's amazing Australian-bred won on debut in December, 2002, and didn't lose until start 18 in May, 2004. He added one more win, a famous one in the 2005 Sprinters Stakes (Group One) at Nakayama, before falling victim to a virus and losing form.
Silent Witness may have had his first 17 starts on home soil but Cape Of Good Hope, the horse he mercilessly and repeatedly flogged, went overseas to avoid him, capturing Group Ones in Australia and England.
Stayers Vengeance Of Rain and Viva Pataca flew the flag at international level for Hong Kong, and Bullish Luck won the 2006 Yasuda Kinen in Tokyo.
Our most recent champion was Ambitious Dragon, a New Zealand-bred gelding who ran to a 124 mark just about every time.
But for consistency at the highest level, one horse stands alone: Designs On Rome.
In his classic year, he ran a rating of 125 three times in a row, something even Silent Witness couldn't do. He's so good he won last week's Hong Kong Cup when "not right" so John Moore has a lot of horse to work with.
Murray Bell has written about the racing and breeding industries since 1973. He was formerly chief racing writer at the
Daily Telegraph in Sydney and racing editor at the South China Morning Post from 2003 to 2009. Murray is now managing director of the HK-based consulting company Racing Management Asia, with clients including a number of leading race clubs and betting organisations in the Asia-Pacific region.