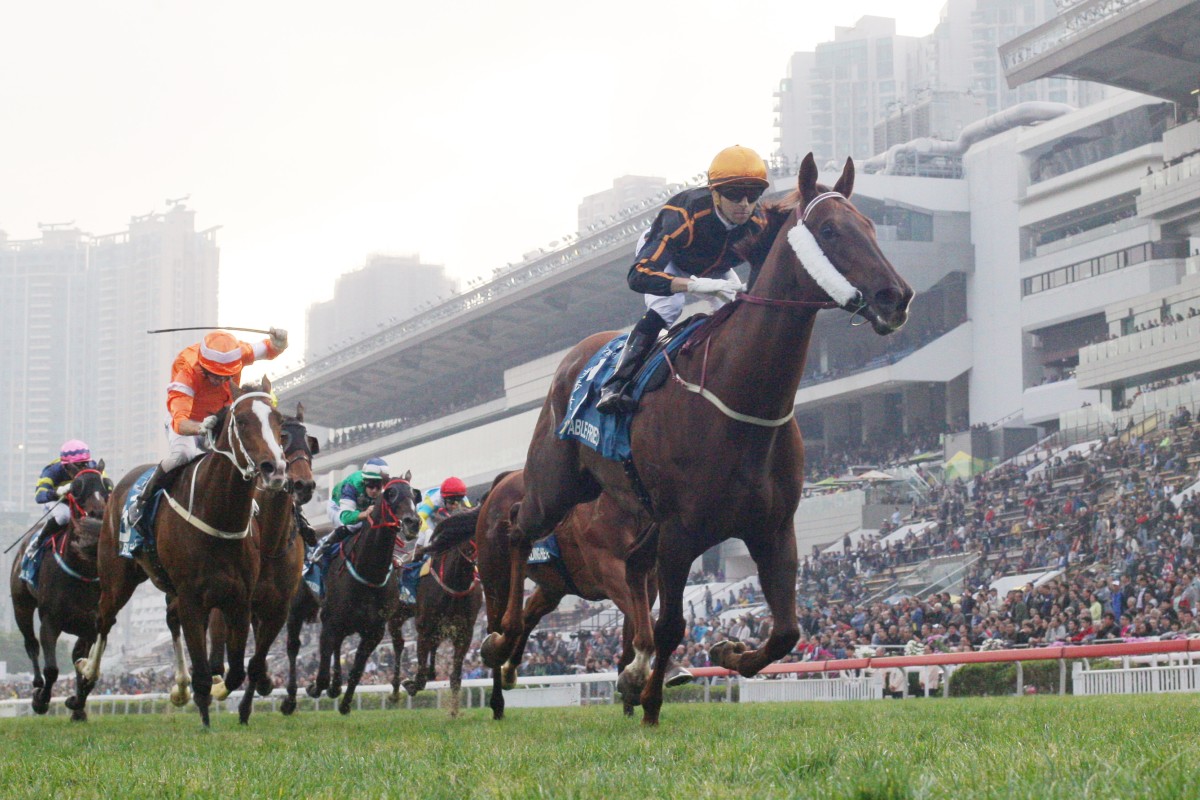 No Sydney and now no Dubai, with the world's champion miler Able Friend most likely to target the Group One Queen Anne Stakes at England's Royal Ascot in June after completing his domestic programme.
That was the end result of yesterday's hotly awaited lunch meeting at Jimmy's Kitchen between trainer John Moore and Able Friend's owner, Dr Cornel Li Fook-kwan.
Moore missed last Wednesday's Happy Valley meeting with food poisoning but he was ready and willing to roll the dice on lobster bisque and curried prawns at the well-known venue as he, his son George and Li washed down the weighty matter of Able Friend's assault on the world.
We had a great lunch and Dr Li asked myself and George for our opinion on his view - that it would be best to keep Able Friend in Hong Kong
After Able Friend's Stewards' Cup romp just over a week ago, Li had confounded the press conference afterwards when he declared his gelding's programme would be "no Sydney, no Dubai", and that was the end result of Monday's tooth fest as well.
"I wouldn't say Dr Li put his foot down. It wasn't like that. He is always happy to work with the trainer, but what he said made a lot of sense," Moore said.
"We had a great lunch and Dr Li asked myself and George for our opinion on his view - that it would be best to keep Able Friend in Hong Kong until his programme here is finished and then look at the Royal Ascot option."
"Dr Li has had runners at Royal Ascot before, so he knows the meeting well and I can certainly see where he is coming from. That would allow Able Friend to have a spell afterwards, maybe even some time in a green paddock in England, at the end of the campaign."
And, while Dubai is not on the menu for this season, Moore said Dr Li is not opposed to it as a future option for Able Friend.
"Perhaps next year, when we feel that Able Friend, as a six-year-old, will be at his absolute peak," Moore explained.
"But he said to me we've got a very special horse on our hands. We won't overrace him the way the Hong Kong programme is and then let's look at doing more overseas travel with him next season. And the Dubai Turf could easily be the right race for him then."
However, Moore stressed that even Royal Ascot is not set in stone at this stage for this year and there is the possibility Able Friend will not leave Hong Kong in the near future.
"We need to look at the details of him going to the Queen Anne. He has three more races in Hong Kong to get through - the Queen's Silver Jubilee Cup on Derby Day, the Chairman's Trophy after that and then the Champions Mile in May," Moore said.
"Only then will we consider what happens next and the Queen Anne is the most likely path. The Yasuda Kinen in Tokyo was put to Dr Li as another option but his preference is for Royal Ascot, if the horse does travel."
Moore already has Designs On Rome going to the Sheema Classic in Dubai next month and confirmed on Monday that Dominant is heading in a different direction, for The Championships in Sydney.
"Sterling City is up in the air at the moment but Dominant is a definite for two runs in Sydney, including the Sydney Cup," Moore said.
"I'm not certain who will ride him there but Tommy Berry is a possibility."
In other news, Hugh Bowman has been booked by Moore for Derby hopeful Helene Happy Star in the Hong Kong Classic Cup on February 15, as expected, while Richard Gibson will bring Christophe Soumillon for Obliterator in the same race and for Gold-Fun in the Chairman's Sprint Prize on the same card.