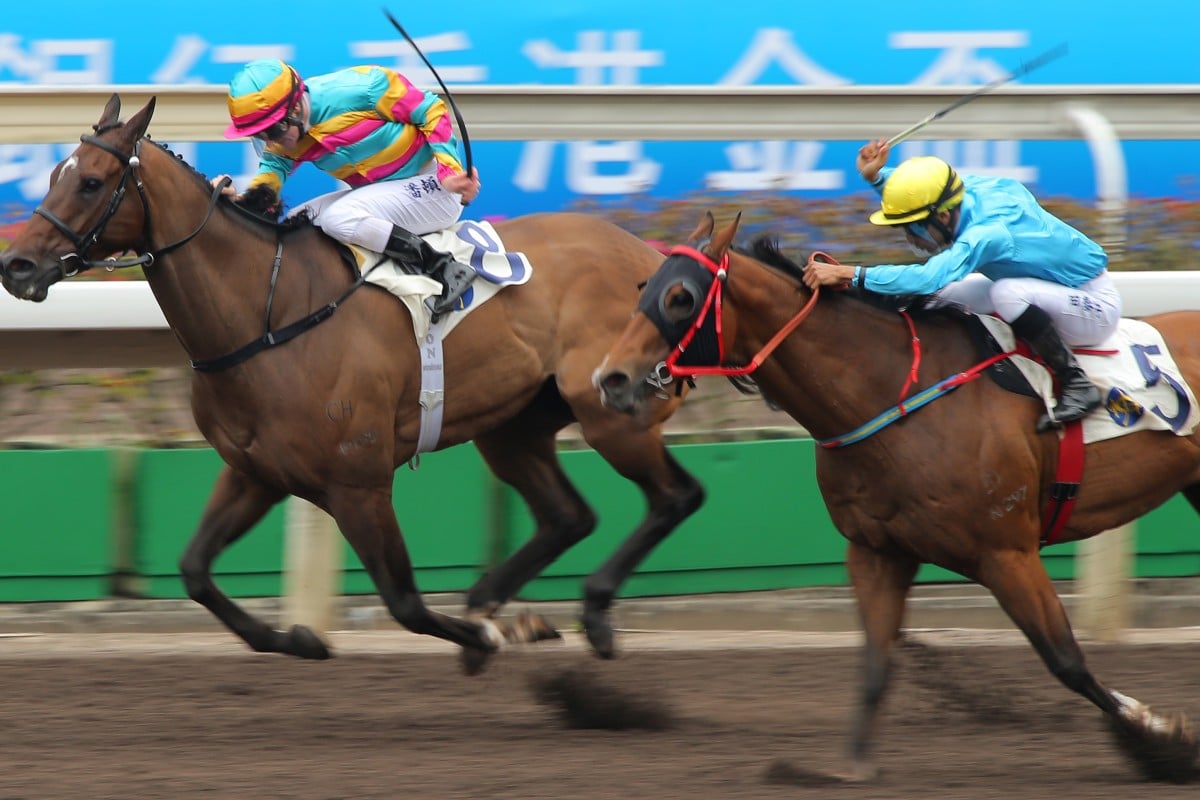 Well, go figure. Who knew Hong Kong - the home of the turf world championships - would some day gravitate towards the centre of the universe for dirt sprinting?
The Awful Weather Track has tossed forward some handy types in the past, like Dynamic Blitz, who managed to win a lead-up to the Golden Shaheen in Dubai. And there have been others - for example, Lucky Quality or Multidandy - who seemed as good as him here but somewhat less competitive in the desert.
But we never thought the day would come when the Golden Shaheen was going to look like old home week at Sha Tin. Even before Sunday's "demolition on the dirt" won by Super Jockey, trainers of the main chances in the race had been canvassed by Jockey Club officials about whether they would like to start in the US$2 million Group One Dubai Golden Shaheen should they win the Class One. That doesn't happen, en masse, every day so we can only guess that some type of call for help is coming from the UAE in relation to numbers.
The world is truly upside down. We expect to send turf sprinters everywhere carrying a bit of swagger, but dirt?
A response seems to be happening, too. Rich Tapestry was already going. Super Jockey is now going. Lucky Nine looks like going. Master Kochanwong, Lord Sinclair and Access Years are probably punch drunk after the weekend, but even Tour de Force is being discussed as a possibility.
The world is truly upside down. We expect to send turf sprinters everywhere carrying a bit of swagger, but dirt?
One wag even put forward the suggestion that everyone could save themselves time, cost and quarantine by simply wheeling them all out on the same Saturday night at Sha Tin and running the Golden Shaheen there with a live feed to the big screen at Meydan.
Yes, Hong Kong ran one-two in the Golden Shaheen on Tapeta last year but this isn't Tapeta, this is actual dirt. The kind of track where Lucky Quality and Multidandy, to put it mildly, got buried up to their necks and had sand kicked in their faces by the American dirt sprinters.
But those US horses don't seem to be going - some say they don't even exist this year - which will disappoint the Dubai authorities who ripped out the Tapeta and put the dirt down just to get the Americans there.
Perhaps they'll have better luck with the World Cup but, at this stage, the richest meeting on earth has a kind of vacant feel about it.
We've been cautioned not to read too much into the apparently hollow Dubai Turf (the one Able Friend isn't going for) - last year's runner-up to Just A Way, Vercingetorix, is listed as a short-priced favourite in the pre-post betting and is a very talented horse, no doubt, but seems to be lacking worthy opposition.
The caveat on that opinion is that, we are told, usually nobody has much idea even three weeks out which horses will ultimately turn up for World Cup night, until they turn up - one of the quirks of the Dubai showpiece.
The names of Japanese darling Harp Star, Hong Kong Vase winner Flintshire, even the horse who beat him in the Breeders' Cup Turf, Main Sequence, have been bandied around for the Sheema Classic, so that doesn't look any pushover for Designs On Rome and might be the highlight race. Of course, that's if they actually do materialise - it's a mystery, among so many at the World Cup.
---
Hong Kong-based jockeys in hot demand for rides overseas
No wonder the Jockey Club Licensing Committee has problems finding (acceptable) jockeys to come to Hong Kong - apparently there's a shortage all over.
When Brett Prebble was booked yesterday for Gai Waterhouse-trained Wandjina in Saturday's Group One Australian Guineas in Melbourne, he joined Nash Rawiller and Douglas Whyte in the race, not just as Hong Kong-based jockeys flown in especially for the race but for one of the chances.
Between them, the trio will now pilot three of the top five horses in the ante-post betting markets - and all horses they have never sat upon before.
More and more Australian trainers are looking to get Group One riders from Hong Kong rather than using home-based jockeys
Meanwhile, Zac Purton heads to Sydney on the same day, where he keeps his connection with his Doncaster winner Sacred Falls in the Group One Canterbury Stakes, but will no doubt pick up other rides on the day, perhaps a two-year-old to test drive for the upcoming Golden Slipper.
This kind of stuff used to be on an occasional basis but, more and more Australian trainers are looking to get Group One riders from Hong Kong rather than using home-based jockeys. They have plenty of good jockeys there - we should know, most of them have ridden here at some stage and there are a few more who should be here but aren't for one reason or another.
Of course, there can be some politics to it, as a jockey based over here and flown in for a particular occasion is probably under no illusions about keeping the ride afterwards.
That can be particularly handy if the regular jockey is suspended or injured - a locally based stand-in might (quite reasonably too) expect to be back on the same horse for its next run if he does a good enough job.
But the Sha Tin-based jockeys have helped their situation over the years by going and getting the job done at a very decent strike rate. Slippers, French Derbys, Doncasters, Epsoms, Caulfield and Melbourne Cups have all been won recently on a fly-in, fly-out basis and Whyte did it in Perth as well during their big racing festival.
In the Australian spring, of course, Joao Moreira picked up an Epsom Handicap among multiple wins in Sydney, then a Group One and Group Three on Derby Day in Melbourne. After that remarkable six wins on Sunday, it's hard to believe nobody found a spot for him in the Australian Guineas.
Throw in Christophe Soumillon and Ryan Moore, who do a fair bit of just turning up and winning, and one or two others, and there seems a core group of jockeys these days who could almost just pick their way around the calendar working big events without even having a prior link to their mounts.