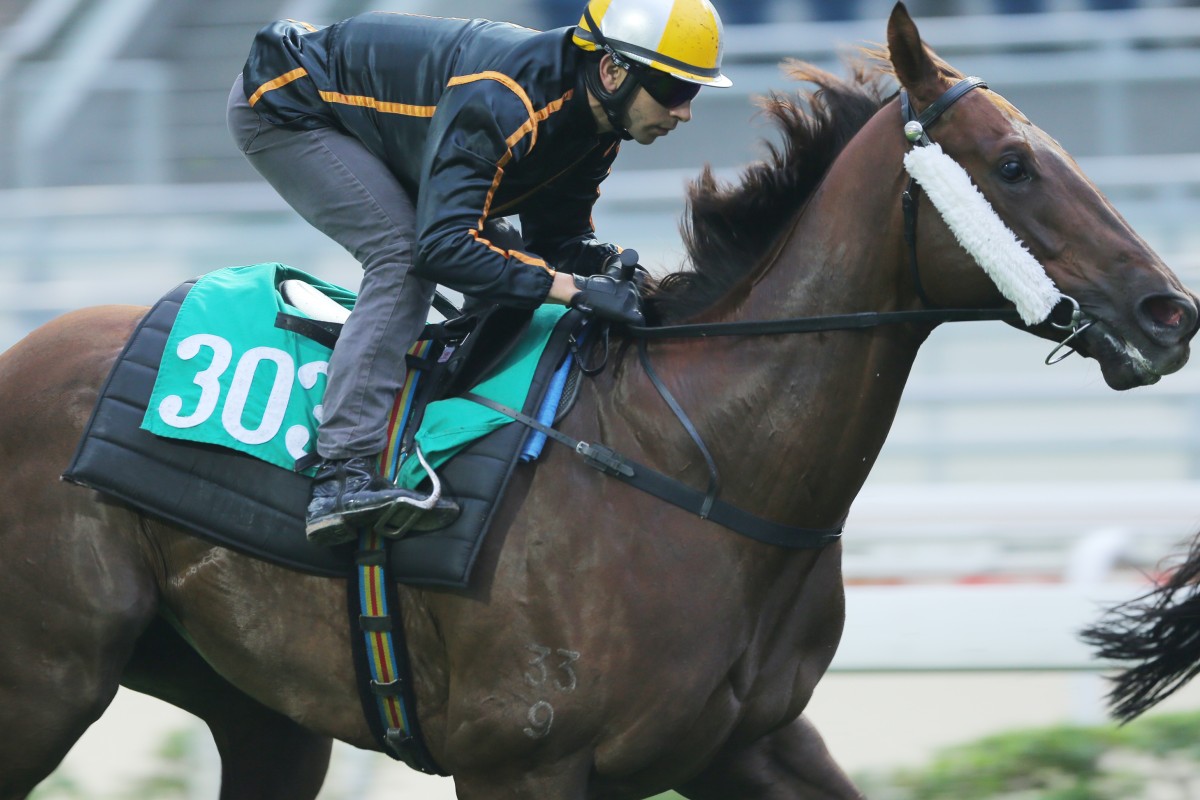 John Moore welcomes the fact Able Friend has become "public property" as the superstar miler heads into Sunday's Queen's Silver Jubilee Cup chasing three straight Group One wins and a chance to add to an ever-growing legacy as an icon of Hong Kong racing.
"This horse now has an enormous public following," Moore said. "And it's something Hong Kong needs - that star - the horse they can make banners for, come to the races and wave their flags and support. For the people who really love equine stars, here is a horse they can get behind."
Able Friend has toyed with rivals at his past three starts, all wins, and both Jockey Club handicappers and official international ratings experts have the five-year-old marked as the highest rated horse in the jurisdiction's history.
[Able Friend] now has an enormous public following. For the people who really love equine stars, here is a horse they can get behind
Rather than hide from the pressure inherent in training such a high-profile horse and the media scrutiny that comes with it, Moore is embracing it - and he hopes Able Friend's name is one day writ large in world racing's record books like that of Australia's recent unbeaten superstar Black Caviar.
Still, does Sunday's step back to 1,400m against a host of horses that see the trip as a speciality, like Gold-Fun, Divine Calling or Irish visitor Gordon Lord Byron, represent a potential pitfall for a horse that Moore admits he has been easy on since a last-start saunter in the Stewards' Cup?
"Racing is racing and, of course, if he doesn't bring his A game, or we have missed something, he could be vulnerable," Moore said. "But we don't want to talk in negative terms and focus on how he might be beaten.
"We don't want him to be beaten; we want him to be like Black Caviar. We want everybody around the world to say, 'Wow, they've only got 1,200 horses there in Hong Kong and they've got this amazing horse that just keeps on winning', like Silent Witness was for us, or like Black Caviar was in Australia.
"Black Caviar became a household name and we hope in time Able Friend can become part of folklore."
Able Friend was due to gallop down the back straight of the course proper with jockey Joao Moreira on Thursday morning in his final piece of serious work before the HK$10 million race.
With the horse's main target, the HK$14 million Champions Mile, still nearly two months away, Moore said he had been mindful of not overtaxing the giant chestnut.
"That track gallop over from the 1,800m start will definitely top him off and if he gets a clear run in the race and everything goes to plan I expect he will be winning," Moore said. "He will be right on song on Sunday."
Moore also provided an update on the condition of 2013 Hong Kong Vase winner Dominant, in Australia under the care of the trainer's son George and set to resume in the A$500,000 Ranvet Stakes at Rosehill Gardens on Saturday week. Jockey Damien Olivier has been booked to ride as a one-off..
"The horse is fine, but he has had to adapt to a big change in the temperature, it has been 35 degrees [Celsius] in Sydney," Moore said. "Still, he is eating up fine, at his winning weight now and holding condition.
"We'll see how things go with regard to who rides him at Randwick and which race he'll go for after that, the Sydney Cup or the Queen Elizabeth Stakes."