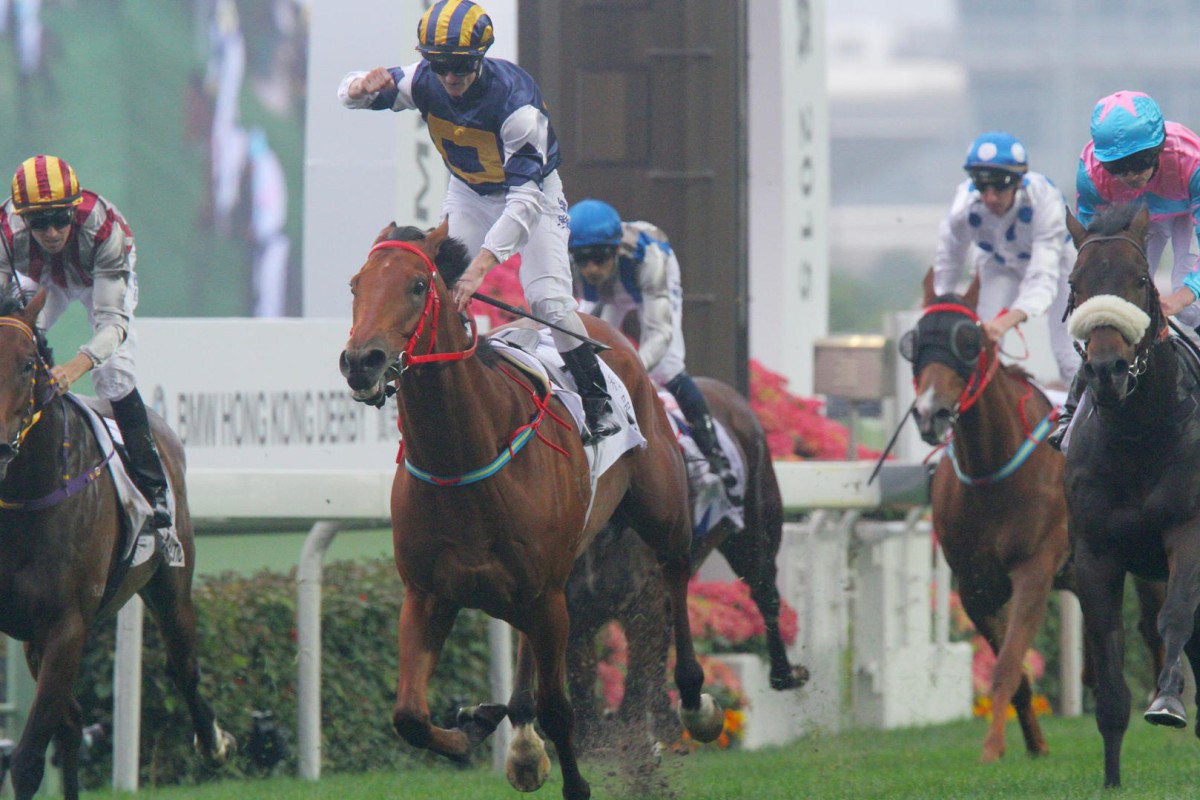 It didn't have the breathtaking arrogance of racing's colossus Able Friend an hour earlier but it was only after Luger landed the unlikely team of John Size and Zac Purton the HK$18 million BMW Hong Kong Derby that the scales fell from all eyes and the best horse in the race was then recognised.
The only doubts with Able Friend in the Queen's Silver Jubilee Cup were on whether Joao Moreira would get him into the clear in the straight after gambling on an inside run, and the Magic Man conjured a passage on Big Red that cost him a suspension, but ultimately won the race without breaking a sweat.
The best horse won despite a minor scare for punters.
I just had to keep [Luger] in his rhythm, ride him like he was the best horse and he proved he was
"I was just about to call my cardio specialist!" Moore laughed when it was all over.
With Purton, the gamble lay with an outside run - all the way around, when he was posted wide. There were no suspensions for the champion jockey, only a test of his nerve and the sheer quality of Luger, which had largely been ignored all week in favour of discussions on stamina or pedigree going into the Derby.
"There wasn't a lot I could do about it but I just had to keep him in his rhythm, ride him like he was the best horse and he proved he was," said Purton after the first Derby win of his career at his first ride for Size since July 2012.
The good news is that Purton will probably keep the ride.
"Well, he won the race. So I guess he can ride him again - unless he has a better offer," said Size last evening as he wound down watching a Thomas the Tank Engine cartoon with his daughter. "It's interesting about the whole thing of whether his pedigree said Luger could run 2,000m - I guess now his brothers' and sisters' pedigrees will say they can, now he's won a Derby."
Jockey Club chief executive Winfried Engelbrecht-Bresges summed the day up.
"I think there were some unlucky stories in the race but, in the end, the best horse won," Engelbrecht-Bresges said. "The crowd was up, the atmosphere was excellent and I think people came to see some special horses and they did."
In the background, champion British jockey Ryan Moore narrowly won a different race, a mad dash to even make the race when his flight from London was several hours late. His flight touched down with just 87 minutes to get his riding gear and get to Sha Tin in time to weigh out - and then run second on appropriately named Got Fly. He then got on another plane to Sydney where he has a commitment this morning.