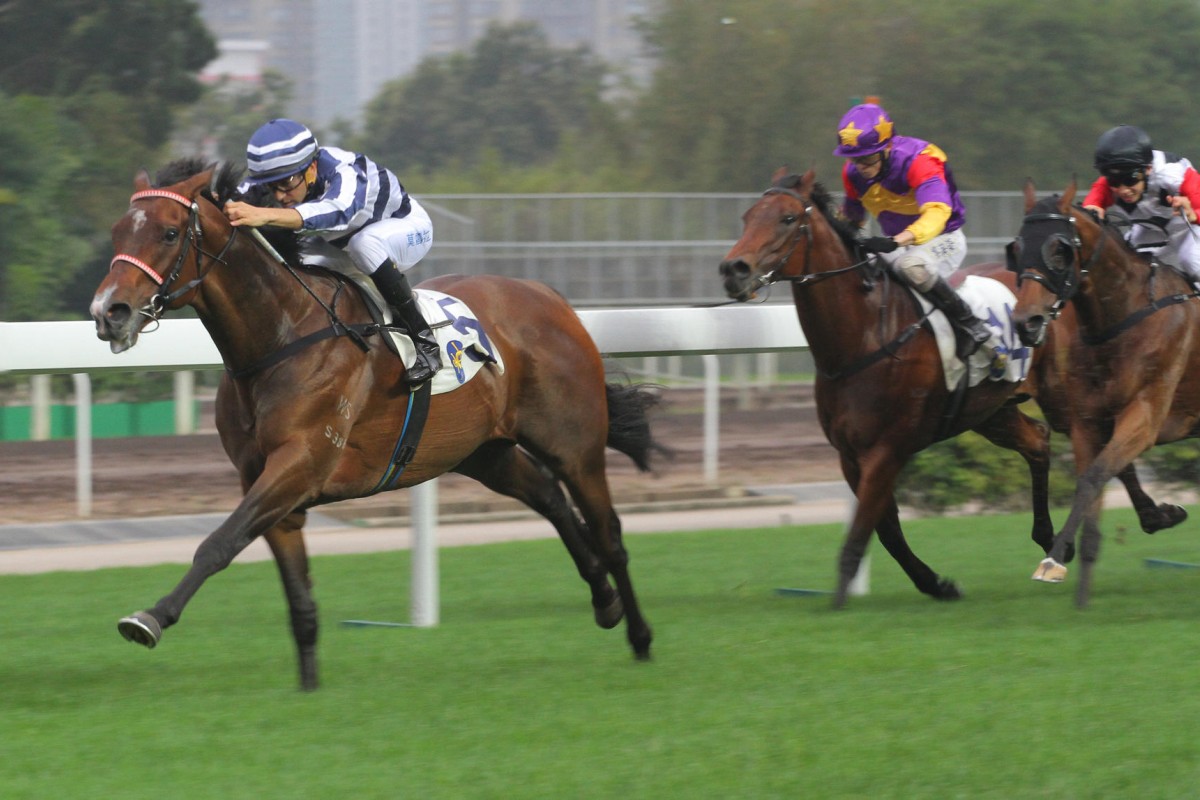 Riding sensation Joao Moreira looked to have an attack of the nervous nineties at Sha Tin as he makes his way towards the fastest riding century in Hong Kong history, racking up the seconds all afternoon until a final race breakthrough to take the pressure off.
I was watching Joao run second all day and I was thinking 'no, not this one too'
But not so much the pressure on himself as on Packing Pins' trainer, Ricky Yiu Poon-fai, who had endured a sequence of poor luck with his promising four-year-old and had a couple of bad moments in the straight as the gelding was held up for clear running.
"I was watching Joao run second all day and I was thinking 'no, not this one too'," said a relieved Yiu.
"It was a bit of a scare when he was blocked, with horses all around him, but now the pressure is off. When someone has a good horse, they expect to see the horse winning and this horse has been so unlucky every time since he won his first race.
"I thought for a moment today he was going to be unlucky again. He's developing all the time, but he'll be a high-class miler when he puts it all together."
Moreira had already dropped a winner before the day started, with Harbour Master's positive drug test disqualification on Thursday from a recent Happy Valley win shaving the Brazilian back to 92 victories.
Then he endured five visits to the runner-up stall - including the desperately unlucky Country Melody - and he needed the whole day to do it, but Moreira finally retrieved that victory and got himself back to 93 wins after parking Packing Pins in behind a generous speed and, eventually, getting the room to run away and win by a widening margin.
Punters who took the odds-on about Moreira in the Jockey Challenge had the strange experience of seeing his odds continue to shorten in in-play action without him riding a winner, but they did not really look in danger of not collecting, either, with all those minor points piling up - sans magic.
"I'm happy and smiling - I won a race and on a pretty nice horse," Moreira said. "I don't feel too much of that pressure because I've been to the races many times and not ridden a winner at all. It happens in racing and I'm used to that."
Yiu said he planned to keep Packing Pins to a diet of 1,400m contests for the moment, even if he did see the horse's future at slightly further, and Moreira was quick to agree.
"I said to Ricky the horse isn't there yet mentally, he is too tense," Moreira said. "The good pace in this race helped him out today and, when he did get the room to accelerate, he ran away to prove he was the best in the race. I like him a lot, but he needs to relax and when he does he will be a very good horse."
Even with a day that fell short of many expectations - or even Moreira's recent strike out at a Happy Valley meeting - he is well on target for the fastest century of wins by a jockey.
Douglas Whyte has won 100 races in a season six times and Zac Purton did it last year but no-one has passed the mark before the month of June, so Moreira is well ahead of the clock. His century will also coincide neatly with him scoring the fastest 200 Hong Kong career wins as well.