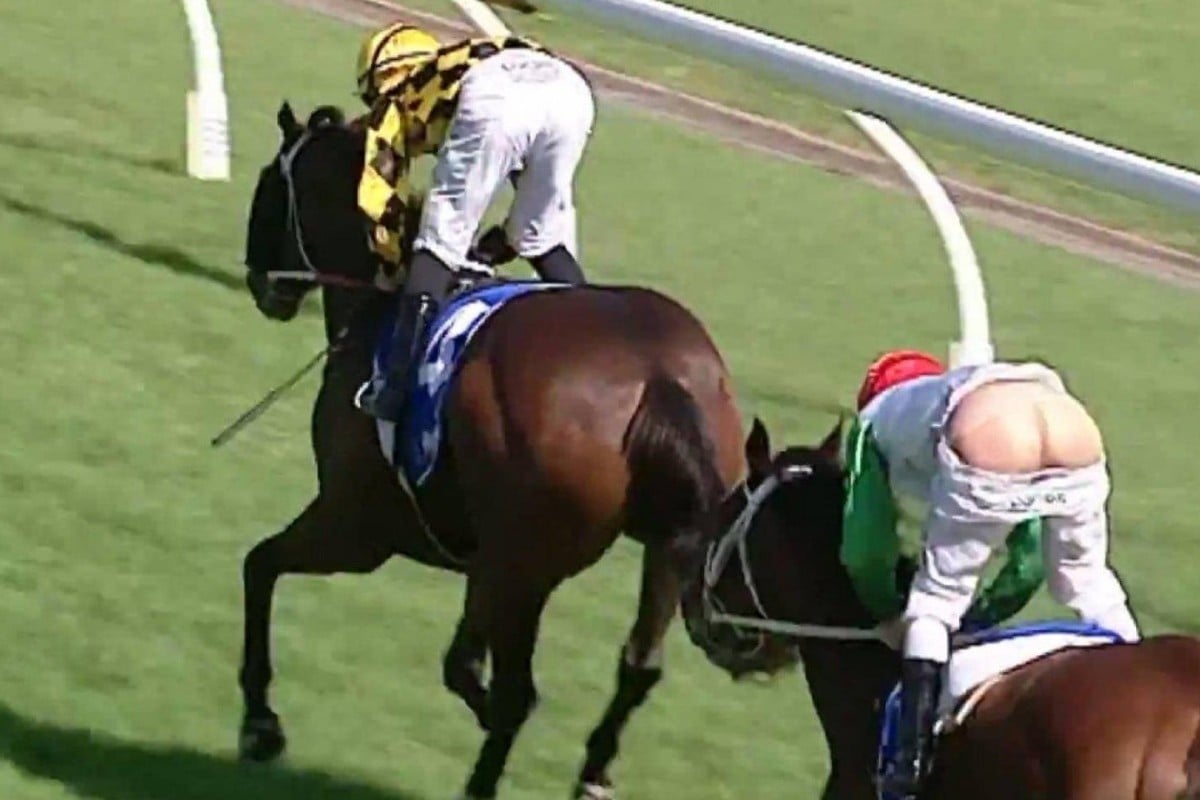 Three weeks ago, Sydney jockey Blake Shinn's backside was seen around the world.
He could have ridden every Group One winner in Australia for the season without getting the kind of "publicity" he got when his breeches slipped down around his knees in the final stages of a race at Canterbury and he mooned the crowd and a much larger television audience.
That story - with video - appeared on every newspaper and aggregation website from London to Lagos, which won't be the case with his five wins including all the Group Ones in Brisbane last Saturday at Doomben.
By the time he was 21, Shinn had won a Melbourne Cup, a Sydney championship and a Scobie Breasley Medal
By the time he was 21, Shinn had won a Melbourne Cup, a Sydney championship and a Scobie Breasley Medal, awarded each season to the rider judged Melbourne's "best and fairest" if you like.
He has been one of the standout Australian jockeys for the past few seasons and, unlike most of the jockeys there who are seriously A-grade, he actually does want to test himself on a full-time basis in Hong Kong.
With licensing for next season not far away, Shinn's five-timer was a fine reminder that he is a brilliant jockey who would be riding here already, but (no pun intended) for a stupid, immature indiscretion almost five years ago.
In late November 2010, Shinn and another jockey, his friend Peter Robl, were found guilty of placing hundreds of bets on races over two years. The vast majority of the bets were silly kid stuff, small wagers on random races, eight of the bets were on horses he rode and one bet was on a different horse in a race in which he rode.
All of the bets contravened different parts of the racing rules in Australia, but the last is surely the sticking point when it comes to licensing Shinn in Hong Kong. He spent 12 months out of racing over the offence, undertook counselling for a gambling problem - he was a large net loser on the bets - and grew up a great deal.
Shinn, now 27, has regained his place at the top of Australian racing and there has not been a hint of scandal since his return in December 2011. (Unless we count the recent "pants down" incident, which we don't.)
During a vacation a couple of years ago, Shinn visited a Happy Valley race meeting to see what he was missing, and a senior club official suggested he would need to wait "at least three years" from his return date after the betting offence before he might be considered eligible for Hong Kong.
Obviously, "at least three years" can include everything right up to "until hell freezes over" if the club's inclination is not to allow him to be licensed, but is three years - it would nearly be four by the time next season rolls around - a reasonable probationary period?
We have and have had other jockeys riding in Hong Kong with significant issues in their past histories. Granted, betting is a different animal to drugs or running and handling, but at what point is a past error consigned to dumb youth and a bad hair-do and not some inherently malignant nature?
A licence for Shinn in Hong Kong would, very likely, produce a brief torrent of excrement for the club for that one (losing) bet against himself. But, once he started riding, the club, racing fans and even some of the crustier commentators around town would soon embrace him for the world-class talent that he is and a worthy addition to a jurisdiction that so loves to boast of housing world-class talent.
---
Olympic issue highlights coming out for local trainers
We'll stay out of commenting much on the Olympic revolution at Sha Tin until we see what happens at Wednesday's big "sit down" of the bosses, other than to observe that it seems as much a staffing problem as a facilities problem and to note how it reveals a radical change in the culture of local racing personnel these days.
Once upon a time, any local trainer would have been extremely wary of hitching his wagon to expat trainers with grievances against the Jockey Club. Even if the local trainers had issues, they remained all too aware of who was in charge.
There was no better example than "Shampoogate", a decade ago. Horses were returning positives to isosorbide (ultimately found to have been an ingredient of a worming shampoo the Jockey Club had approved for distribution) and when Alex Wong Siu-tan was fined six figures, he shrugged and moved on because, although he didn't think he was guilty of anything, he didn't want to fight city hall.
Ivan Allan would not go quietly, did fight city hall and was the reason the truth was discovered. Wong was returned his fine money and the incident removed from his record.
On both sides, that was the classical approach - the expatriate wanted the truth, the local licensee preferred the truth of who issues the licences.
So Michael Chang Chun-wai must clearly feel strongly about the Olympic stables issues, even more surprising when we note that his best seasons have been at those stables.
---
One-way feed as Singapore blocks HKJC's website
When Dubai blocked the Hong Kong Jockey Club website, it wasn't unexpected - Muslim Dubai is "wagering dry" - but Hongkongers visiting Singapore for the big internationals at Kranji will notice the same site-blocking in place there now.
Of course, Singapore is one of the Jockey Club's commingling partners but it would seem the government's Media Development Authority believes that, if you want to know anything about racing in Hong Kong, you'd better be finding it on the Singapore Turf Club site or it won't be available. And that includes past results, trials or trackwork, or myriad other things you can't bet on even if you so desired.
On the flipside, if you're a Hong Kong punter wanting to know about Singapore's horses ahead of the simulcast on Sunday, don't worry - you can easily access all the information you need on the STC website.
We'd concede that part of the problem is how seamlessly the Jockey Club's information pages intertwine with its betting pages, but you'd have to wonder if co-operation means different things in different places.