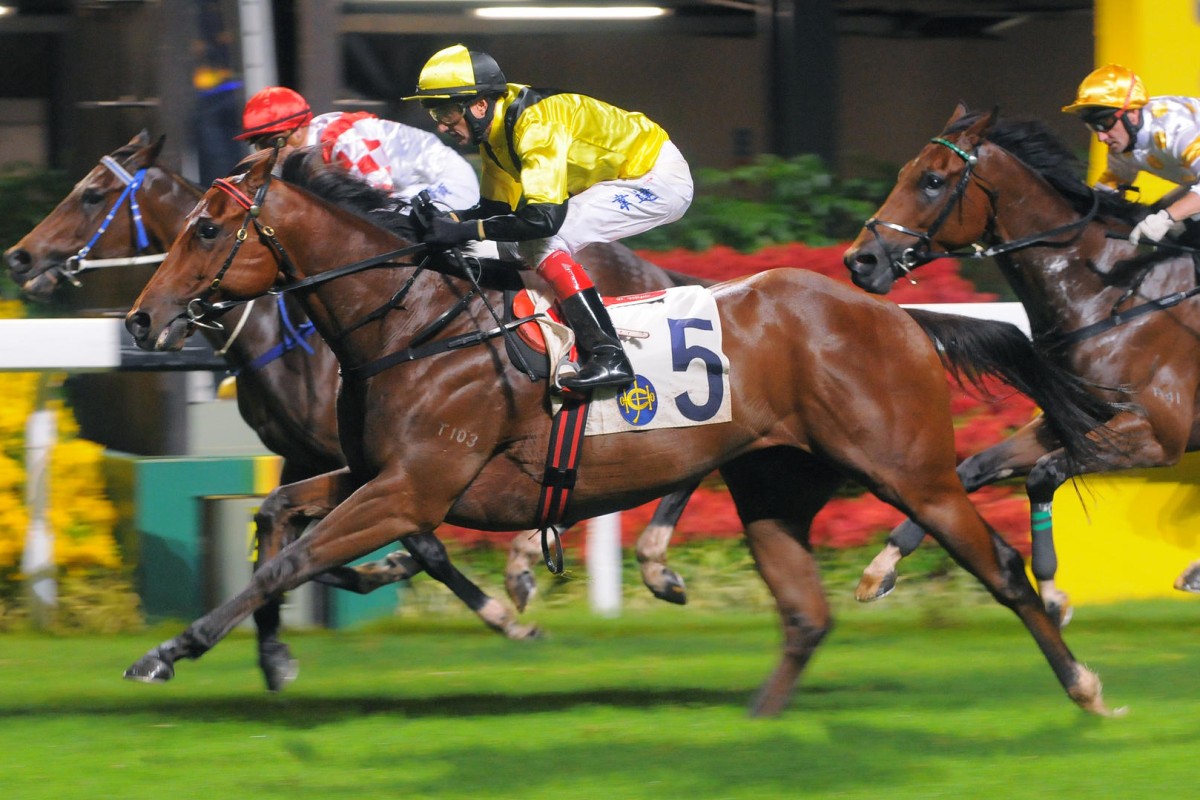 Francis Lui Kin-wai has had a boom start to the new season and was unusually bullish at Happy Valley on Wednesday night about getting more wins out of two horses he has turned right around in recent weeks.
Lui is sitting second on the table after the brace, with Smart Union (Joao Moreira) strolling home again in the Class Five over 1,800m and later the former Britannia Stakes winner from Britain, Born In China (Douglas Whyte) presenting himself like a horse destined for a decent win.
Born In China is much better since he was gelded and he is growing in confidence
Lui was at a loss to explain the change in Smart Union, who was 17 starts and winless before this season and has won both starts lately with ease, but a gelding operation and a paradoxical increase in confidence was his line on Born In China after he won the Class Two Ireland Trophy over 1,200m.
"I cannot stand here and say I know what happened with the first one - he has to just be a late maturing horse and he can handle the rise to Class Four I think," Lui said. "Born In China is much better since he was gelded and he is growing in confidence. Both his wins have been good over 1,200m and we know from his record overseas that he will run further. It's just that the programming at the moment doesn't really have that kind of race available to him and he is winning at 1,200m, so I will keep him to this for now."
The win was the highlight of Whyte's night but the lowlight came later, a two-day careless riding ban on Lyric Ace in the fifth.
Almond Lee became the last trainer to get off the mark for the season when Best Jade Triumph carried Brett Prebble to victory for the third time in the opening race. Like Sean Woods and Andreas Schutz, Lee is chasing 15 wins to keep his licence and has started slowly but Prebble feels there might still be one more in Best Jade Triumph after he enjoyed a good trip to win his second over the Valley 1,650m.
"He's a really slow maturer, he was just weak before and the first six times I rode him, you couldn't do anything but drop him out - if you asked him to do anything early he'd fold up on you and that way at least he finished his race off," Prebble said. "As a five-year-old he was getting stronger and won a couple and he's been a good little horse to me. Now he's six, I think he'd even get away with an 1,800m here now with the right sort of tempo, he's settling and he's got a quick turn of foot."
Also off the mark was Eddy Lai Wai-ming, who piloted Trendiful to victory over 1,200m for Michael Chang Chun-wai then took the trainer a little by surprise by suggesting the horse would enjoy further. Trendiful's only previous win was at 1,000m but Lai feels the gelding will be suited by the extended Valley mile.
"Eddy said that with the speed he has, he could lead and dictate a mile race, and when you look at the horse tonight, he was struggling to keep up in the early part over 1,200m," Chang said.
Not many trainers get wins out of horses transferred out of the John Moore yard so Derek Cruz had a wry grin when Thanksgiving scored in the third under a smart Nash Rawiller ride.
Thanksgiving has been a noted leader in the past but Rawiller wisely elected not to dispute the front with 10-pound claimer Jack Wong Ho-nam on Silver Dragon and left his horse with enough in the tank to scramble home.
"He's an old horse, he's already won six races so I'm always happy to get a win out of a horse like that," said Cruz.