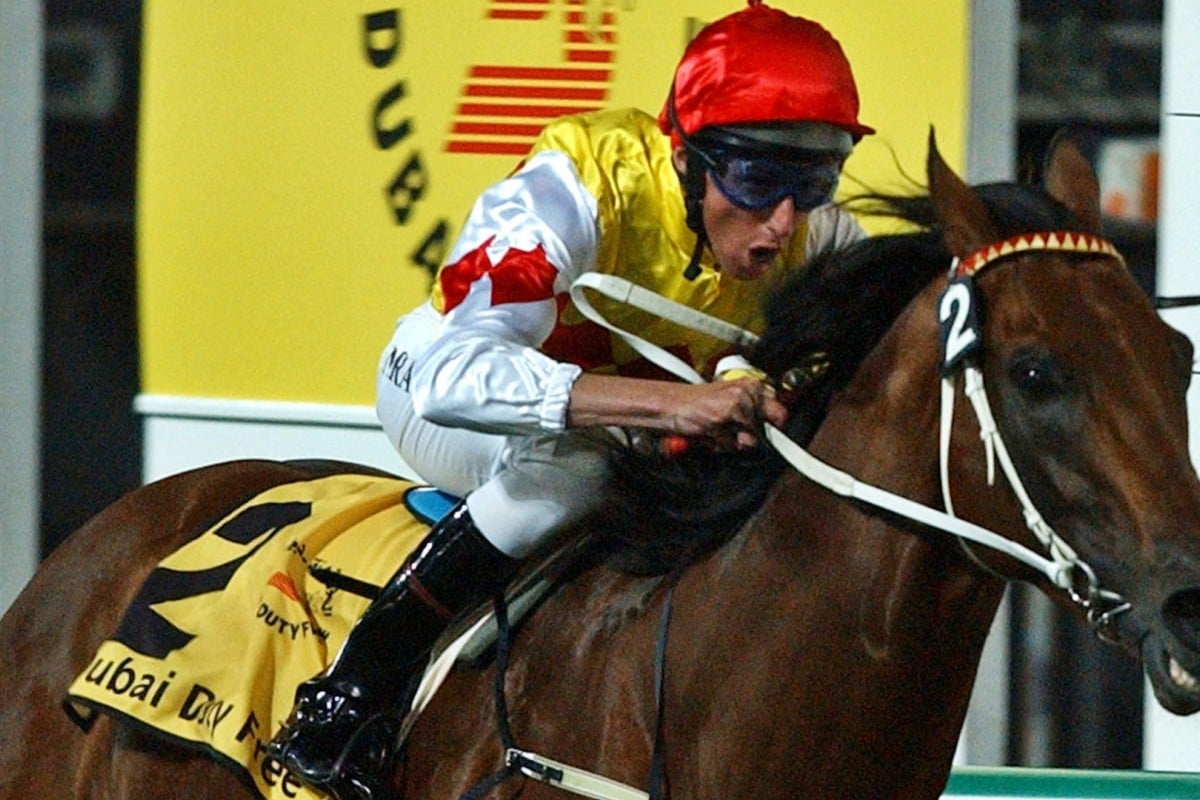 The filet mignon is cooked to perfection - medium. Nash Rawiller is slowly slicing it and savouring every bite. An upmarket steak restaurant might seem a cruel choice for the location of an interview with a jockey a few days before race day - especially a rider firmly in the "heavyweight" category - but Rawiller is at ease.
Approaching 1.8 metres, Rawiller is clearly a man who would weigh more if he made his money any other way.
He was really sick. To be honest, we thought there was something seriously wrong with him
The conversation inevitably turns to food and more to the point, a lack of it, and how "wasting" - a euphemism for starving - nearly destroyed his career. "I wouldn't be riding if I had kept doing it the way I was," Rawiller, 40, says. "It wasn't sustainable."
It is entries day, where stables book jockeys for rides at the next meeting, and the mobile phone next to Rawiller's plate vibrates encouragingly with inquiries for his services. He picks up and returns a call, but not before he has had another mouthful.
As a teenager, a combination of coffee and cigarettes with some starving and sweating before race riding was Rawiller's idea of a balanced lifestyle.
The muscles in his still growing body ached and his mind was bent out of shape by the physical and psychological warfare he was waging on himself. By the time he turned 20 his fingernails were dry, cracked and becoming more brittle by the day. His hair was coming out in clumps.
"He was really sick. To be honest, we thought there was something seriously wrong with him," Rawiller's mother, Elaine, says. "He was malnourished - he was starving himself."
Rawiller is the oldest of three boys separated by just four years; Brad is also a heavyweight jockey in Australia, and his other brother, Todd, also rode but quickly grew too big and became a trainer. Younger sister Stacey came 10 years later and also spent time in the saddle.
Growing up in the family's Bendigo home bordered by eucalyptus forests, Rawiller lived and breathed racing from a young age. Rawiller's father, Keith, was an all-round horseman, best known as a jumps jockey. He would travel to meetings all over the state of Victoria, and also trained and drove trotters.
At night the young Rawiller would attempt to emulate his father by perching himself on the arm of the sofa and hone his riding style. It is a technique probably not too dissimilar to now: more enthusiastic than aesthetically pleasing: short stirrups, knees sticking forward, sharp elbows jutting out, head bobbing up and down, fearsome aggression flowing through each blow with the whip.
Not pretty, but even that old lounge chair wanted to get up and run.
"I've tried to change and it just never works," Rawiller says of a style dubbed "fried rice" by local media, who say he looks like a chef hard at work with a wok.
Despite the lounge room heroics, Rawiller was constantly told by his father that he wouldn't make it as a jockey.
Early on he was kept away from the stables and then it seemed clear he would be "too heavy".
"I think that just made me more determined," Rawiller says. "I just had it drummed into me that I would be too big. They tried to push us all away, but I just wanted to prove everyone wrong."
In his own mother's words, Rawiller was "raised tough".
Keith still works hard with a team of horses, but is an emotional softie these days, easily brought to tears at the mere mention of the amazing achievements of his sons and daughter.
Back then, though, struggling to make ends meet between stints working on the railways, the Rawiller home was - as Elaine puts it - "old school".
"Keith grew up in tough times, and we were hard and strict," she recalls. "Even if you are sick, you don't have a day off. If you want to be a jockey, then you can't go out and party - that type of thing.
"In some ways, they missed part of their childhood and it wasn't easy, but it has shaped who they are. I think it made them tougher and more focused."
Rawiller served his apprenticeship with his uncle Stuart; moderate returns followed and then came the health issues.
It was a month-long road trip with Todd in a camper van around New Zealand where Rawiller finally surrendered to the fact that his body needed to be slightly bigger than he was letting it be.
"Once I was a jockey, there were still three or four times when I wanted to give it away completely, but when I came back from that trip I started enjoying life a little more.
"I was struggling to ride 48kg [105 pounds] during my apprenticeship, I was trying to ride 52kg [115 pounds], but then I let myself ride at 54kg. Sure I missed a few winners, but in races I was more focused. Horses I was running second or third on before, through not thinking right and being physically drained, I was starting to win on them."
I was struggling to ride 48kg [105 pounds] during my apprenticeship, I was trying to ride 52kg [115 pounds], but then I let myself ride at 54kg
Rawiller's wife, Sarah, and mother to two now-teenaged children - Campbell and Caitlin - entered the picture around this time. A former trackwork rider, she is credited with not only teaching Rawiller how to eat properly, but instilling in him self-belief that had been sadly lacking.
"He didn't have that confidence in himself, but he was such a great horseman," Sarah says. "What I worked on with him - he had more ability than anyone I knew, but didn't have the mindset. So we started setting small goals and achieving them and building on the results."
A move to trainer Tony Noonan saw some breakthroughs - a 50-1 winner gave him his first Group One win and another outsider his second - but he was still primarily a provincial jockey.
Then, a horse called Elvstroem took Rawiller to the world. The Tony Vasil-trained colt, nicknamed Elvis, captured the Caulfield Cup among three Group Ones with the jockey aboard in Melbourne, before winning the Dubai Duty Free and campaigning in Hong Kong, England and France.
In 2007, Rawiller caught the eye of another woman in racing, but this time in a professional sense. When Rawiller moved to Sydney to ride for Gai Waterhouse, he had won 10 Group One winners in 17 years as a jockey.
Upon his arrival at Randwick, he rode three Group One wins in eight days, and went on to dominate Sydney racing for the next five years, but the biggest change the first lady of racing inspired was off the track.
Despite the international success Rawiller was still relatively introverted and shy, and Waterhouse, famous for her unorthodox motivational techniques, enrolled the rider in a course at Australia's most prestigious National Institute of Dramatic Art (Nida): "It helped me in a lot of ways, speaking to owners and in the stewards' room."
Rawiller won three Sydney riding premierships, partnered the exceptional Pierro and grew his Group One total to 49.
He also had a ringside seat for one of the greatest controversies of recent times when colourful owner John Singleton, wearing a microphone for a special segment on the nationally televised broadcast, walked into the parade ring and confronted Waterhouse about the rumoured poor health of champion mare More Joyous, who was about to run in a Group One minutes later.
I thought it was a practical joke at first. Singo would do something like that, but then I realised he was serious - I didn't know where to look
"I thought it was a practical joke at first," Rawiller said. "Singo would do something like that, but then I realised he was serious - I didn't know where to look."
The number one job with Waterhouse was lost to Tommy Berry in 2013 as Rawiller rode more for other leading stables. He still had great support in Sydney, though, so why go from king of the jockey room to bottom rung of the ladder at Sha Tin?
Ask Rawiller a good question and he will pause in a way that can push you to the point where you want to ask another one just to fill in the space, but to this question the answer comes quickly.
"It's just something I had always wanted to do, ride in Hong Kong, but I thought I would be too heavy for here," he said. "You get to 40, I've done everything I had wanted to do at home and it's not a good position to be in. You need to set yourself goals and keep raising the bar to keep focused."
After lunch Rawiller stops at a news stand on a busy Causeway Bay footpath, cigarette in mouth, and buys a form guide - the storeholder not noticing the brightly coloured cover features his latest customer on the cover.
Soon the anonymity ends as a keen-eyed fan stops for a selfie featuring Rawiller and the next two storeholders in the bustling market also ask for photos.
"I always pick you in quinella, always very good prices," one says. It's a backhanded compliment, really - Rawiller doesn't want to be on the 20-1 shots.
"There can't be a harder place in the world to win a race," says Rawiller, who, after a slow start due to suspensions, willed his way to 28 winners last season at an unfamiliar strike rate of 7 per cent.
"In Australia, I never had a strike rate under 20 per cent, so it has been a little challenging. I've always had high expectations, but what I haven't lost sight of is that I came here for the challenge."
Rawiller recalls a race at Happy Valley last season where he and fellow Australian Brett Prebble waged a 400-metre long war - whips flailing, arms pumping in a tense neck-and-neck struggle - only to look up at the finish and find themselves swamped in the final stages of the race. They finished midfield.
"We both just shook our heads and laughed, and it's not the only time it has happened."
The competition will get even hotter in January when a jockey's room already bursting with talent is joined by arguably the best rider in the world, English whizz Ryan Moore.
"That's good news, although maybe not financially," Rawiller says. "It will be good to compete against the best, but don't worry, Ryan will learn a bit as well."
Rawiller generally rides at a minimum weight of 122 pounds - the heaviest of any jockey based in Hong Kong - but today will ride Dundonnell at 120 pounds in the Group Two Premier Bowl, and he admits he is still adjusting to the unique pressures here.
"You get a lot of instructions before you go out for a ride: one from the owners, one from the trainer and one from the paperboy as well."
One thing hasn't changed - he still wants to prove everyone wrong.
"I'll try and make a go of it. I have enough confidence in myself to believe it'll happen for me here.
"I never thought it would happen overnight and I still think my best years are ahead of me."