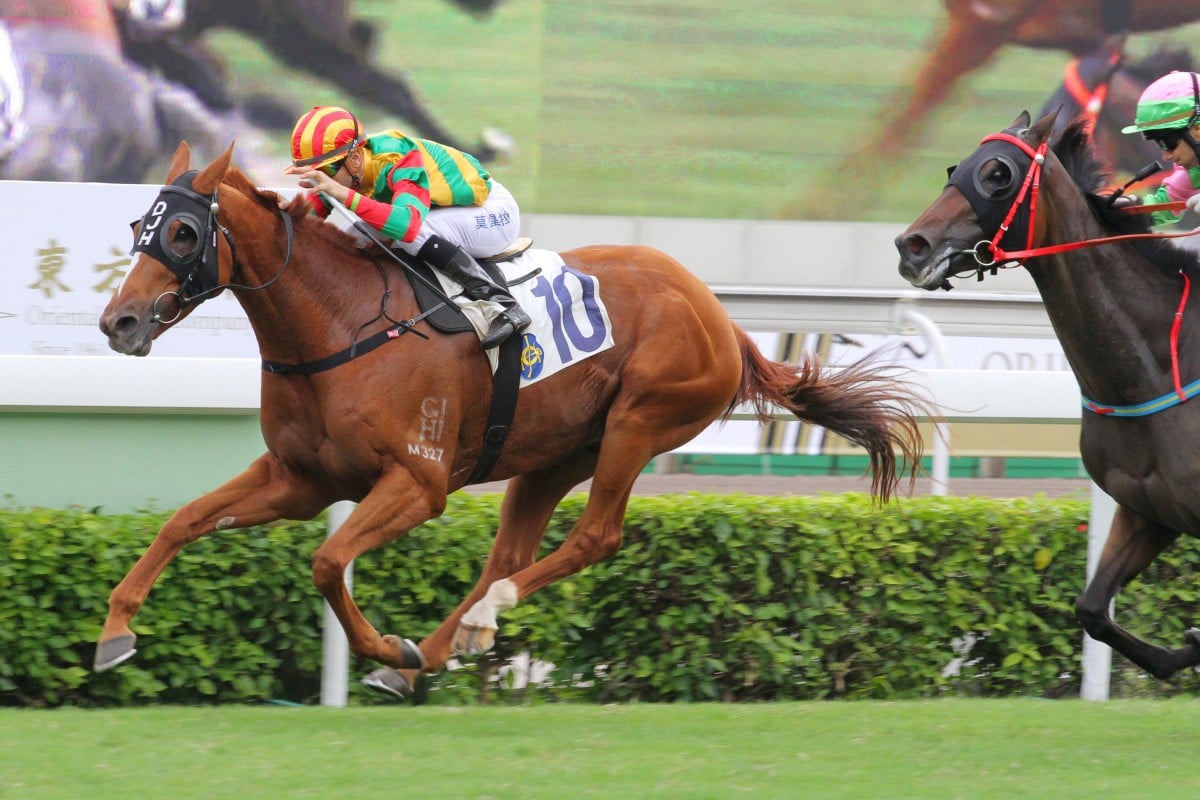 "Are entries for the Melbourne Cup still open?"
It may have been tongue in cheek but trainer David Hall was beaming after one time cast-off Bamboo Dance made it five in a row in taking a Class Four over 1,800m, the second leg of a double for the handler after he earlier produced with lightly raced Solar Hei Hei.
It was a similar smile to that which he wore when he won the 2003 Melbourne Cup with Makybe Diva, and while talk of the Australian feature was in jest with Bamboo Dance (Joao Moreira), Hall acknowledged the significance of turning around an eight-year-old seemingly destined for retirement.
GALLERY: Kenneth Chan's photos of all races at the Oriental Watch Sha Tin Trophy raceday on Sunday.
"The way Bamboo Dance is improving, maybe he could sneak in there," Hall laughed. "But seriously, five wins in a row and near the top of Class Four for this horse is remarkable. I never, ever could have thought that Bamboo Dance would form part of my Hong Kong highlight reel - now, he's not number one but he's right up there. It's very special.
"He came back to me with a rating that would have seen him retired at the end of last season, and at eight-years-old you would have thought that was that. The scary thing is, he looks like he could make it into Class Three on his current form."
Bamboo Dance started his career with Sean Woods, spent two full seasons with Hall for a solitary win, before joining the Michael Chang Chun-wai yard at the start of last season. He had five unplaced runs for Chang before rejoining Hall earlier this year.
"I feel really bad for Michael, he keeps asking me what I have done to improve the horse," he said. "But there's no secret, for whatever reason he has just suddenly decided he is happy here. Joao obviously works wonders with him, but even still, he is just well within himself and it shows on raceday."
Solar Hei Hei (Brett Prebble) won two on end near the tail-end of last season to stamp himself as a horse on the up, and his win in a Class Four over 1,200m has Hall looking to longer trips and higher grades.
"It is always a query, whether they can return in the same vein of form," he said. "He's not overly brilliant, he's more of a grinder but he can sustain a long run and that can be a real asset here."
"I was especially concerned when he was forced to stand in the gates for so long, given he was already on his toes. But he handled it all pretty well and the signs are promising for the future."
Prebble agreed with Hall's assessment, saying he is a horse that does what he needs to do to win.
"The feeling he gave me at the 600m, I thought he'd win by four lengths," the jockey said. "In the end, it was a bit workmanlike. I don't think he's the type of horse who is going to win by big margins, but he gets the job done and that's important. He will get a little further than 1,200m, too, so the owners will have some fun with him."