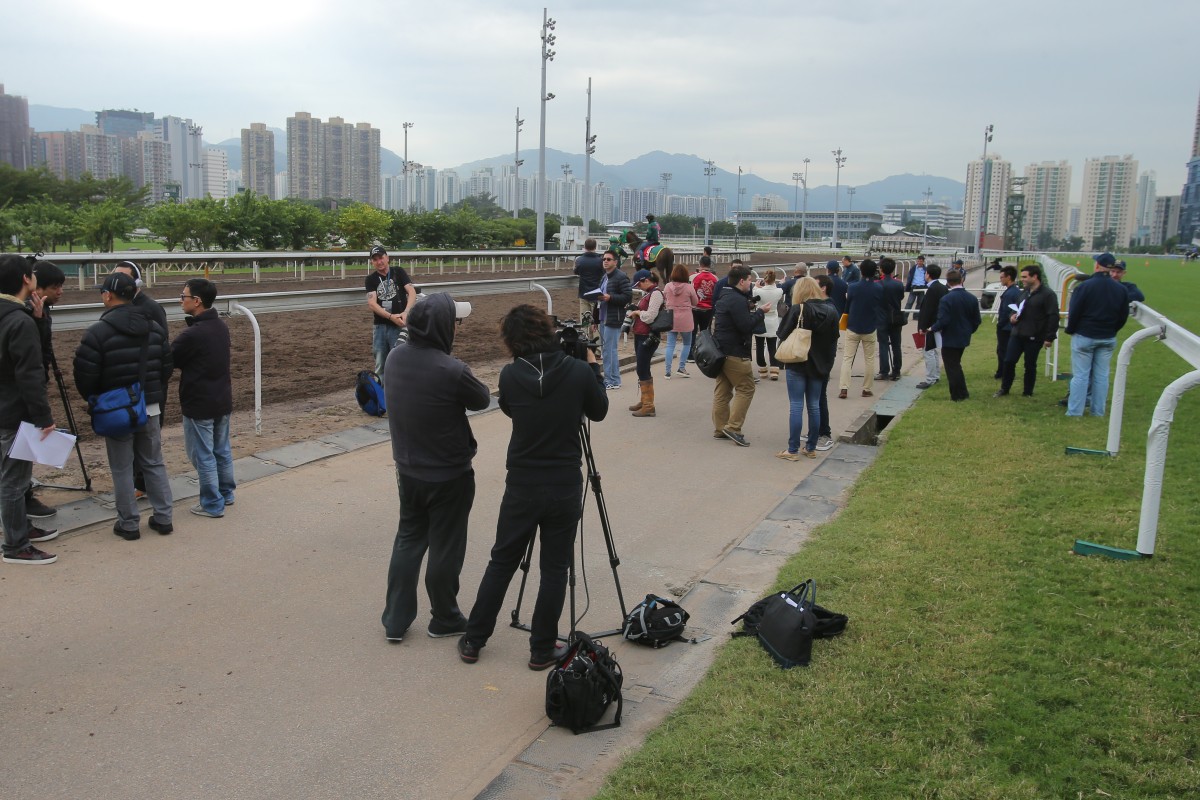 It's not every day that a Triple Crown-winning jockey turns up to dinner and sits down for a chat with you for the rest of the evening.
But that's what Victor Espinoza did as he stumbled across the Jockey Club's social media team last night, his connection with a couple of American team members opening doors that few could ever expect.
It is that kind of experience that is unforgettable, away from the cameras and away from the buzz of race days - this is what makes this week so special.
For a change, jockeys are available to talk about normal things. It's not just the usual, "Has your horse got a good chance in the next?" (Although Espinoza wasn't exactly clued up on his rides or Happy Valley as a course, despite riding a winner in 2003.)
At the photo call for the Longines International Jockeys' Championship, it was great to have a chat with the world's leading riders: talking to Ryan Moore about his admiration for American Pharoah and both Hugh Bowman and James McDonald spoke highly of the competition and its unique nature.
Selfie time with @DanonymousMan and James McDonald and Hugh Bowman pic.twitter.com/x3adPeEk6o

— Harriet (@HattieLFuller) December 8, 2015
Most of the international jockeys confess they are unsure of how the form stacks up and due to them not riding regularly over here, it becomes a level playing field for them – bar Joao Moreira and his special brand of magic, though, as McDonald was quick to point out!
Most of the international jockeys confess they are unsure of how the form stacks up and due to them not riding regularly over here, it becomes a level playing field for them
It was nice to get to know the 'real' Ryan Moore - despite normally being very closeted on-screen, behind the camera he was more than happy to speak about racing, his excitement for the series and, of course, his big rides on Sunday.
It's a week of mingling with the stars, not only human but also equine. In Britain, most trainers gallop their horses on private gallops or on shared gallops which have restricted access. Racecourse gallops are few and far between and are normally only available to top yards with their stable stars.
It makes going to trackwork at Sha Tin every morning that extra bit special.
To be able to see the world's best racehorses work a couple of metres away from you is an exclusive experience that most won't get the privilege to see.
I feel incredibly lucky to have the chance to watch the top Hong Kong horses as well as the Europeans, and it is fascinating to see their different routines and also how a horse's condition can change in a matter of days.
Welcome to HK our new media guests at ST trackwork for 2015 #HKIR pic.twitter.com/rE4TULAMYh

— Larry Yeung Ming Ho (@ming_yaho) December 8, 2015
Some horses take travelling in their stride, others take a couple of days to get over their 'jet lag'.
I have only just arrived, but from the moment you step out of the airport there is a sense of the big racing culture over here, with massive adverts for the races and the buzz around the tracks.
Having been shown around Happy Valley ahead of Wednesday night's racing, the enthusiasm of the staff is infectious, the facilities are outstanding and you can clearly see that Hong Kong values their racegoers and looks after them in the best way possible.
The facilities are a notch above those in the premier areas of British racecourses, and the attention to detail is astonishing.
I feel as though I'm a 'star' despite being a regular racegoer.
There's definitely a few things British racing could learn from how they run things over here.
Harriet Fuller is a member of the Jockey Club's social media team for the Longines Hong Kong International Races