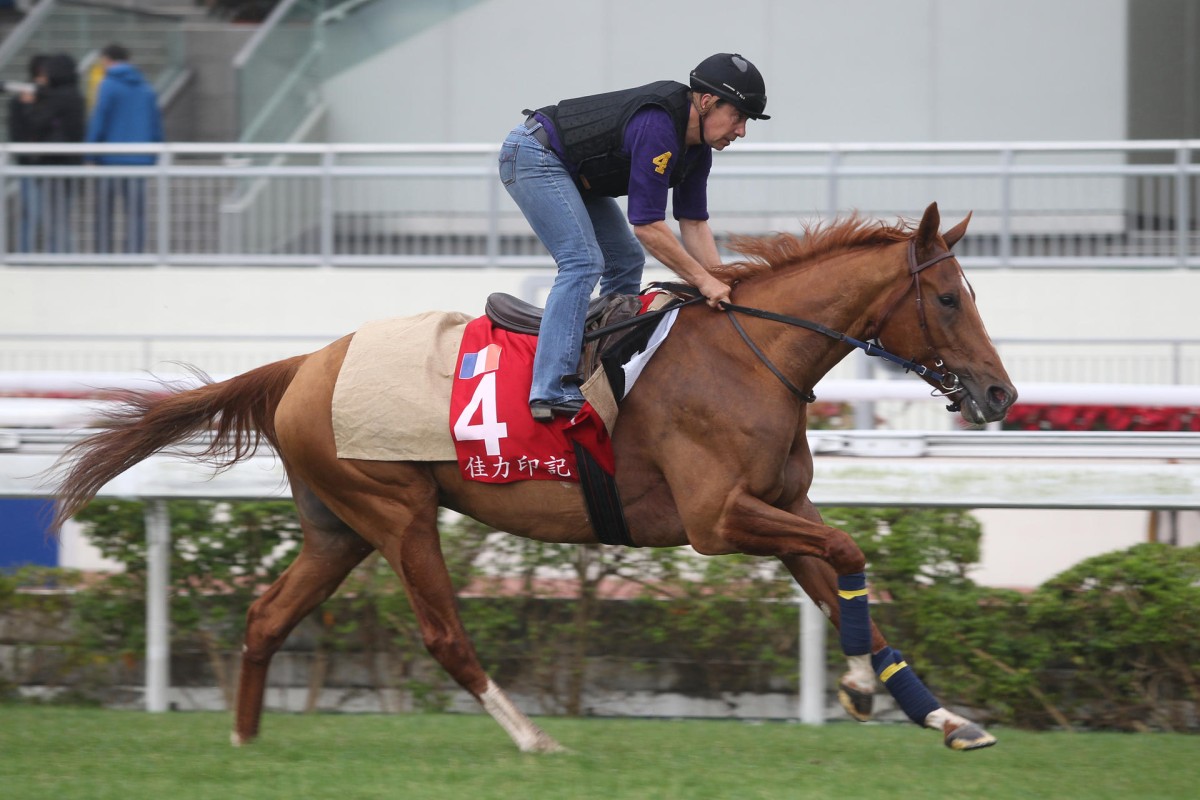 The contrasting styles of horsemen from different parts of the globe were on display at Sha Tin yesterday and a quick burst of La Marseillaise was almost audible as Gailo Chop completed an attractive piece of work that confirmed his claims to Sunday's Longines Hong Kong Cup.
Gailo Chop worked solo over 1,200 metres and his rider was not shy about telegraphing his intentions, sending the chestnut from a walk to a full gallop in a matter of strides at the top of the back stretch.
Gailo Chop is a rare story in the international horse racing world, with an ambitious and globally aware owner
The smooth, fluent action that landed him the Mackinnon Stakes at Flemington during Melbourne Cup week was there to see as he burned through the furlongs before posting an overall time of 1:15.2 - an excellent piece of sustained speed work.
Not only was that speed sustained, but Gailo Chop went quicker as the gallop proceeded, clocking 51.2 for his last 800 metres, 22.9 for the last 400m and then brushed home in 11.73, still on the bridle.
Gailo Chop is a rare story in the international horse racing world, with an ambitious and globally aware owner, syndicator Terry Henderson, finding a piece of rock in the south of France and then crafting a diamond from it.
Gailo Chop is trained by Antoine De Watrigant, 54, who set up shop as an "entraineur" around eight years ago with the backing of noted French owner-breeder Alain Chopard. Gailo Chop was, in fact, the handler's first winner of a pattern race when he landed the Prix La Force in April last year.
Henderson was a pioneer in identifying quality European stayers for the Australian racing scene and went within a lip of a Melbourne Cup success with Bauer in 2008. But as more and more of his countrymen have replicated the recipe, the price of the right horses has exploded, forcing Henderson to shop further afield for value. And Gailo Chop is the result.
Rather than giving Gailo Chop to a big-name trainer, Henderson brought De Watrigant along for the ride and a Group One victory at Flemington on Derby day is the highlight so far, with Sunday still to come. One of his rivals at the weekend - and a huge danger, it has to be said - is Japan's Staphanos, who galloped shortly before Gailo Chop yesterday. Staphanos did not work quite as far and didn't go quite as hard (800m in 53.1) but he outsped the French horse up the straight, clocking 23.26 for the last 400m and 11.32 for the ultimate 200m.
Unlike Gailo Chop, Staphanos is not on his first visit to Hong Kong, but his presence here is the fulfillment of a long-range prediction from trainer Hideaki Fujiwara. After the Audemars Piguet Queen Elizabeth II Cup in April, in which Staphanos ran a grand second to Tony Cruz's Blazing Speed, Fujiwara promised he would be back in December for a full-on tilt at Hong Kong's richest race, the HK$25 million Cup.
Time honours for the morning were claimed by another Japanese visitor, Fiero, who arrives off an excellent last-start second to reigning champion miler Maurice in the Mile Championship at Kyoto on November 22.
Fiero did not do the early work required of either Staphanos or Gailo Chop, but was allowed to open right up in the final stages. His 600m scamper took just 36.1 seconds, with final splits of 21.73 and 10.86.
Vase candidate Dariyan started his workout some three and a half seconds behind Gailo Chop but was in no comparable hurry. The young French stayer loped along lazily, enjoying the scenery and exerting precious little energy, clocking just 26.5 seconds for his last 400m.
German miler Red Dubawi, however, showed a surprising turn of foot.
At the end of a lap of very steady pace work, he zipped home 200m in 10.96 seconds.