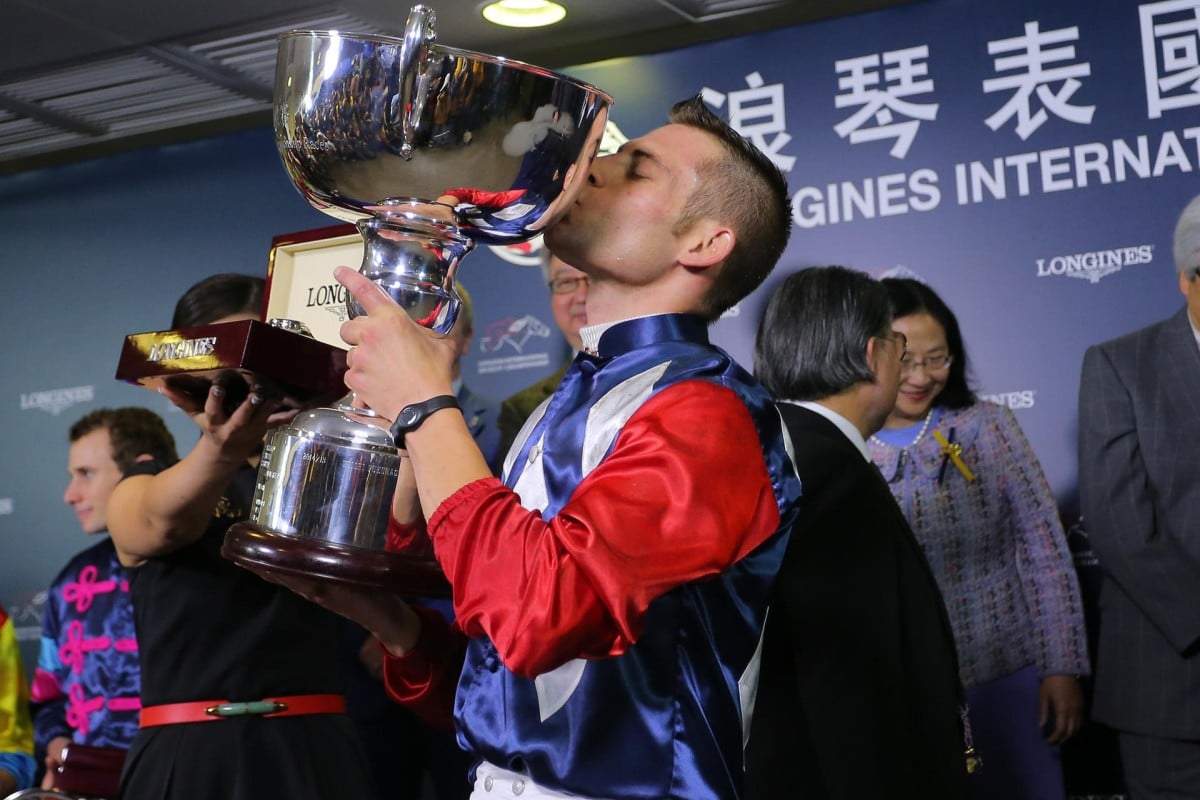 Gavin Lerena wrote another chapter in the long history of successful South African jockeys in Hong Kong when he snatched the Longines International Jockeys' Championship on an extraordinary night at Happy Valley.
Unseasonal rain saw the track downgraded to yielding - the first time since last century any race in Hong Kong has been run during December on a track that soft - and that may have paved the way to Lerena's win.
I was told I had some good rides on paper, but they've still got to be happy, haven't they, and the barrier draws didn't look good
The South African and his father Tex had made the 13-hour flight from Johannesburg on Tuesday, slept for 12 hours to freshen up and then grabbed what looked on paper a golden chance at the HK$500,000 first prize.
Lerena went scoreless in the first two legs of the four-race series, but hit back in the second half to land Peter Ho Leung-trained Mr Right and then Derek Cruz-trained Superoi to clinch the trophy.
Superoi has been a regular mount for Douglas Whyte recently but, asked if he'd received any pointers from his compatriot and series rival, Lerena said: "I didn't get much help from any of the other boys actually."
Lerena said he had been told he had some worthwhile rides, but that his barrier draws - he had gate eight in three of the legs - was no advantage. At least before the rain came.
After more than 21mm during the day, Happy Valley received another 18mm between the start of racing and the finish of the series, the rain at times threatening to become quite heavy and forcing the downgrade.
"I was told I had some good rides on paper, but they've still got to be happy, haven't they, and the barrier draws didn't look good," said Lerena after his first look at Hong Kong racing.
"But with the rain, it seemed like the best part of the straight became three off to the middle and that's where I was able to come on my winners because of those draws. It's a real thrill to come and win it."
Ho plays a part in the IJC virtually every year, targeting the races as they have higher prize money than usual for their classes.
"I don't have Class One and Class Two horses in my stable, so my chance to compete for this prize money comes on this night and I target these races if I have the right horse," he said after Mr Right swept up from behind the speed to win.
Ho said he had told Lerena to sit behind if the pace was strong, as expected, and the South African received the same briefing from Cruz before Superoi.
"He's had two seconds and two thirds lately and he was the form horse of the race but I was a bit worried about barrier eight," said a delighted Cruz.
"I thought the speed would be good so I asked Gavin to ride the horse behind and not ask for too much from him early."
Lerena's 24 points sent him clear of Ryan Moore, who finished fourth in the final leg, and ultimately the Englishman's deceptive dead-heat on Happy And Healthy in the second leg was not the deciding factor.
Most thought Moore had done enough on the David Hall-trained gelding to beat True Comment (Keita Tosaki), but Moore was in another camp before the dead-heat signal was posted and the two shared the total of 18 points available for the first two placings.
"To be honest, I thought I'd got beaten and I was disgusted with myself," Moore said later.
Half a win took him to 15 points, after he had run second in the opening leg, and it was enough to hold down second, with Tosaki third on 13 points, while Silvestre de Sousa, winner of the first leg on Happy Spirit for Tony Cruz, was next on 12 points.
But the heroes on the track were villains off it, with Lerena and Moore both receiving careless riding charges.
Lerena was given a three-meeting suspension, while Moore will miss the equivalent of four Hong Kong race days before starting his local contract on January 17 and was given an HK$30,000 fine.
Meanwhile, Joao Moreira was forced to undergo a medical examination before he could even compete in the IJC after being harmlessly dislodged past the post after the third.