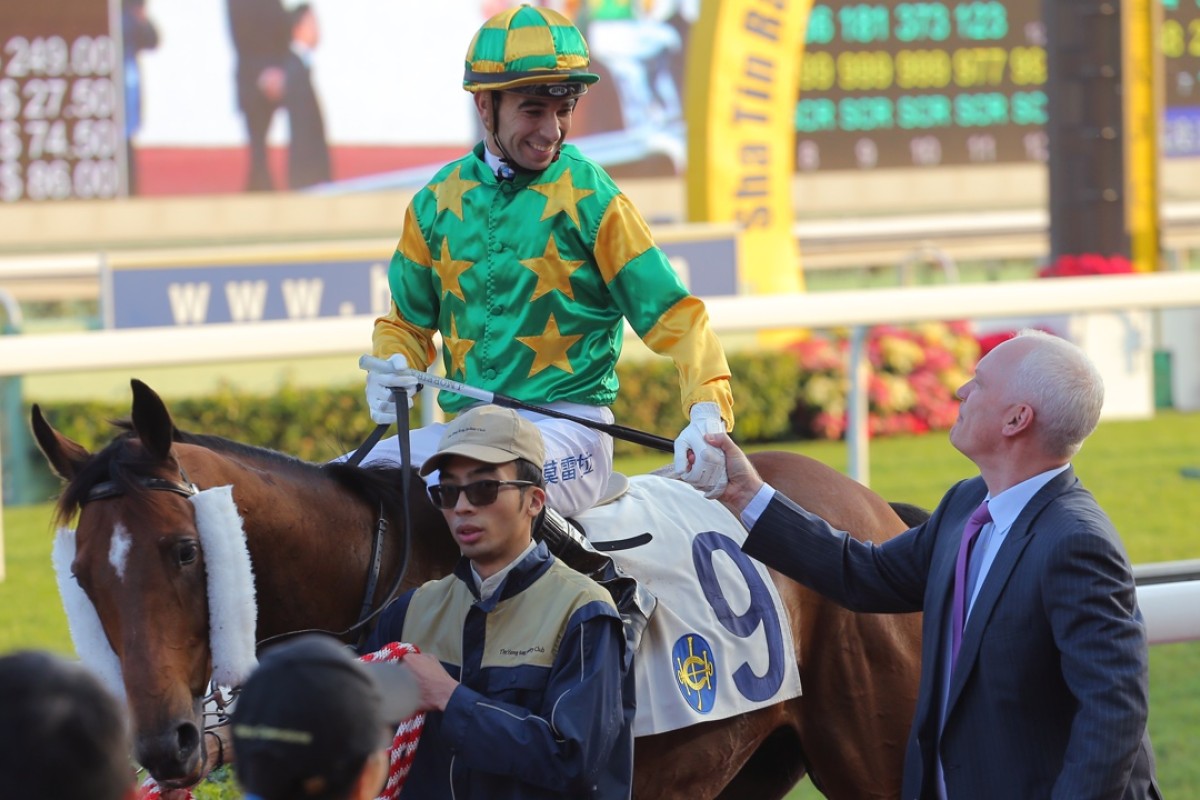 For the Jockey Club, the imminent arrival of superstar Ryan Moore can't come soon enough – he begins on January 17 for six weeks, and the Englishman should act as a circuit breaker to Joao Moreira's dominance, which could have had a stifling effect on betting last Saturday.
Perhaps there are some options available to oddsmakers who handle the club's only fixed odds product, the Jockey Challenge – otherwise known as the Joao Moreira voluntary superannuation scheme – that has been hammered as a result of the "Joao show" on a couple of occasions this month.
Moreira has ridden half the card at the last two meetings and is on pace to smash his own record of 145 winners set last season. His strike rate has soared to a ridiculous 28 per cent, double that of his nearest rival, Zac Purton.
The graph comparing Moreira's progress this season to last looks like something from a one-day cricket international between Australia and Bangladesh. Still, we have to keep things in perspective here, at least in regard to the Brazilian's effect on overall handle – yes, turnover is down, but it seemed headed that way anyway, and Moreira is also competing against a field severely weakened by suspensions at the last couple of meetings.
Sometimes, one rider can be just too dominant on a day and it works against you
The record run reached its peak on Saturday, with Moreira winning five of the first eight races. The meeting's overall turnover was down by HK$117 million year on year, or 8.67 per cent – in line with the recent downward trend.
"Sometimes, one rider can be just too dominant on a day and it works against you," said one club official.
So to the solutions. Moore's arrival is self-evident as a way to stop the sameness of Moreira chalking up four- and five-timers each week. It's a case of right place and right time for Moore's arrival – his stock is at an all-time high, and he is probably the only rider in the world that commands the type of popularity that could take away rides from Moreira.
For those curious as to where Joao Moreira stands this season vs last season - 20 wins ahead of same point in 2014! pic.twitter.com/zerKGNd3B6

— scmpRacingPost (@SCMPRacingPost) December 19, 2015
For it isn't really a case of who is the best jockey – right now, it is Moreira's popularity with owners and trainers that makes him so hard to beat. Trainers aren't just asking whether Moreira can ride their horse, it has gone to a new level and they are saying: "You pick the race, Joao, we will enter it so you can ride."
But, heaven forbid, could Hong Kong's punters have become price-sensitive? Perish the thought. Even taxi drivers are starting to get a little cheesed off when you tip them a Moreira ride.
As far as betting goes, Moreira's mounts always seem overbet – when the man in the street sits down to do the form, the job is done for him, just circle the horses the Magic Man is riding.
But, heaven forbid, could Hong Kong's punters have become price-sensitive? Perish the thought. Even taxi drivers are starting to get a little cheesed off when you tip them a Moreira ride.
For professional punters, Moreira's overwhelming popularity with the public and the subsequent skinny prices mean they almost have to oppose him – but when he wins half the races on a card, it doesn't leave much of a margin to play with.
The Jockey Challenge is where Moreira-mania has hit hardest: on December 6 at Sha Tin, he put on his usual one-man show in the bet, where jockeys are awarded 12, six and four points for finishing first, second and third respectively, with a winner declared at the end of the meeting.
Moreira won easily, scoring 80 points to beat his nearest challenger, Brett Prebble, by 50 points, and the Jockey Challenge held around HK$5million – less than half the usual amount.
The problem wasn't so much in that Moreira won, the net effect of his presence actually seems to help turnover, but the issue came with in-play betting.On that occasion Moreira started the day $1.06, but before race five on the 11-race card the betting windows were closed and the bet deemed uncompetitive.
Of course, the Jockey Challenge is the only bet type where the club could, in theory, lose, and without being privy to how much of the HK$10 million bet each meeting is "house wins", one would assume that the best possible result is the favourite – usually Moreira – being beaten.
Unfortunately for the bookies, it hasn't happened too often with Moreira winning 17 of the 24 Jockey Challenges at the meetings he has ridden at, not including the four-race International Jockeys' Championship on December 9.
The issue arises most when Moreira wins the Class Five races at the start of the day – events where he has a 35 per cent strike rate – as the early success can take in-play betting out of the equation and his odds are quickly wound in.
Here are two possible solutions – first, group the jockeys marked "Others" with a cumulative score. As it stands, "Others" is a bracketed group, but with each member of the group counted individually. This bracket has won just three times since the start of the 2012-13 season.Rather than being a bet on any of the other jockeys, combine the points of those who make up the "Others". That could be confusing, though, and ganging up on Moreira by grouping jockeys together might not work, anyway.
The other option is a points spread handicap – give everyone else a points start on Moreira. After all, it's not like people don't want to back Moreira – as mentioned, turnover on the Jockey Challenge is up since his arrival – but providing some type of buffer for the bookies would keep everyone happy. The Moreira backers who bet blind on their hero get some odds, and those who want to oppose him have some hope as well.
Of the 15 meetings where Moreira has won the Jockey Challenge, a "minus 12" points spread for Moreira would have been enough to change the result on five occasions.
They say the sign of a champion is when the rules get changed because of him – let's hope it is the betting rules, not the racing rules, that are switched around to spice things up.
Until then, there's always Ryan Moore.