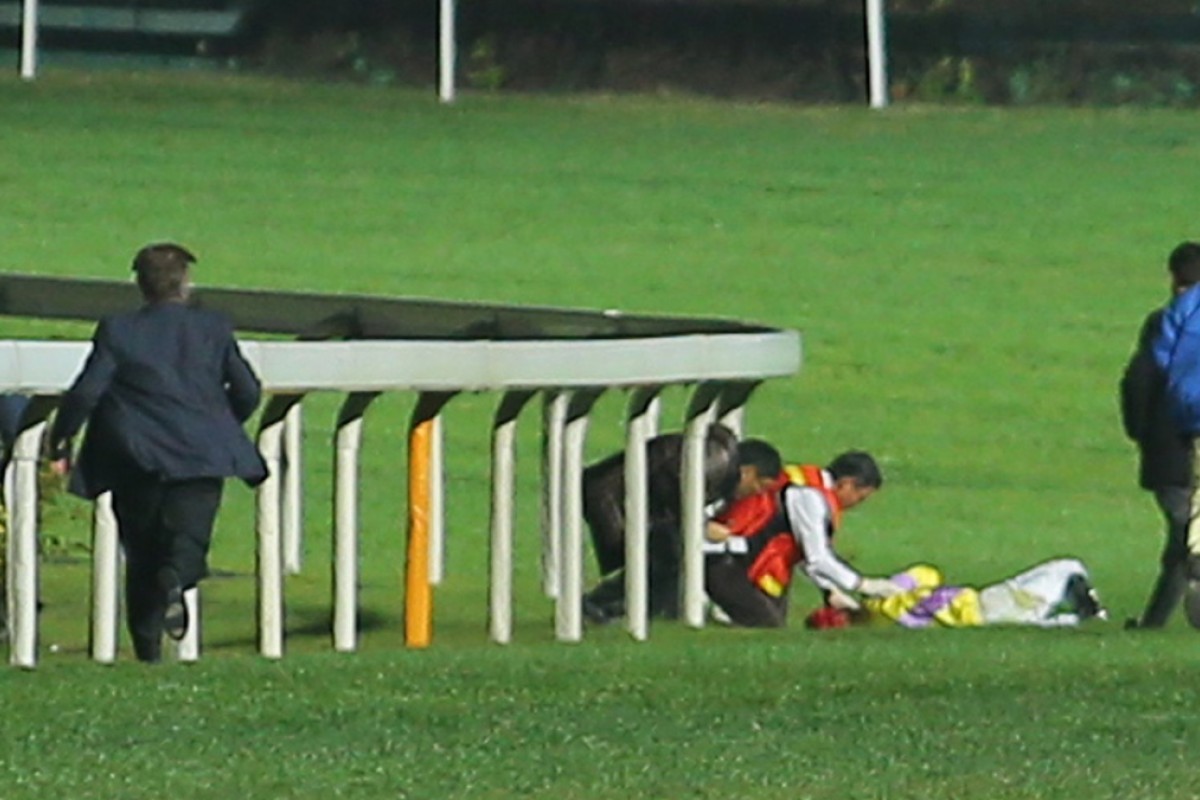 Champion jockey Joao Moreira will be given until Friday morning before betting opens to show he is fit to ride on Saturday after emerging battered and bruised in a fall "not even Superman could come out well".
Moreira was involved in a spectacular fall in the opening race at Happy Valley on Wednesday night, the Brazilian's mount clipping heels, blundering and throwing him to the ground at the top of the straight and several runners went over the top of him as he tumbled along the track.
Thank God I'm talking to you now
Former champion Douglas Whyte was also put out of action early on Wednesday night's card, but appears certain to ride on Saturday.
Both riders were cleared of serious injury by the time the Happy Valley meeting was over and they were declared on rides for Sha Tin, but Moreira told the Post by text this morning that he was not certain to take his place.
"I'm very sore – not even Superman can come out well after been under two horses running flat out. Thank God I'm talking to you now," the text read, and Moreira added that he was not yet sure he would be riding on the weekend.
Senior steward and licensing committee secretary Steve Railton said a definitive decision on Moreira would be required by Friday morning.
"Joao stayed in hospital until this morning, all the scans have cleared him of any fractures or serious injury, but he is understandably very sore," he said.
"We'll give him as much time as we can to see that he feels well enough to ride, but it can't be allowed to go on too far into Friday as betting opens at lunchtime and we want the public to know one way or the other by then.
"If he feels OK, he'll need to get a clearance and we'll have a release later this afternoon about the situation."
Whyte was unable to ride following a pre-race incident when his mount, Noble Buddies, took off out of the parade yard, ran into the running rail near the 100m mark and jumped up in the air, dislodging the Durban Demon and giving him a "dead leg".
"When he jumped, he landed on my left knee and right quadricep and I've got a nice hoof print there this morning," Whyte said.
"But it was purely a muscle problem. The quadricep became totally dead and wouldn't allow me to rise up and down on it, so there's no way I was able to ride.
"It's still a bit tight, but I've had physio this morning. I'll have some more and it's nothing of concern. I feel I've been pretty lucky. I'll be riding."