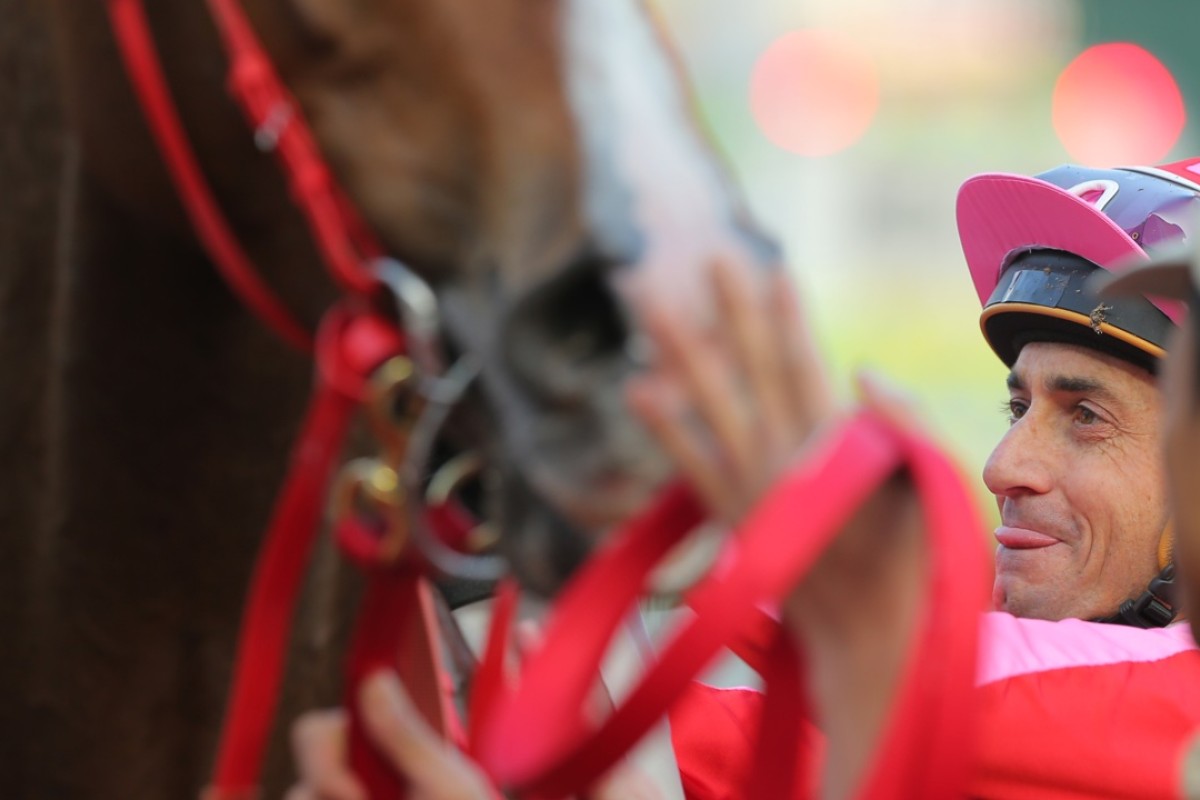 Douglas Whyte rarely rides as light as he did on Secret Weapon to win yesterday's Group Three Centenary Vase (1,800m) and is deadly when he does, but this one came with added complications.
Last Wednesday, Whyte stood down from rides at Happy Valley after a pre-race incident left him with a sore knee and a hoof print on a quadricep and recovery from that made getting his weight down to his minimum even more difficult than usual.
It is nine years since Whyte rode 114 pounds and he has only ridden 115 pounds eight times in the last five years – for six winners – but keeping his regular seat on Dennis Yip Chor-hong-trained Secret Weapon didn't come easily.
"The horse had always indicated he could win good races but when the entries came out and he had 113 pounds, I asked Dennis to give me a couple of days to think about it," Whyte admitted. "I decided I wasn't yet prepared to give up the ride. It helps that I had good notice to get down to 115 pounds, with the two overweight, but Wednesday didn't help.
"I took some anti-inflammatories to get the swelling down, which helped with that but didn't help me with the weight – the injuries still restricted me from doing any running or other exercise the last couple of days, which is normally how I would get the weight down. It was tough but worth it now he's won the race."
Back in the field as is the norm, Secret Weapon relished the generous pace set by Khaya and the runner-up, Romantic Touch, but found himself in traffic at a crucial stage in the straight.
The gelding again displayed showed his brilliant acceleration in a tight spot, getting himself out of trouble when gaps closed on him in the straight, and Whyte believes the win wasn't only about the handicap weight.
"I don't think it's over for him by any means. He's got low mileage, I think he'll run out 2,000m strongly and that gives him more options," he said. "I'd like to see him win another one and get his rating up over 110, 115, and then he'd have to play with the big boys but I wouldn't be shying away from that. There would be nowhere to hide but for a horse to be able to run 2,000m and have that kind of turn of foot, I think he would acquit himself well. In fact, I think he'd be better."
Yip said the programem would largely dictate the six-year-old's path now that he would be rated well over 100."
"If he keeps progressing well, hopefully he can run in Group Two or even Group One races in future," said Yip. "Distance-wise, I will try him over 2,000m but it all depends on his new rating after winning this race and the programme."
Secret Weapon had a half length to spare over Romantic Touch and a further neck to Flame Hero in a blanket, all lightweight finish.
But while Whyte and Yip were the only ones with a trophy, they weren't the only ones to emerge with a smile.
Rattling home for a close sixth was Caspar Fownes-trained Gun Pit, who belied his tag as a dirt specialist with a top effort en route to Dubai.
"That would have to be his best ever run on turf, so close at the finish with that weight," Fownes says. "That will have him in top condition for Dubai and he goes later in the month to run on Super Saturday, then World Cup night."