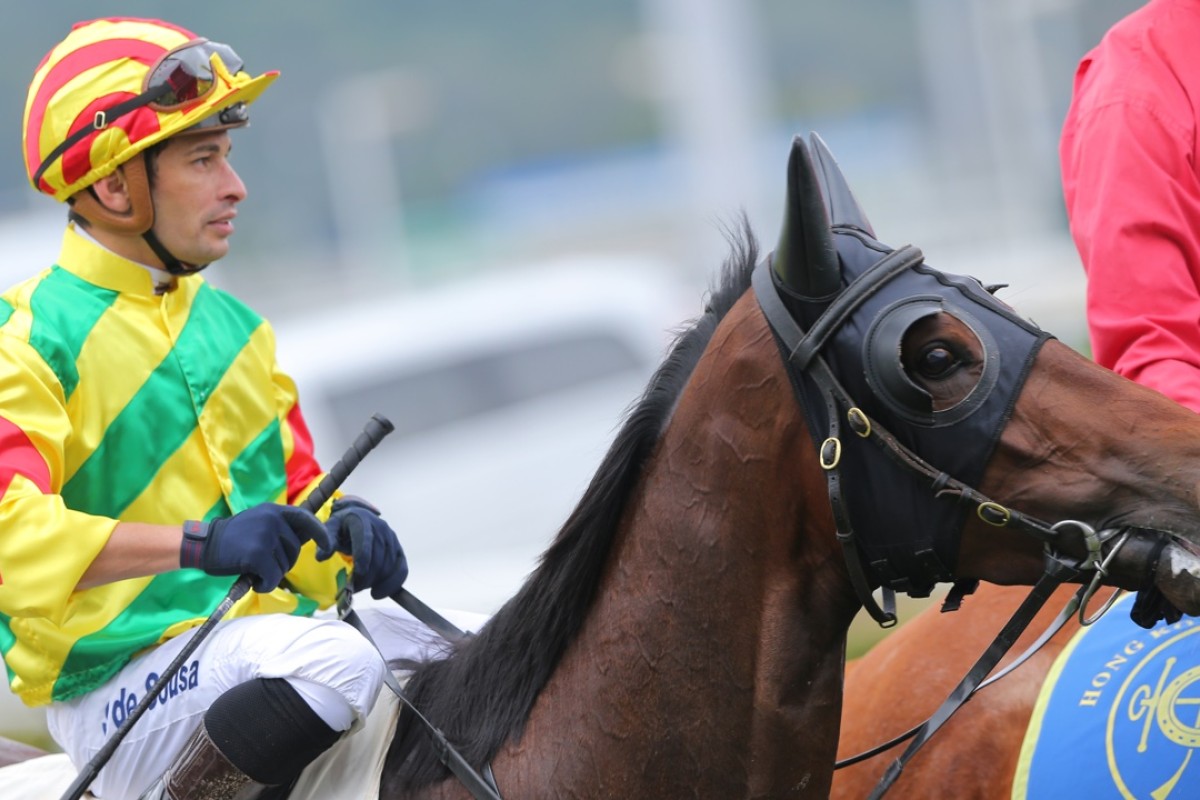 Silvestre de Sousa's short-term winter stint continues to go from strength to strength as the lightweight Brazilian jagged a treble and earned more rave reviews from trainers for his polished riding yesterday at Sha Tin.
Since arriving full-time a little over a month ago, de Sousa has added 13 wins to the one he snared in the first leg of the International Jockeys' Championship night in December – all in the space of nine meetings.
After grabbing the highly auspicious honour of riding the first winner of the Lunar New Year on Chans Delight for Derek Cruz, he got everything out of Tony Millard-trained Penny Lane in a close tussle and managed to snap the winless run of Paul O'Sullivan's "tricky ride" Imperial Gallantry.
De Sousa has risen into the top 10 of the jockeys' championship but will leave after the Sha Tin meeting on February 21 and the winning trainers of his treble were glowing in their praise of the highly competitive rider.
These Brazilian guys can ride, but I guess we already knew that
"These Brazilian guys can ride, but I guess we already knew that," Cruz said after Chans Delight's win, alluding to the success of current champion Joao Moreira. "Silvestre is the same as Joao – he has great balance, rhythm, and the way he handles the reins is good. The horses relax for these guys, but they also run for them, too."
Millard was an early adopter of de Sousa – giving him his first win as club jockey – and since then the pair have combined for another three wins at a strike rate a touch under 30 per cent.
"He is harder to get hold of now," Millard said, with de Sousa also finishing second for the stable on Super Lifeline in the Chinese New Year Cup. "He can ride light and that's great that we have a choice when it comes to the horses down in the handicaps."
Perhaps de Sousa's biggest challenge was on Imperial Gallantry, a big-striding four-year-old with obvious ability but a propensity to throw results away with unruly racing manners.
O'Sullivan admitted he felt bad for the jockeys that had ridden Imperial Gallantry in the troublesome gelding's previous nine starts.
"This horse just does so much wrong," O'Sullivan said. "He should have won eight starts ago – he won't race in between horses, he wants to duck in when horses crowd him, when you want to go forward he won't do it, or he goes too hard, but he is a lot better than he was before."
"He is tricky," de Sousa admitted. "He is just a big baby, but I like him a lot. He still wasn't giving me the easiest ride, but I just let him enjoy the first half of the race and find his stride. We were lucky that a few things went his way, but he has a nice turn of foot and he finished off very well. I hope that can bring him on a little bit."