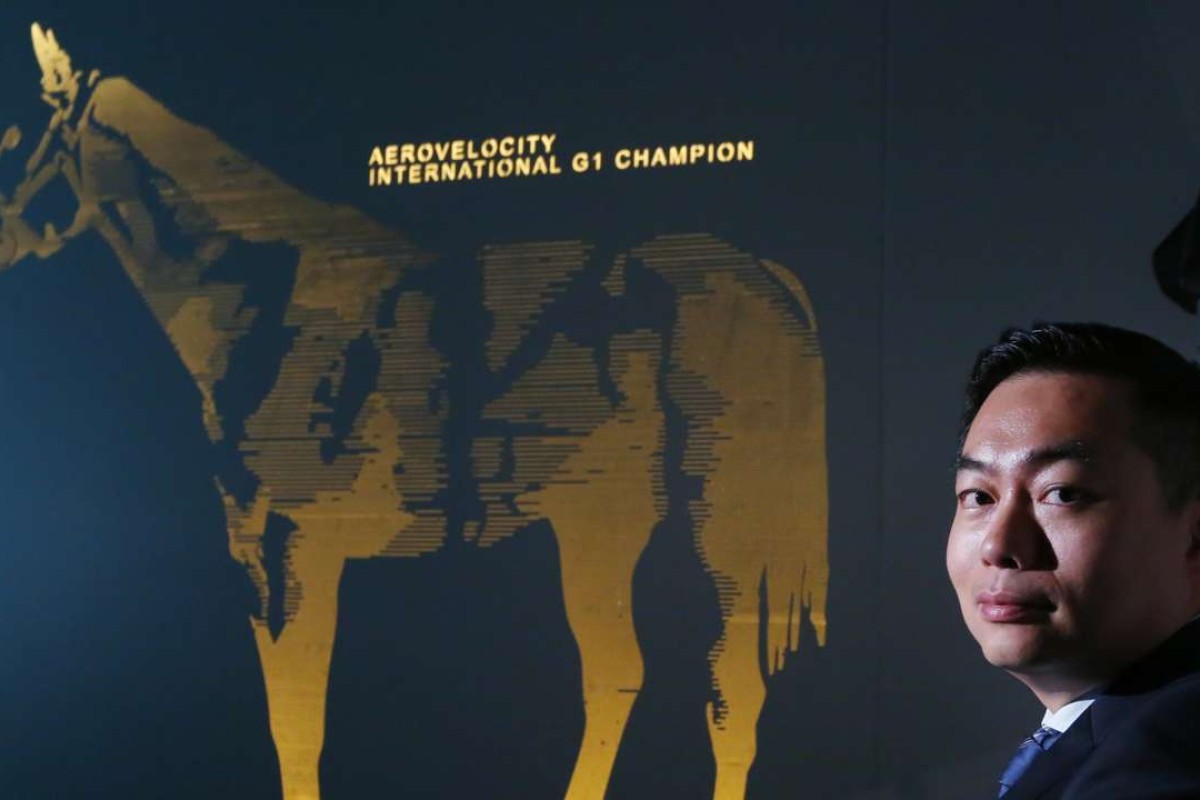 Aerovelocity's owner, Daniel Yeung Ngai, sits in the conference room of his Admiralty office with an unobstructed view of sparkling Victoria Harbour in the early evening, surrounded by some of the trappings of success, both in business and now horse racing.
On the shelves surrounding the sleek designer fittings and furniture, there are trophies galore: champion sprinter for last season, most improved horse for the 2014-15 season, prizes for three Group Ones won across three different countries last season – and there is a place ready for the trophy from the most recent triumph at Sha Tin, the Group One Centenary Sprint Cup.
Yet it seems Yeung's proudest possession, outside of his beloved horse, is a quirky collection spread over an end section of the sprawling conference table.
It's great to see an owner embrace the sport the way Daniel has. Most owners aren't like this
Before Yeung is an array of Aerovelocity merchandise and memorabilia, all of it in the pink, green and purple colours of the owner's distinctive racing silks: key chains, calendars, polo shirts, commemorative posters, even an Aerovelocity Octopus card, and the pride and joy – a Hong Kong Jockey Club official plush toy in the horse's likeness, or a "plushie", as they have come to be known by racing fans.
"Now this one is very special," Yeung says, holding the stuffed recreation of his character-filled sprinter – complete with pink and green blinkers and the horse's Chinese name on the front. "Only the best horses get one of these made."
Aerovelocity's regular jockey, Zac Purton, is present and jokes that Yeung would have the horse visit if he could.
"It's great to see an owner embrace the sport the way Daniel has," Purton says. "Most owners aren't like this.
"It helps that Aerovelocity is probably the best sprinter in the world, but the best part of the story, and it has been a good story, is how much fun we've had and how it has brought people together."
Getting highly strung Aerovelocity from the pre-race parade ring to the racetrack is enough of an event – he doesn't so much walk but tow O'Sullivan's assistant trainer, Pierre Ng Pang-chi, to the course proper.
So sneaking Aerovelocity into an elevator isn't an option. The plushie Yeung is holding is much easier to handle, but the owner has tried to create the next best thing.
On the wall of Yeung's is a life-size, laser-etched depiction of Aerovelocity – or Yau Ying Gak, to his legion of Cantonese-speaking fans.
With the flick of a switch, Yeung – who is wearing an Aerovelocity tie, of course – proudly lights up the impressive mural, blue lights embedded in the wall shining through the etching.
"It took workers months to design, make the wall and put this all together," he says. "Now I can see my horse every day – even when I am working."
Yeung has become an obsessive fan – last week he was up late pressing refresh on his computer, impatiently waiting for the latest Longines World's Best Racehorse Rankings to be released.
As it turns out, "Aero" is now rated the equal-highest sprinter in the world for the first part of 2016. He sits on a rating of 119 with fellow Hong Kong-trained sprinter Not Listenin'tome – a horse Aerovelocity thrashed, along with every other top sprinter in town, when they went head-to-head at level weights in the most recent clash at Sha Tin.
Now Aerovelocity is back in Japan for the Takamatsunomiya Kinen, aiming to become the first Hong Kong-trained horse to win a Group One twice in that country, having already made history last season as the only locally trained horse to win a Group One in three different countries.
Yeung is also part of the ownership team of David Ferraris-trained sprinter-miler Pikachu, a horse that has reached cult status among SCMP Racing Post readers – not so much for his on-track performances, although they have been solid, with the gelding winning three races and finishing a close second in a Group Two, but for the cute name, colourful hood and boisterous support team he brings to the races.
With Able Friend sidelined indefinitely, Aerovelocity is now a leading candidate for most popular horse this season, but he may even be more popular in Japan, with the nation's obsessive fans regularly contacting Yeung with messages of support and even sending gifts like an Aerovelocity bottle of sake and some artwork.
I enjoy being a horse owner, I am a lucky owner and I just want to enjoy it with my family and friends. I think that has helped me have more fun with it
Next Sunday, Aerovelocity returns to Chukyo racecourse in Nagoya with even more history to be made. If he wins he will be the first Hong Kong horse to win two Group Ones in Japan, a feat beyond even the mighty Silent Witness and Bullish Luck.
It seems somehow fitting that Yeung's new school approach to racing and fervent love for the sport of kings can be traced back to decidedly old-school Jockey Club origins and a piece of happenstance that saw the commodity trader had his office located in the same building as one-time chairman of the club, the late Sir John Swain.
"John was a great man, he loved racing and had a big influence on the way I view the sport," Yeung said.
"I had the feeling he wanted to show someone young and who was keen on racing. I learned a lot from John – about how to enjoy horse racing, how to enjoy being an owner and how to take both winning and losing."
That perspective has come in handy on a couple of notable occasions during Aerovelocity's roller-coaster ride of a career: first, when the horse was winless during his first season, and O'Sullivan was almost certain the first-time owner would abandon him and transfer his horse, as many others had, then at the start of this season when it seemed Aerovelocity's career could be in jeopardy.
As a result of wins in two overseas legs of the Global Sprint Challenge, Aerovelocity had a shot at a US$1 million bonus if he won December's Longines Hong Kong Sprint – a race he had won 12 months earlier.
Of course, there was a hiccup – when Aerovelocity made his return in the Group Two Premier Bowl he suffered what is known as a heart irregularity, a phenomenon that causes horses to perform poorly.
Many owners would have pressured O'Sullivan to push on and take a shot at the Hong Kong Sprint, but not Yeung, who deferred to his trainer's wishes to rest the six-year-old – a decision vindicated by the sprinter's strong return to form at the end of January.
"I never think of racing as a way to make money," Yeung said. "There are a lot of ways to make money, but this isn't one.
"I enjoy being a horse owner, I am a lucky owner and I just want to enjoy it with my family and friends. I think that has helped me have more fun with it."
Aerovelocity, the world-beating sprinter that no-one wanted
The story of Aerovelocity and how one horse made all the difference to trainer Paul O'Sullivan is a tale that has been well told but is worth retelling, not least for the fact that it hasn't finished yet.
Aerovelocity was at one time the horse no one wanted – purchased by O'Sullivan and his brother Lance in New Zealand, then qualified with a win in a lowly Awapuni maiden, there was still no buyer for the powerfully built son of Pins.
It wasn't so much the horse that scared prospective buyers off, it was how badly O'Sullivan's stable was performing – the one-time championship contender had slumped into the basement level of the standings and was barely scraping past the minimum benchmark for wins for three consecutive seasons, even finishing last in the trainers' championship with 13 wins in 2010-11.
Aerovelocity could have easily been sold to an owner keen to race with one of the higher-ranked stables, for a handy profit on the initial investment, but O'Sullivan stuck solid and put his salesman suit on.
"I reckon I went to every single table of owners there on a raceday at Sha Tin, I was hawking this horse to anybody with an owner's permit or anybody who would listen," he said.
Eventually, a chance call came from first-time owner Yeung, and over a coffee a deal was struck and the rest, as they say, is history.
Well, almost – Aerovelocity's rise to arguably the world's best sprinter has not all been smooth sailing, but the gelding has now earned nearly HK$34 million.
"History says it, people that were in my position and battling, that one good horse can make an enormous difference," O'Sullivan said last year.
Aerovelocity's stunning rise through the ranks has not surprisingly coincided with O'Sullivan climbing back towards the top of the trainers' championship where he sits second in the standings behind John Size and has a full stable.
"We have changed a lot of things around at the stable but a lot of the turnaround can be put down to Aerovelocity's success and Daniel's loyalty," O'Sullivan said.