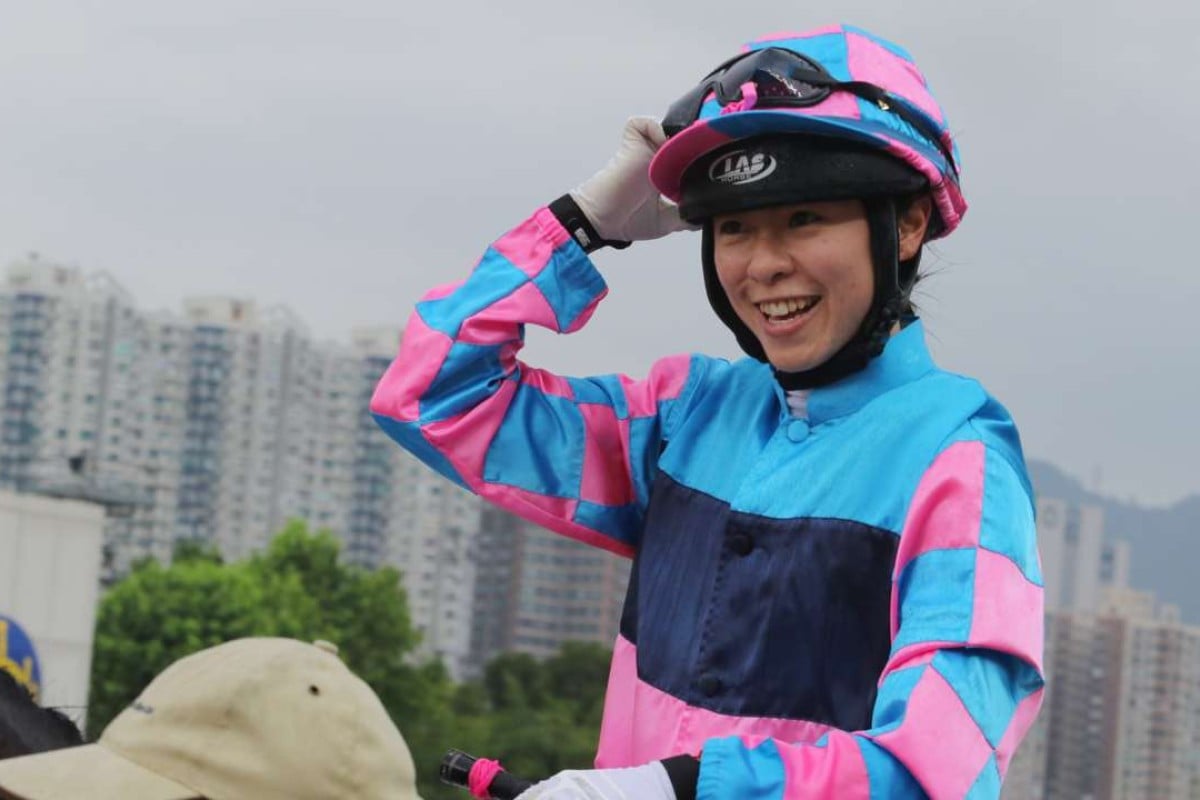 Congratulations, Kei Chiong Ka-kei. Now the hard work begins.
Had Kei stayed tucked in behind horses on Enormous Honour for another 150m or so, [the horse] would have won the second last race
Take nothing from her achievement on Sunday, riding four winners on a day in Hong Kong racing is something of which to be extremely proud no matter how or when it occurs. Heck, we'd settle most days for being able to back four winners, and we aren't restricted to just one horse a race.
Kei's four equals the four that Keith Yeung Ming-lun completed in November 2009 at Happy Valley, that push him past 20 wins and down to a seven-pound claim.
Kei is more fortunate - she still has her 10-pound allowance, for a little while yet anyway.
Yet, the moment of her ascendancy was deliciously paradoxical, as her narrow miss of making it an incredible five wins showed just what a gulf there is between now and the time when she can be deemed to have made it.
Had Kei stayed tucked in behind horses on Enormous Honour for another 150m or so, he would have won the second last race to land the fifth win, but she was either unable to hold the horse and keep that position or unwilling to keep it and took off around them.
Gavin Lerena on Ho In One obviously thought it wasn't a bad idea to tag the girl who was winning all the races, let her drag his mount into the race on straightening and that was enough to get the grey home.
Sure, she was unlucky to catch Ho In One on a good day but that's racing - there is one there to catch you out at the wrong moment if anything doesn't happen just so.
On the positive side, we are aware (via the other jockeys) that Kei is quite proud of the muscles she has built up in her physical training work, something every junior rider should work on, and that strength shows - she doesn't flop around on horses like a lot of inexperienced riders and looks quite together and competent pushing them out.
On the reality side, she is tactically barren.
Her wins are coming on the kind of point and shoot horses that are what one expects at her stage of riding - i.e. leaders. Horses that get up, out and running and keep on running.
(Notwithstanding that some trainers seem able only to subtract 10 pounds from the rating then set her up for assignments on problem horses which miss the start and pull and do a lot wrong and are a challenge even for the top jockeys. To date, those bookings haven't been quite as successful as the ones tailored for her stage of development.)
It's a great story, we look forward to more of it, but a spike day where a number of noses were in the right place at the right time is not a career, and a career requires a lot of progress from where Kei is now if she is to get where she aspires to go.
Now the hard work begins, because Kei is pretty much the same rider she was on Saturday night but the glowing coals of expectation have just been doused with petrol.
---
New PPG rules makes qualified horses harder to find and buy
When we first saw the statistics around the horse ownership permits for next year, it seemed obvious – the chooks are home to roost, the new import criteria requiring a rating of 70 or more for Private Purchase horses had hit home.
After all, the upward tweaking of the requirements for buying tried horses will have served two purposes – make qualified horses harder to find, and make them harder to buy. While it might be counterproductive for a horse's Hong Kong future to have two wins on the board instead of one, you'd have trouble explaining that to the owner overseas, who thinks his winner of two is worth more money than a maiden winner.
In April 2015, the Jockey Club announced the breakdown of applications for import permits and there were 236 applications for the ballot to decide the 130 permits, with 934 applications for the (understandably) more popular 200 permits for Private Purchase Griffins, unraced horses. All in all, there were 1,170 applications in 2015 to own a racehorse.
When the club released the 2016 figures last week, that was down to 1,095 – 34 fewer applications for PPG permits and 41 fewer members looking to own a PP. In the latter case, a drop of more than 17 per cent.
So it seemed obvious at first glance - quite a few potential owners have decided the PP is now out of their desired price range, so they've stopped applying. Presumably, if they want to race a horse they'll join that lengthy queue on the other side – at last call, the club admitted there is a four-year-wait for PPG permits.
And that may still be at least partly down to the new policy – one which, as far as we're concerned, has still a lot to prove on the score of whether it will lead to a more or fewer talented horses in the Sha Tin population.
But that policy must surely still only be working its way into the system by the same token and the numbers made us wonder what is happening with ownership in general and whether some part of what's going on is simply personal economics.
Two years ago, there was a rise of almost 10 per cent in total applications to import horses – 1,109 to 1,219 – but last year showed a drop of 4 per cent.
Put aside any misgivings about the PP import criteria and consider PPG applications in isolation – they have fallen from 990 in 2014 to 934 in 2015 and now 900.
It seems likely that whatever grey clouds are filling the economic skies in general, with their impact on business in general and certainly racing-specific business, like betting turnover, are also impacting on ownership. That seems a given for such a discretionary expense but will that then mean a double whammy to PP import applications ahead – general economic worries in tandem with the requirement to spend more under the new policy?