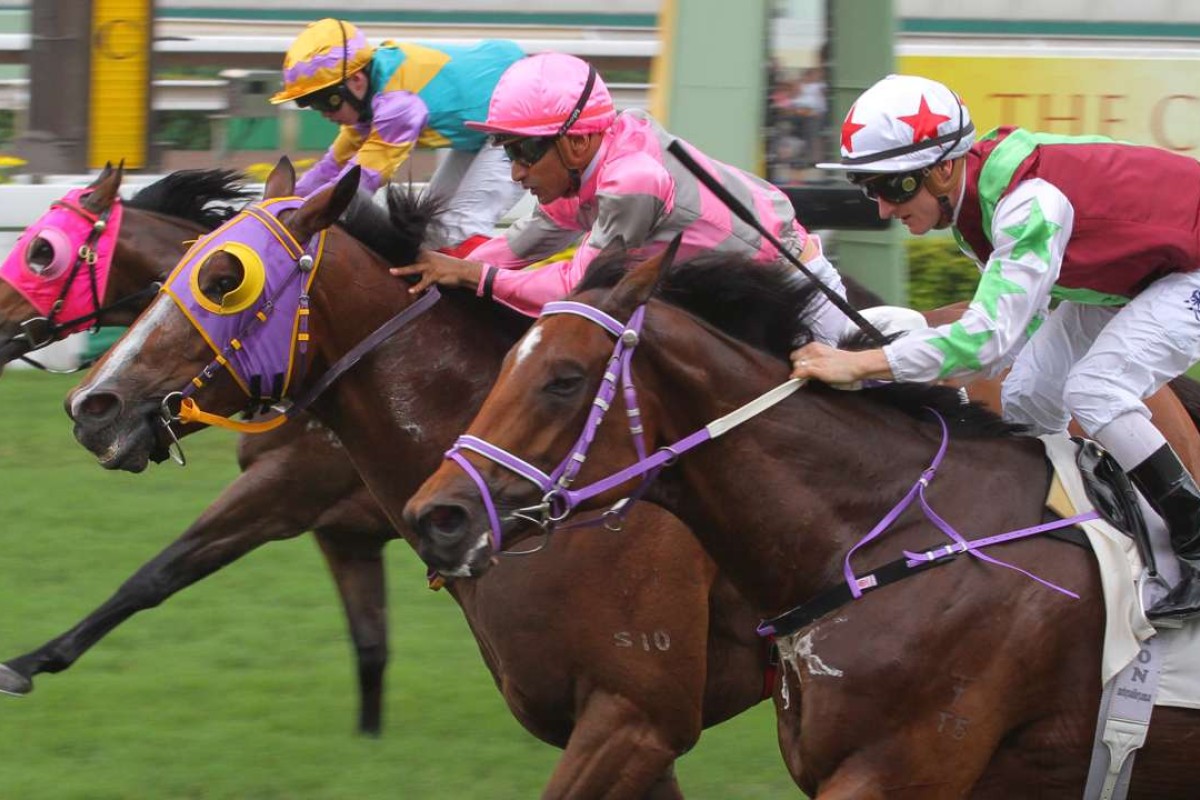 In the aftermath of the Macwhinnie Cup at Sha Tin yesterday, winning trainer Benno Yung Tin-pang was left to bemoan not only the breathing disability which has stopped My Little Friend from ever fulfilling his promise but the lack of opportunities for the one thing he is still able to handle.
The throat problem means that he cannot race around turns and be effective
My Little Friend (Karis Teetan) showed again his affinity with the straight 1,000m course as he scraped home over Fabulous One (Zac Purton) in the Class Two, but Yung said it's an affinity he would have never shown but for his status as a roarer.
"The throat problem means that he cannot race around turns and be effective," Yung said. "I'm sure that if he didn't have it, not only would he be a better class horse, but he would be running in 1,400m and mile races and not 1,000m races because that's really his distance. But the breathing problem means the only thing he can do is run down the straight so I train him for that.
"And now his other problem is how few races there are down the straight for horses with his rating now he's in the 90s. This was only the fifth race available to him over this course all season and now there isn't another Class Two straight race until next season, so I'm not sure what I can do with him."
My Little Friend took his usual position towards the back of the field to balance up but Teetan said the draw, with race leader Fabulous One virtually in front of him from the outset, was perfect.
Had he drawn low and needed to be redirected to a position nearer the faster outside rail section, Teetan isn't too sure what might have occurred.
"Zac's horse was next door to us and always going to take up the pace so we got straight in behind him and just followed through the race until I wanted to challenge," Teetan said. "I find with this horse if you have to pull him around to get to the right position, if you touch his mouth or check him at all, he won't breathe and your race is over. All he had to do today was jump out of the gates and run straight ahead."
The gelding moved menacingly into the race at the 350m, like he was going to put a clear margin on his rivals, but, in the end, it was a tooth and nail struggle to get past Fabulous One to win by a head.
"Partly that was because Zac's horse wasn't stopping, he kept fighting on hard. My Little Friend gave a good enough kick to get to him and past him, just not enough to get away," Teetan said. "But if you look at all this horse's good runs and wins, even when he won for Silvestre de Sousa earlier in the season, he's got a strong short burst but it is very short and then he quickly goes one-paced."
While My Little Friend's programme for the rest of 2015-16 is up in the air, Teetan has no doubt there is a decent win in My Little Friend, in terms of ability anyway. But it would need to be a straight race and very much in the right time, right place and right run category.
"He does have the type of ability that could win one of those lower Group handicaps if it wasn't too strong but with his issues he really would need everything to go exactly right in the run," he said.
Co-leader and outsider of the field Hella Hedge held on for third only a half length from the winner while gate one proved the undoing of Joao Moreira's mount, Country Melody (fourth).