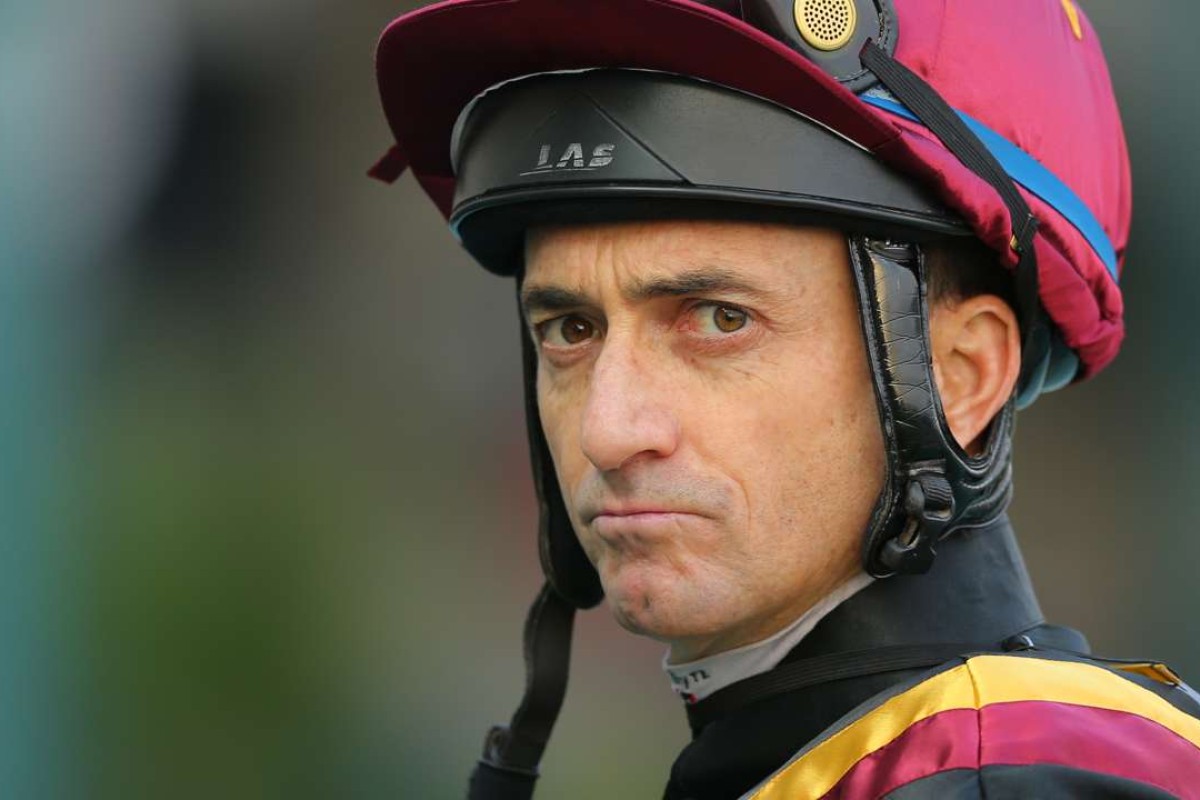 There's no bitterness on Douglas Whyte's tongue as he takes a sip of sauvignon blanc and looks down at the tower blocks of a city where racing is king and he has been a god for almost two decades. Forty-five years old in November, Whyte has been the prancing horse on the Hong Kong horse-racing Ferrari – almost synonymous with it, each unimaginable without the other.
Now, after more than 11,000 rides, 13 consecutive titles, 1,700 winners and stake earnings of a cool HK$1.46 billion, the tall, slim South African is struggling.
What he is not doing is retiring.
"It's like I'm starting again. This has been the worst season of my 19 years here, no question about that, and the toughest time in my life," he concedes.
"I'm getting less rides and the overall quality I'm getting is also less. But I'm still too competitive, healthy and fit.
"Retiring is probably the furthest thing from my mind right now. There's no way I'd be going out of the game like this.
"I was always mentally prepared to lose the premiership. To win it 13 years in a row took every ounce of everything out of me every year and I could only do that for so long.
"And the guys now will know what I mean. But losing the title hasn't been as hard as coming to terms with the loss of support."
Last year, Whyte won the final Group One of the season, the Champions & Chater Cup, on Helene Super Star. He'll be watching this year's race from the jockeys' room.
The one-time automatic Jockey Challenge favourite has found himself under the anonymous, opportunity-challenged heading of "Others" too often more recently.
Whyte says it is all about his backing from owners and trainers fading.
"I know it's business. At the end of the day, everybody has to run their own business," he says. "But it has been very disappointing, something that has affected relationships, friendships."
Ask where the support went and Whyte doesn't point the finger at his title successors, Zac Purton and an even more dominant Joao Moreira.
Instead, Whyte feels a huge shadow of misunderstanding has been draped across his career.
"Probably, the biggest letdown for me has been reports in the Chinese press that I'm retiring at the end of the season, becoming a trainer and that I've already been offered a licence by the Jockey Club," he says, shaking his head.
"That's ridiculous. There is no procedure that would allow me to just switch to being a trainer and I'm not ready to train anyway.
"I have applied for a full-season licence for next season and my main mission will be to bounce back from the worst year I've ever had.
"This misconception has really damaged my relationships with a lot of the trainers. They look at me and think why should they support me if I'm retiring soon and might be taking their clientele, too."
Take Whyte away from the racetrack and horses are still a big part of his life. One of his passions is the rehabilitation of ex-racehorses and he has been to the Monty Roberts 'horse whisperer' courses in the United States several times.
"And I think the idea has sprung from that," he says. "It's the horses that are retired, not me!
"I've done the Monty Roberts courses, I take a few ex-racehorses from here to live on my farm in Italy, get them over phobias and problems. They're the only retirements I've ever mentioned and somewhere along the line, there's been a huge misunderstanding.
"But I want to put it on the record: I am not retiring, I have not been offered a trainer's licence, I have not put in for one and I have not even spoken to the Jockey Club about it."
All that said, Whyte does see training in his future and would love it to be here.
"I don't think I'll be riding for another 10 years, but I've still got five great years in me," he says.
"What will Douglas Whyte be doing after that? I can't say. But I feel so much a part of Hong Kong. This place is ingrained in me.
"So many wonderful friends here, my children were born here. I will always be spending time here when I do retire. So, in five years' time, if there was an opportunity to train here? Yes, I would grab it. I'm not going to deny that."
Whyte believes he is riding as well as ever, flatly denies any niggling injuries, and can barely hide his surprise at one popular line amongst his critics – that he is "riding like a millionaire". Like he doesn't need the money.
"I would say the opposite. I wouldn't be doing all those light rides if I'd lost my drive. I ride because I love it, but I want success. I'm still hungry," he says.
"Physically, I'm lucky. I'm feeling great at an age when many jockeys can't do any more what I still can. If I had lost my health or my technique or if I ever lost the initiative to take a gap, that's the day I would retire, but I'm still taking the tight gaps."
Between late November and early January this season, Whyte's career strayed into uncharted territory – an 85-ride losing streak that was double his previous worst run of outs.
The punters by the parade yard had their say. Catcalling and jeers rained on Whyte. Local trainer Almond Lee said he was embarrassed as a Hong Kong native to see the lack of respect.
"People put their money down, everyone is entitled to voice their opinion," Whyte says. "But I won't say it wasn't disheartening that it went on and on.
"I've got a lot from Hong Kong but I think I've given everything I possibly could, too. So when they turn cold on you like that ... still, the punters, they're fickle – ride one winner and it was all over.
"There were a lot of guys like Almond who had the same reaction and were supportive. It was character building. The whole season has showed me who my real friends are and I think it has brought my family closer too, so if that's the final result, bringing us closer, I'll take the bad every day of the week."
This forgettable underperforming season has been the ultimate outcome but perhaps the path to where it began is older.
Many marriages don't last as long as the Dream Team of Whyte and seven-times champion trainer John Size. From 2004 to 2013, they averaged just over 200 runners a season together and around 40 wins, then it all went south.
Whyte has had only 83 mounts for the stable since for 12 wins and his win on Super Silks last month was Whyte's first success for Size in 14 months.
Neither man has ever elaborated on the parting and Whyte doesn't now, only to say it has been fundamental to his fall from Olympus.
"It was probably the turning point of my career. We had a great relationship for a long time, but it meant that, for a long time, people just assumed I would ride John's horses and didn't offer me rides," Whyte says.
"John and I were flying but it was also changing my relationships with other trainers. It isn't that I had shelved other relationships, it just happened that way, but when I went back to some of them it was hard to get a foot back in the door."
For a long time it was said that there was no better tip for a horse than seeing Whyte get down in the weights for a ride.
Over the 10 seasons from 2004 to 2015, Whyte's 6,525 rides won at a rate of just over one in six but when he rode lighter than 117 pounds, that rate improved to one in under four and a half, and under 116 pounds the strike rate was one in three.
The message was clear – if Whyte is light, his horse is right. Now he finds himself taking more light rides that don't have such a great winning chance.
"My stats with lightweights were good when I could pick and choose, but beggars can't be choosers," he grins.
"I've had to do more lately because that's where opportunities come from. I hope people see I'm prepared to make the effort to ride light and, when a horse comes into form, they will keep me on it.
"It has been like going back to the beginning – this year's been a full circle on my career, even my life. But it hasn't broken me."
So retirement is off the menu. Presumably Sports Road will issue Whyte a licence and they all start off zero in September. Thoughts of regaining the throne from Moreira are unrealistic, so what does a successful rebound look like?
"For me, a pass mark would be getting my normal support back," Whyte says. "To run second or third on a horse, do nothing wrong and the owner and trainer want me on next time. They don't change jockeys when Joao calls just because it's Joao calling."
Whoooaa. Hold your horses, Durban Demon. You never, in those 13 championships, got another rider bumped from a mount you fancied? It's good to be the king, and that is usually one of the perks.
"Of course. One hundred per cent, I did that too, but there's no way I had the same power that Joao has now," Whyte says.
"There was no way I would be able to get somebody off a horse that had ridden it two or three times, brought it into progressively better form. The trainers would say 'sorry, he's stuck with it, he's been loyal and I'll give him a couple more goes'.
"I don't expect to have my pick of rides – I'm not in Joao's shoes anymore. I've been there and I've done what he does, but I've never screwed anyone over, I've never really broken bridges to have to rebuild them and as long as I'm doing my work in the mornings, and canfix this wrong idea that I'm about to retire, there's no reason why I should not be getting support."