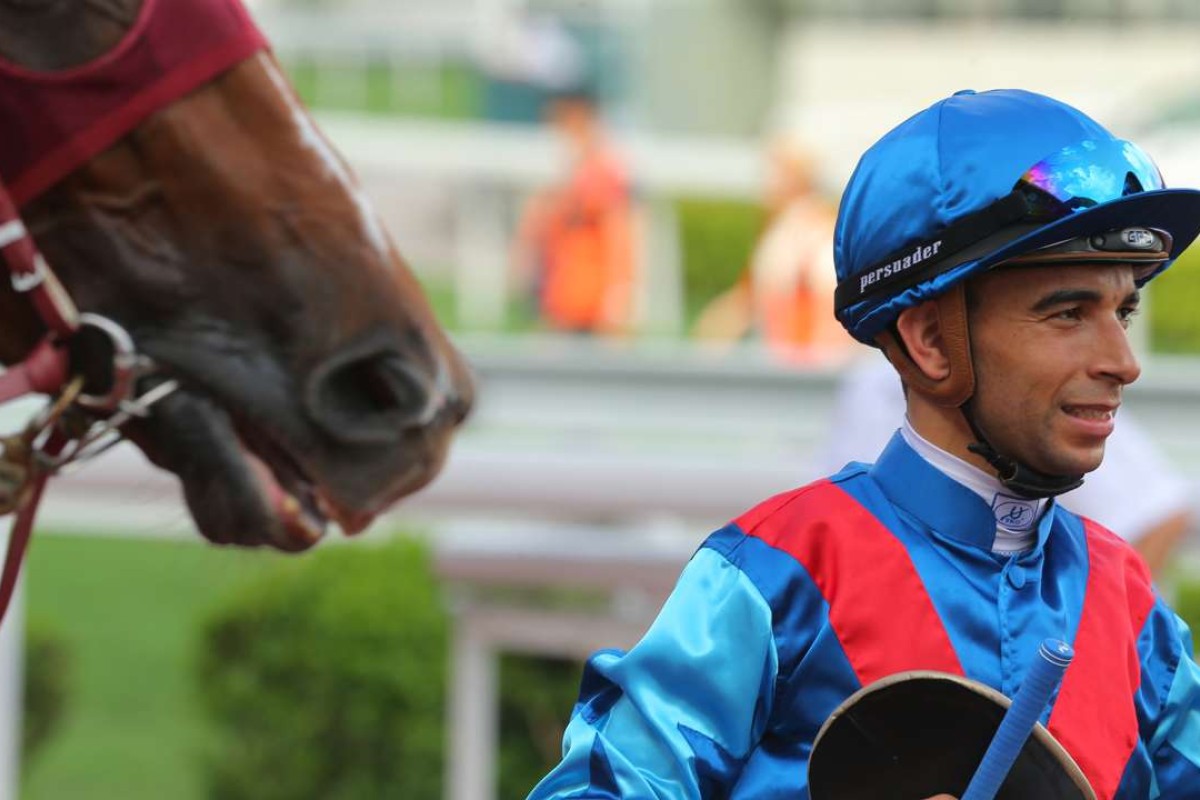 Record-breaking jockey Joao Moreira says spending an off-season stint in Japan is not just about fine-tuning his fitness for a shot at a third straight Hong Kong title but learning more about how horses in racing's rising power are prepared.
My intention is to learn a lot more about Japanese racing. They have a different way of looking at the horse
Moreira smashed through his own record for wins in a season at Sha Tin on Sunday, when a treble took him to 146 wins. He has a second title wrapped up with 11 meetings left in the season as he sets his sights on an astonishing 160 winners.
Despite the record haul, the 32-year-old says he can still improve as a horseman, and that is the major motivation behind his application for a short-term licence in Japan.
"My intention is to learn a lot more about Japanese racing," Moreira said. "They have a different way of looking at the horse, a different way of training and I want to find out more about it."
If his application is approved, the Brazilian will be sponsored and primarily supported during his stay by Japanese training maestro Noriyuki Hori – for whom Moreira won the 2016 Champions Mile aboard Japan's all-conquering horse of the year Maurice.
Hori receives major support from breeding goliath Northern Farm, an outfit boasting state-of-the-art facilities in Hokkaido, and it is this link, along with Hori's reputation as a training genius, that has Moreira most excited for what is intended to be a three-weekend stay in late August.
"Mr Hori's record tells you that he is an exceptional trainer, but he is a very interesting person and has a unique way of doing things. I am sure I am going to learn a lot from him," Moreira said.
Moreira's application is yet to be officially rubber-stamped by the Japan Racing Association (JRA) or the Hong Kong Jockey Club but the jockey has already received a JRA invite to defend his title in the World All-Star Jockeys series in Sapporo on the weekend of August 27 and 28, one week before the scheduled start of the new season on September 3 at Sha Tin.
"Hopefully I can link with some nice horses there and continue to build on those relationships I already have," Moreira said. "Whenever a Japanese horse heads overseas, you have to respect them and I would love to be considered on these horses wherever they go – including here in Hong Kong."
Rather than start the 2016-17 season still looking to reach peak fitness, Moreira also hopes his stay has him ready to go at the season opening meeting.
"When you don't ride for a couple of weeks before the start of the season you lose your fitness quickly and I want to be in as good a shape as I can," he said. "You can train all you want in a gym or by running, but nothing gets you fit like race riding."
Moreira's proposed three-week stay will come after fellow lightweight Karis Teetan completes a similar length stint, with both jockeys to be represented in Japan by Australian jockey manager Adam Harrigan.
Meanwhile, a scheduling oversight by Moreira saw him apply to stewards yesterday to change the dates he will serve for a careless riding suspension he incurred on Sunday.
Moreira has taken rides at the Stradbroke Handicap meeting at Eagle Farm on June 11 and was set to miss that date because of his two-day ban.
Moreira will now ride at the Happy Valley meeting on June 9, before missing meetings on June 12 and June 15.