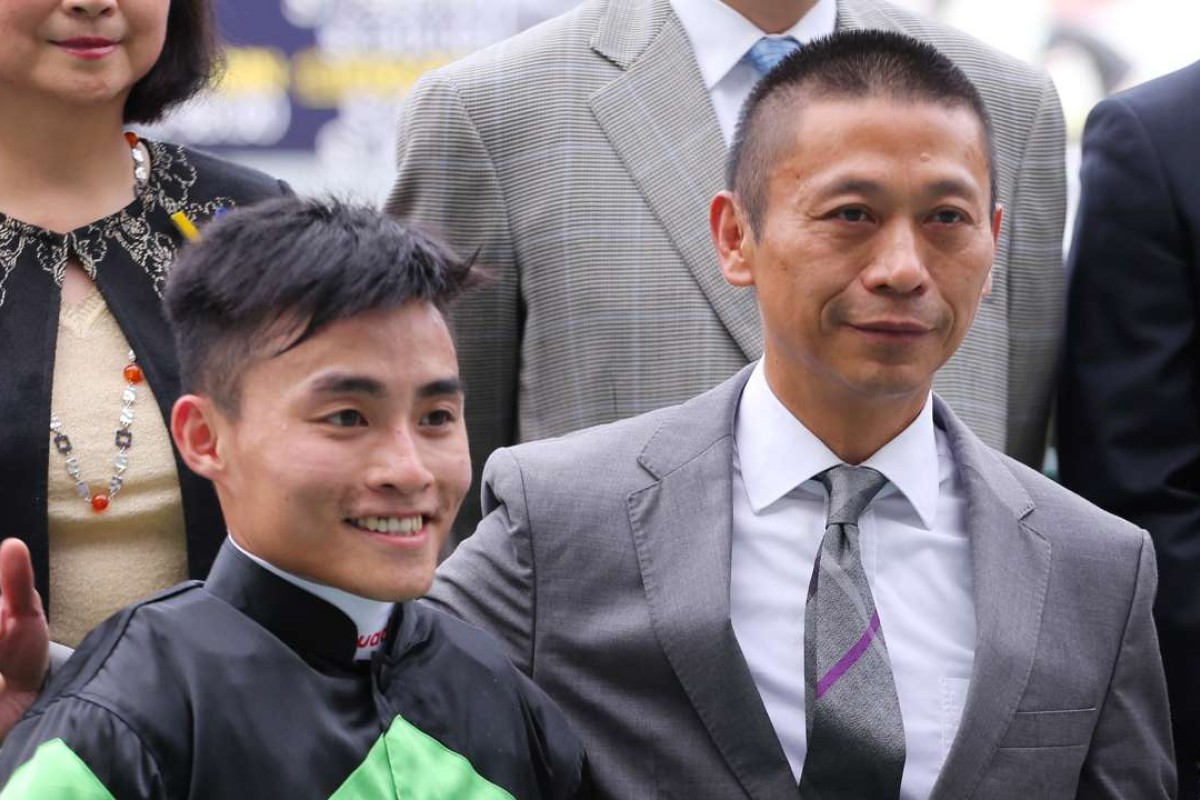 The Class Three Manawatu Racing Club Challenge Trophy wasn't the biggest stage on which it could happen but it was almost a handing over of the 'King of Happy Valley' title for the season as Danny Shum Chap-shing crowned a winning treble, relegating the incumbent Caspar Fownes to second.
Fownes-trained So Caffe was sent out favourite under Joao Moreira and came into the straight alongside Inventor (Keith Yeung Ming-lun) but Moreira went left to the centre of the course on straightening, Yeung went right to the inside rail and the lightly weighted Inventor finished best.
Shum had earlier landed a double in tandem with Nash Rawiller as Baltic Warrior and Triumphant Jewel arrived and when Inventor took the trainer's tally at the city course this term to 34 wins it was symbolic of a dominant dethroning of the perennial ruler of the Valley.
Inventor has been a late season find for Shum, winning his past two since a shift back to Happy Valley started playing to his strengths.
"He's just a small horse, but that means he is quite nimble and those kinds of horses usually do well at this track where they are turning all the time," Shum said.
"The surface is a bit softer too, even when it's firm it is softer than Sha Tin and I think this horse appreciates that. Today, I think the drop to a light weight was the big difference for him too – as I say, he's only small so the big weights can be a problem."
Rawiller had only had 13 unsuccessful rides for Shum up until February this year but they have formed an effective combination more recently, spurred it seems by Rawiller's win on Mission Possible in February and he has now won five of his last 27 rides for the yard.
The Australian rider produced a brilliant performance on Baltic Warrior to come from last and win – well, all except the very first part when Baltic Warrior began the race four lengths behind the rest of the field.
The gates opened and Baltic Warrior simply stood there until Rawiller gave him a slap down the shoulder to signal that the games had begun.
"The one instruction I gave Nash was not to bustle the horse early. I even said I didn't mind if he came out slow but I didn't mean that slow," Shum laughed afterwards. "This is one of the unluckiest horses I've had as far as drawing barriers – he always gets the outside draw. He's been racing well but just not able to overcome the bad draws every race until today – he had some luck for a change getting through the field and that made the difference."
Shum's other winner Triumphant Jewel has been a model of consistency for most of the season, all barring two races when he finished last – one in February and his most recent start – each time apparently without reason and, Shum confirmed, without any problem.
"He did it with Ryan Moore down the straight one day and last time with Zac Purton here – if you don't work on him, he just stops running because he thinks the race has stopped," Shum said.
"There wasn't anything wrong with him, he just stopped running. So today I said to Nash, don't stop pushing him, make him race all the way."
The result was a narrow win, just Triumphant Jewel's second for the term, but he has picked up a prize money cheque in all but three of his 14 starts.